Gay and bisexual men at higher risk of hepatitis A in L.A. County as outbreak grows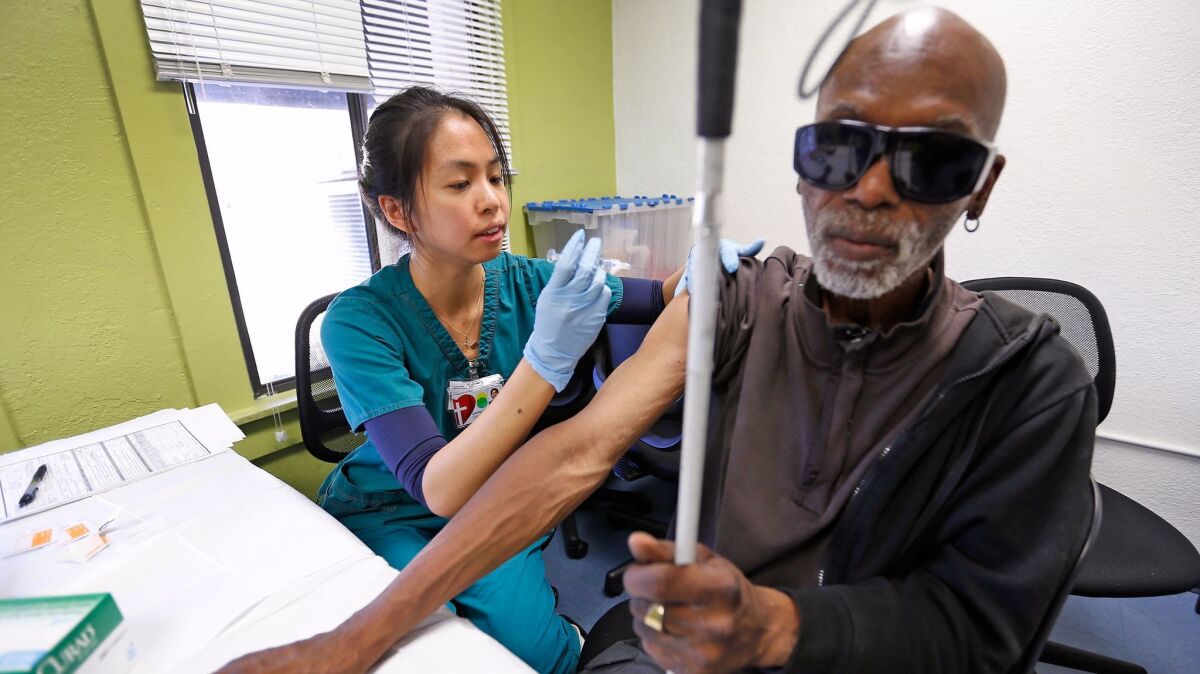 California health officials have stepped up their hepatitis A prevention efforts in recent days as new fronts emerge in the battle against the state's massive outbreak.
Most of the 20 people killed and more than 600 sickened in the outbreak that began in San Diego were homeless. But cases have begun to surge in Los Angeles County among gay and bisexual men who are not homeless. And an LAPD officer who works on skid row was recently infected with the virus.
As a result, county officials have called for first responders, members of law enforcement working in the field and men who have sex with men — as well as homeless people — to get vaccinated against hepatitis A.
"We've got to be there with those that we're asking to help us deal with our homeless population," said L.A. County Supervisor Janice Hahn. "We've got to be as concerned about their public safety as we are the safety of those who are sleeping on the streets. … This could be a huge public health crisis."
Gay and bisexual men are at risk
California declared a state of emergency last month because of the outbreak, which now ranks as the second-worst in the nation in more than two decades.
Hepatitis A outbreak
544 cases in San Diego County
76 cases in Santa Cruz County
29 cases in L.A. County
14 cases elsewhere in the state

Sources: California Department of Public Health, local health departments
Hepatitis A is commonly transmitted through contaminated food, but also can spread through sexual activity or through contact with feces, even in microscopic amounts. The virus causes liver damage and can be particularly harmful to people with conditions such as hepatitis B or C.
California's outbreak is spreading from person to person.
L.A. County has seen 15 reported cases among those who are homeless or use recreational drugs since the outbreak began. But officials say an unrelated hepatitis A outbreak affecting the LGBT community has sickened 14 gay or bisexual men this year, compared with nine last year and one the year before.
"The sheer number of cases … is what's alarming," said Dr. Adam Cohen, director of advocacy and policy research for the AIDS Healthcare Foundation.
The uptick is particularly worrisome because there have been recent large hepatitis A outbreaks among gay men in Colorado and New York, as well as in Chile and several countries in Europe, said Dr. Prabhu Gounder, a medical epidemiologist with L.A. County's public health department.
"What we were concerned about is that we're at the beginning of a similar trend in L.A, and we wanted to get ahead of that," Gounder said. Some in L.A. County who are infected had traveled to regions with outbreaks, he said.
The county health department is offering free vaccines at its clinics to gay and bisexual men.
Earlier this month, officials in San Diego County ramped up efforts to vaccinate gay and bisexual men. There have been 13 gay or bisexual men infected there this year, compared with one or two in a typical year.
Gay and bisexual men generally are at high risk for hepatitis A and make up 10% of all new cases in the United States each year, according to the Centers for Disease Control and Prevention.
Dr. Takeshi Saito, a professor who studies viral hepatitis at the USC Keck School of Medicine, said the hepatitis A virus is highly contagious and can tolerate extreme temperatures.
Hepatitis A has survived in frozen berries and infected people who've eaten them. Even when someone washes their hands without soap, they might reduce the amount of the virus but won't necessarily eliminate it, Saito said.
The danger to first responders
The recently infected officer, said Los Angeles Police Protective League director Mark Cronin, is assigned to the LAPD's Central Division, which includes downtown.
"Anybody that goes to Central Division drives through or walks through skid row every day," he said.
On Tuesday, the L.A. County Board of Supervisors approved a motion asking the health department to make sure there was enough vaccine to cover the first responders most at risk of being infected. About 18,000 doses of hepatitis A vaccine have been distributed by the department, 3,500 of which have gone to first responders.
"Our first responders are our first point of contact with many of our homeless, especially in the downtown skid row area, and it's important we provide all resources available," Supervisor Kathryn Barger said.
The county held a hepatitis A vaccination clinic Wednesday at Central Division, and more are scheduled at other LAPD sites in the coming days.
LAPD spokesman Joshua Rubenstein said medical privacy laws prevented him from confirming that an officer was infected with hepatitis A, but he did say that the department "makes significant efforts to protect … our officers who encounter health and safety risks every day."
Gounder said that the risk of service providers contracting hepatitis A while working is not high. People who live or spend time downtown and don't fall into the high-risk groups should not be concerned about hepatitis A, he said.
"For the general community ... just by being in the environment, we think the risk associated with that is extremely low," Gounder said.
For those who are homeless and at highest risk of contracting hepatitis A, there's a dire shortage of bathrooms and wash stations on skid row, said Amy Turk, president of the Los Angeles Central Providers Collaborative and chief program officer with Downtown Women's Center.
A report produced by activists and service providers found that sanitation conditions on skid row fall below U.S. standards for refugee camps, with nine public toilets available overnight for the 1,800 people living on the streets.
"Most of the bathrooms shut down at night," Turk said. "Come nighttime, folks have virtually no option but to use the streets."
soumya.karlamangla@latimes.com
ALSO
Hepatitis A outbreak sparks call for L.A. to give homeless people more street toilets
California declares state of emergency over deadly hepatitis A outbreak
The stories shaping California
Get up to speed with our Essential California newsletter, sent six days a week.
You may occasionally receive promotional content from the Los Angeles Times.