Jury sides with city in retaliation lawsuit filed by LAPD criminalist Jennifer Francis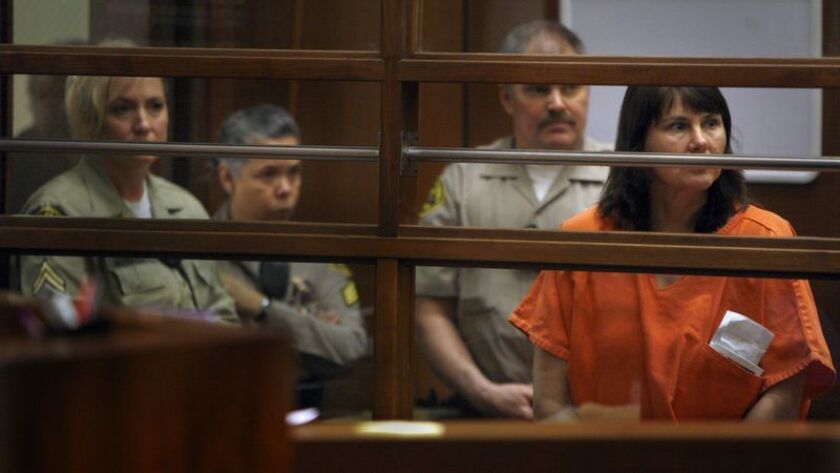 A civil jury sided with the city Friday in a lawsuit filed by a Los Angeles Police Department criminalist who alleged she suffered retaliation after raising concerns of a possible cover-up of a cold case murder.
A jury of nine men and three women decided unanimously after a three-week trial that Jennifer Francis did not report a violation of state or federal law, and therefore was not entitled to damages.
"She suffered no harm," Reginald Roberts, an attorney representing the city, told the jury Thursday during closing arguments. Later, he added, "She still works at the LAPD, was promoted and given a raise."
The retaliation lawsuit stemmed from the 1986 killing of Sherri Rasmussen, a nurse who was found by her husband bludgeoned and shot in their Van Nuys townhouse.
Francis took on the cold case in 2004, when she was a new DNA analyst in the LAPD's crime lab. She discovered early the next year that DNA from a bite mark on the victim's arm belonged to a woman and questioned the theory that the brutal slaying was the work of two male burglars. Perhaps, she suggested at the time, it was a love triangle.
Francis said the cold case investigator at the time shut her down, insisting it was a male-female burglary team. The case stalled for four years until it wound up on the desk of a homicide investigator in Van Nuys who found out the killer was an LAPD detective.
After Det. Stephanie Lazarus' arrest, Francis raised concerns about why the case wasn't solved earlier. She said the cold case investigator, Det. Cliff Shepard, knew Lazarus had dated the victim's husband. In 2005, she said, Shepard told her that the former girlfriend wasn't involved in the killing.
Shepard, who is retired, told The Times this week he was juggling a massive caseload at the time and had never heard of Lazarus until the day she was arrested.
Francis said she was hesitant but felt an ethical obligation to come forward. "What I said was going against what the department was saying, what the chief of police was saying," she testified. "I was afraid of what would happen to me."
After she raised concerns of a cover-up, Francis said she was forced to undergo a mental health evaluation on a bogus claim that she slept with a gun, was labeled a problematic witness by a deputy district attorney and blocked from testifying in the high-profile Grim Sleeper trial.
Francis sued the city in 2013.
"They crushed this woman. They took her hope, the most important thing she had in her life: her work," her attorney John Taylor told the jury Thursday during his closing arguments. "Who will police the police?"
He said Friday that he disagreed with the verdict and plans to file an appeal.
Roberts, the city's attorney, told the jury during his closing arguments that Francis, by her own admission, was not reporting misconduct or a crime when she came forward about Shepard.
He argued that the mental health referral was justified and didn't hurt her career. Sometime before, he said, Francis told a supervisor about a dream she'd had in which Shepard drove her somewhere and shot her.
"That raises a red flag in my mind," Roberts said.
Francis was not demoted or denied pay, he argued, but in fact was praised for her work in the case. She and several others received a Police Meritorious Service Medal, the highest award for a civilian employee, and she remains a criminalist in the LAPD.
The only person who committed a crime in the case, Roberts said, is now in prison. Lazarus was convicted of first-degree murder in 2012 and sentenced to 27 years to life in prison with the possibility of parole.
"The department got it right," Roberts told jurors. "You can't lose sight of that."
Taylor, Francis' attorney, said his client was promoted before she blew the whistle and was given positive performance reviews because her supervisors still needed her to testify in Lazarus' trial in 2012.
alene.tchekmedyian@latimes.com
Twitter: @AleneTchek
---
For reporting and exclusive analysis from bureau chief John Myers, get our California Politics newsletter.
You may occasionally receive promotional content from the Los Angeles Times.