Fired after fatal shooting of Corvette driver, ex-LAPD officers sue to get their jobs back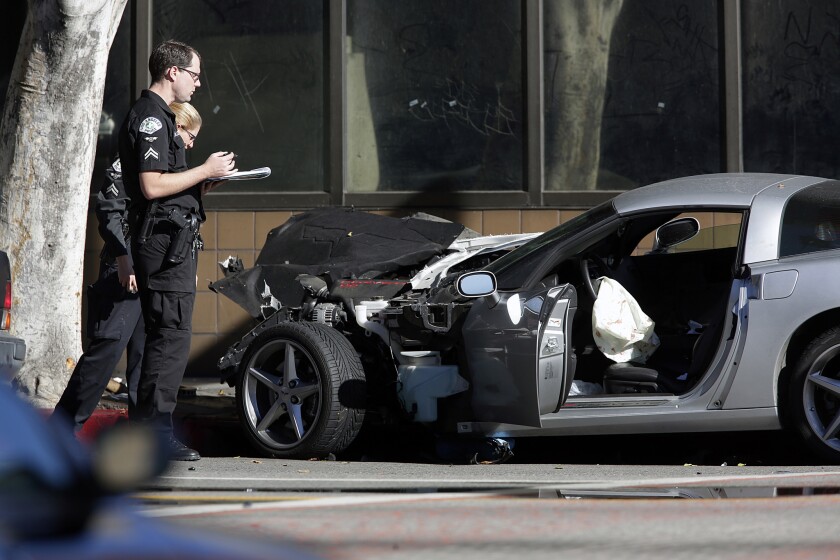 Two former Los Angeles police officers who fatally shot an unarmed motorist from behind, on live TV, were fired and now are suing to get their jobs back.
Michael Ayala and Leonardo Ortiz were among about two dozen officers who pulled up behind 51-year-old Brian Beaird's mangled Corvette after he crashed in downtown Los Angeles in 2013, ending a long, high-speed pursuit.
As TV news helicopters circled overhead and water from a damaged fire hydrant rained down, adding to the chaos of the scene, Beaird stumbled around the back of his car, turned away from officers and appeared to be trying to flee on foot.
That's when Ayala, Ortiz and a third officer opened fire, killing Beaird.
A police disciplinary board found Ayala and Ortiz guilty of "misconduct" in July, and LAPD Chief Charlie Beck fired them in September, according to lawsuits the officers filed in November. Both called their firing an "abuse of discretion" by the department.
Neither suit mentions Beaird's December 2013 shooting as the reason for the termination or offers any detail about the underlying misconduct charge. LAPD officials declined to comment on the matter because police disciplinary actions are confidential under state law. Michael Stone, the attorney representing Ayala and Ortiz, also declined to comment.
See more of our top stories on Facebook >>
A law enforcement source familiar with the case, who was not authorized to publicly comment on the matter, said the two officers were fired as a result of the shooting.
About a year after the videotaped shooting — which drew national attention and fueled the ongoing debate over police use of force — Beck issued a rare public rebuke of the officers, calling their actions "unjustified."
The City Council, concerned that a civil jury would find the officers had used excessive force, approved a $5-million settlement with Beaird's father, who said he'd watched his son's death on live TV. That settlement is the largest paid by the city in a police shooting in more than a decade.
Los Angeles Dist. Atty. Jackie Lacey declined to press criminal charges, however, saying a jury might believe the officers legitimately feared for their lives. They claimed they saw Beaird reach for his waistband, possibly for a gun, as he stumbled out of the car. Beaird did not have a gun, but a police shooting is legal as long as the officers believe the suspect poses a direct threat to them, or others.
Interested in the stories shaping California? Sign up for the free Essential California newsletter >>
In an interview late last year, Lacey said she stands by her decision not to prosecute because, during the pursuit, which ended after a collision with another vehicle, Beaird had proved to be a threat by endangering many people's lives and refusing to pull over, despite multiple opportunities.
Times staff writer Joel Rubin contributed to this report.
ALSO
Editorial: How do we police the police?
Why an ESL teacher might have helped 3 O.C. inmates escape
LAPD detective is accused of intimidating and threatening her ex-boyfriend
---
The stories shaping California
Get up to speed with our Essential California newsletter, sent six days a week.
You may occasionally receive promotional content from the Los Angeles Times.