LAPD sergeant who detained 'Django' actress accused of violating ethics rules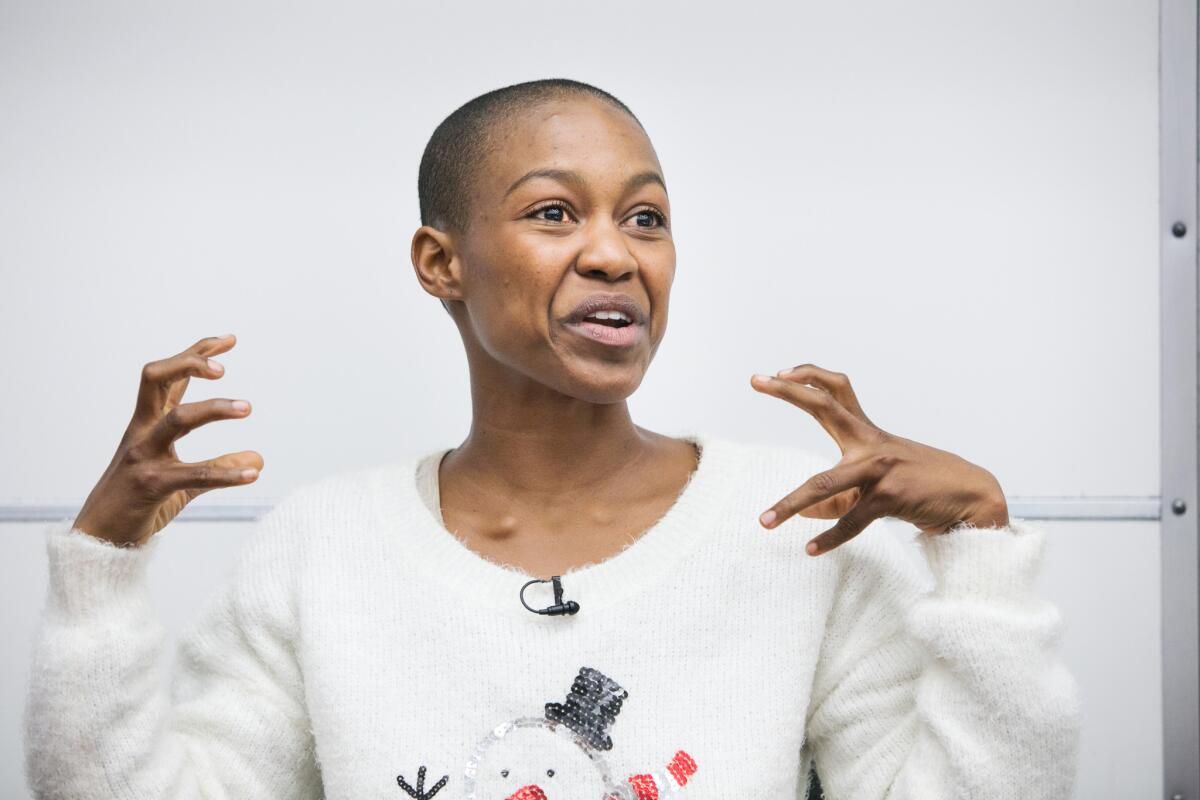 A now-retired Los Angeles police sergeant who drew headlines last year after he detained a "Django Unchained" actress has been accused of violating city ethics rules by leaking an audio recording of the encounter to the media.
In a highly unusual move, city ethics officials accuse Sgt. Jim Parker of violating two rules by disclosing confidential information without authorization and doing so to "create a private advantage for himself," according to a summary of the allegations obtained by The Times.
The letter said the City Ethics Commission would publicly announce the accusations by Nov. 6. Afterward, Parker is entitled to a public administrative hearing to determine whether he violated city ethics rules.
When contacted Wednesday, commission staff said they could neither confirm nor deny the existence of an allegation.
NEWSLETTER: Get essential California headlines delivered daily >>
Parker and his attorney, Larry Hanna, blasted the accusations, saying they were an unprecedented move against an LAPD officer.
"I've never, ever seen this," said Hanna, who has spent two decades representing police officers. "For some reason, they're being very vindictive against this officer."
The City Ethics Commission enforces city rules related to campaign finance, lobbying, conflicts of interests and governmental ethics.
The commission publishes on its website settlements, decisions and orders for violations dating back to 1993. Most of the violations involve campaign finance rules.
A review of the commission's online database by The Times found no previous cases involving the disclosure of confidential information, one of two counts Parker faces.
The other count -- misuse of position or authority to create a private advantage -- appears in two cases. The first involved allegations that a fire inspector accepted bribes; the other accused then-City Councilman Richard Alatorre of using his position to extend a license for his wife's fundraising company.
Parker's headline-grabbing story unfolded the afternoon of Sept. 11, 2014, when he responded to the report of a couple having sex in a car parked near a Studio City talent agency.
There, he found actress Daniele Watts and her boyfriend, Brian James Lucas. Police said they matched the description of the couple involved.
When the sergeant asked for their identification, police said, Watts refused and walked away. She was handcuffed down the street by two other officers, but released after her boyfriend handed police her ID.
The story quickly gained national attention after the couple publicly complained about the way Watts was treated. Lucas wrote on Facebook that police acted as though the couple had been engaged in prostitution because he is white and Watts is black.
The LAPD opened an internal affairs inquiry into the allegations. Parker defended his actions and released a 24-minute audio recording of the encounter, prompting some backlash against the couple's comments.
Watts and Lucas later pleaded no contest to disturbing the peace and were ordered to write apology letters to the officers and citizens who reported them.
Parker said he was ordered to attend an LAPD disciplinary hearing after he was accused of insubordination for speaking to the media about the incident without permission from his department. He retired instead, ending his 26-year career with the LAPD in June.
He now faces a fine of up to $10,000 for the alleged ethics violations. He questioned what enforcement the commission could take, considering he was no longer employed by the LAPD.
"I don't know what they think they can do," he said.
Hanna, the attorney, said officers have made audio recordings public before without repercussion from the Ethics Commission. Sometimes they are played in Small Claims Court, he said. One officer even aired a recording on "Judge Judy."
Craig Lally, the president of the union who represents rank-and-file officers, said he had aired his own recording in the past without prompting an Ethics Commission investigation. Lally recorded and later released to ABC's "Primetime Live" a 911 call that Nicole Brown Simpson made against O.J. Simpson, eight months before she was killed.
"Why didn't they come after me too?" Lally said. "I've never heard of this before."
Hanna said Parker helped the city by releasing the tape. Watts and Lucas could have sued, costing the city money, and the allegations of racism by police could have led to increased tensions between the department and residents.
"He put a stop to that," Hanna said. "He should be getting a medal from the mayor ... not having the Ethics Commission go after him."
Hanna and Parker said they plan to fight the allegations, even though ethics officials have offered to settle the case.
"They want a public hearing, we're going to give them a public hearing," Hanna said. "This isn't going to be one that's behind closed doors."
Follow @katemather for more LAPD news.
ALSO
1,800 protected wild horses sent to their deaths in Mexican slaughterhouse
UC Irvine is leading an effort to turn O.C. into the next Silicon Beach
Fires erupt in Los Angeles, Santa Barbara counties amid powerful Santa Ana winds
Sign up for Essential California for news, features and recommendations from the L.A. Times and beyond in your inbox six days a week.
You may occasionally receive promotional content from the Los Angeles Times.