A suspect in a slaying was killed and an FBI agent was wounded after an exchange of gunfire during an attempted arrest in South Los Angeles on Tuesday morning, police said.
The suspect, a man in his 70s, was fatally shot by Los Angeles police officers in the parking lot of the Central Inn Motel in the 4000 block of South Central Avenue about 11 a.m., according to Det. Meghan Aguilar, a spokeswoman for the Los Angeles Police Department.
Aguilar said preliminary interviews with witnesses revealed that the suspect had a handgun and opened fire on law enforcement officers when they sought to arrest him. Aguilar said the officers immediately returned fire. A weapon was recovered at the scene next to the suspect's body, but it has yet to be examined, she said.
FBI Special Agent Scott Garriola, who oversees the FBI's hunt for dangerous fugitives in the L.A. region, commended his agent's bravery, explaining the agent was hit in the hand by shrapnel when shots were fired. The agent was taken to a hospital for treatment by L.A. fire paramedics. "He is undergoing surgery. He is in good spirits," Garriola said. "It was a gun battle."
The two LAPD officers who opened fire were part of a task force with the FBI searching for the assailant in a July 31 slaying, Aguilar said.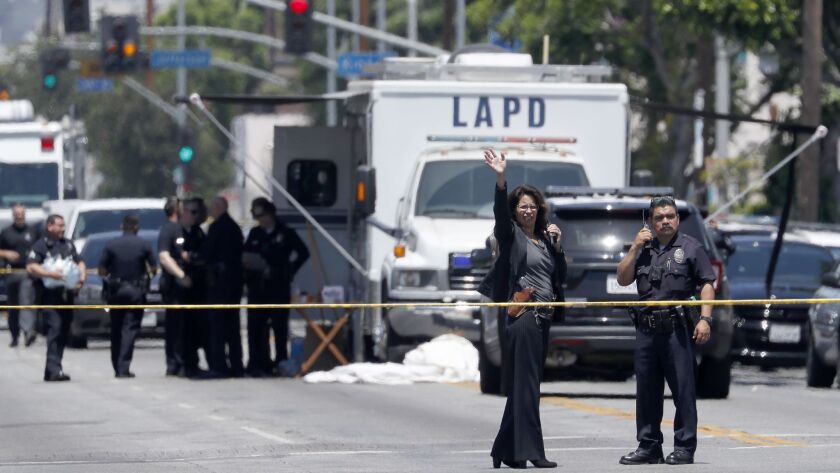 The suspect was wanted in connection with a shooting that left one man dead and another injured. Jason Ruelas, 43, suffered a fatal gunshot wound to the torso near 41st Place and Long Beach Avenue. He died at the scene. The victim who survived the shooting is described as a man in his 50s.
LAPD's Force Investigation Division, the FBI's shooting review team and the Los Angeles County district attorney's office are all examining Tuesday's shooting.
Aguilar said it was unclear whether any of those involved in the shooting were wearing body cameras as the officers are plainclothes investigators. She said LAPD investigators were checking surrounding businesses' security cameras to see if they captured any of the deadly confrontation.
---
UPDATES:
4:30 p.m.: This article was updated with information from FBI Special Agent Scott Garriola.
1:50 p.m.: This article was updated with additional details from the Los Angeles Police Department.
12:55 p.m.: This article was updated with authorities identifying the person who was killed as a slaying suspect and other details.
This article was originally published at 12:30 p.m.
---