Jurors acquit two LAPD officers charged with conspiracy, deadlock on one charge for one officer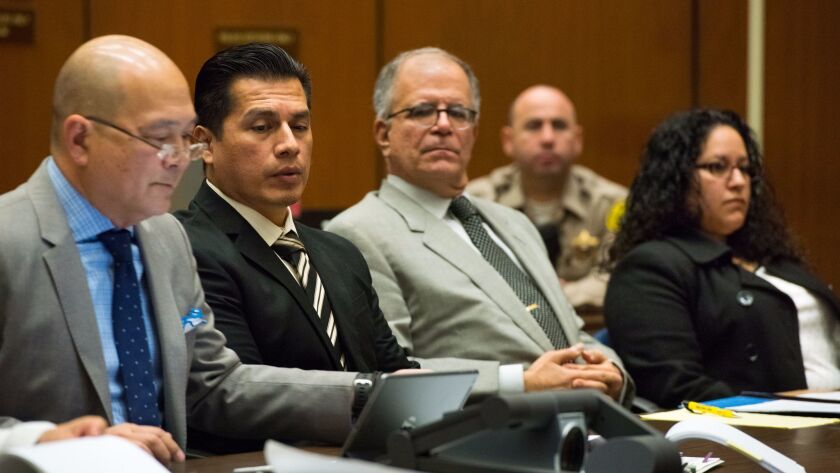 Two Los Angeles police officers were acquitted Monday of conspiring to obstruct justice after prosecutors accused them of failing to arrest a drunk driving suspect and writing false reports so that they could wrap up their shift and go home.
After three days of deliberating, jurors also found Officer Irene Gomez not guilty of filing a false report and deadlocked 8 to 4 in favor of acquittal on the same charge for Officer Rene Ponce, the defense attorneys said.
Ponce's attorney, William Seki, said prosecutors relied too heavily on the statements of the drunk driving suspect.
"The allegations were ridiculous, and a better investigation should have been done," he said.
Gomez's attorney, Ira Salzman, said the officers were already working overtime on the day of the incident and had no motive to try to wrap up their shift.
"What makes this case so unusual is the allegation here was these officers failed to make an arrest rather than made a wrongful arrest," he said.
The Los Angeles County district attorney's office has yet to decide whether it will seek to retry Ponce, a 15-year veteran, on the single felony count of writing a false police report. Greg Risling, a spokesman for the office, said that decision will be made at a later date.
Salzman said his client, who joined the Los Angeles Police Department six years ago, has been off work since September 2016. The LAPD, he said, will now conduct an internal administrative investigation into her actions.
The incident began on a Sunday morning in 2014 when Del Mar Alan Garcia Gomez, 32, was driving home from his son's first birthday party around 6 a.m. Near his apartment, he testified, he fell asleep behind the wheel and slammed his friend's Mustang into two parked cars in his Boyle Heights neighborhood.
When he came to, several people huddled around the car and grabbed him when he got out, accusing him of being drunk, Garcia Gomez said. He testified that he had not been drinking.
Someone took his house keys and wallet, and he went across the street to wait for police, he said.
When Ponce and Gomez showed up in a patrol car, a witness said she told the officers she thought the driver was drunk, LAPD Sgt. Anthony Vasquez, who investigated the officers, said at an earlier hearing.
Another witness said he heard the driver admit to one of the officers that he had been drinking, according to Vasquez.
Garcia Gomez said Ponce asked him to walk in a straight line and shone a flashlight in his eyes, but later told him to deny that he was driving the car. The officers then dropped him off at his home nearby.
They then wrote reports indicating that the Mustang was abandoned at the scene and the driver "was not at scene."
The next day, Garcia Gomez and his friend, the car's owner, went to claim the Mustang from an LAPD impound yard. There, Garcia Gomez said, he found out the car was tied to a hit-and-run investigation. He complained, telling an LAPD traffic detective he never fled the scene.
Deputy Dist. Atty. Martha Carrillo argued during the case that the officers lied and let Garcia Gomez go because they were in a hurry to finish their shift.
Salzman said the driver never spoke to his client and was nowhere around when Ponce allegedly told Garcia Gomez to falsely say he had not been driving the car.
The attorney said Gomez and Ponce were not trying to hide anything during their investigation of the incident. While the officers were at the scene of the crash, he said, they asked dispatchers if a specialized traffic officer could respond to the scene. No one was sent.
Twitter: @lacrimes
ALSO
Cybersecurity expert hailed for stopping WannaCry attack is suspected of unleashing another virus
LAPD officer accused of sexually abusing teen cadet took girl to Six Flags on day of assaults, sources say
Veteran LAPD detective sharply criticized plea deal for firefighter in Halloween assault case
---
UPDATES:
4:40 p.m: This article was updated with an additional statement from prosecutors.
This article was originally published at 3:10 p.m.
---
The stories shaping California
Get up to speed with our Essential California newsletter, sent six days a week.
You may occasionally receive promotional content from the Los Angeles Times.