Veteran LAPD detective sharply criticized plea deal for firefighter in Halloween assault case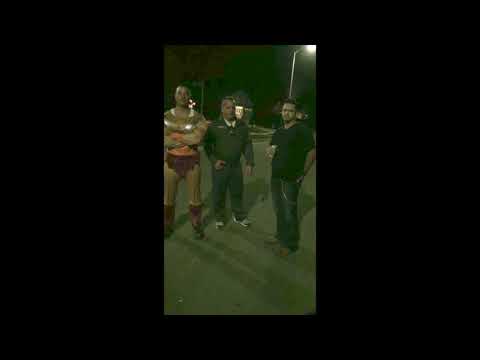 Video shot on Samuel Chang's cell phone on the Halloween night he was physically confronted by three men including two off-duty Los Angeles firefighters. (Courtesy Taylor Ring Law Firm)
One of the Los Angeles Police Department's top investigators sharply criticized a plea deal given to an off-duty city firefighter who choked a man unconscious, and he asked a judge to view video of the violence before sparing the defendant jail time, according to court records.
Det. Tim Marcia, a longtime member of the LAPD's elite Robbery-Homicide Division, told the judge he had never seen a case "with the evidence and the physical injuries" like those inflicted on 24-year-old Samuel Chang result in a misdemeanor plea, according to a transcript of the May sentencing of Eric Carpenter, an off-duty firefighter charged with assault in the case.
Marcia spoke after reading aloud a statement from the victim, who called the misdemeanor conviction and lack of jail time a "light sentence" that amounted to "an insult to me, my family and to our community."
The assault occurred after Chang had been handing out candy to children in Chatsworth on Halloween night in 2015. Video footage and court records show that Eric Carpenter, a 40-year-old member of the Los Angeles Fire Department, placed Chang in a chokehold for more than six minutes. Chang had to be revived with CPR and suffered kidney failure, a hemorrhage and other serious injuries as a result of the attack, according to court records.
"The Los Angeles Police Department, my commanding officers and my investigator and my partner, we don't feel that this penalty is just," Marcia said, according to the transcript. "We also think that the video … speaks a thousand words, your honor. I've never seen anything like it."
Chang's attorney has accused the district attorney's office of giving the firefighter preferential treatment — a charge denied by prosecutors and the firefighter's attorney, Michael Goldstein. Goldstein served as Dist. Atty. Jackie Lacey's campaign finance director when she was elected in 2012 and has donated thousands of dollars to her political accounts over the years.
Neither Superior Court Judge Michael Kellogg nor the judge who accepted Carpenter's plea to misdemeanor assault this year watched the videos, according to the transcript, though Marcia's comments did cause Kellogg to question the lead prosecutor about the plea. Carpenter, who had faced up to seven years in prison, was sentenced to three years of probation and ordered to serve 135 days of community service and attend 52 weeks of anger management, court records show.
A few months after the Oct. 31, 2015, altercation, a probation report had recommended at least a year in jail for Carpenter. Deputy Dist. Atty. Jonathan Chung, who prosecuted the case, offered Carpenter a plea to felony assault that could be knocked down to a misdemeanor upon completion of community service, according to Goldstein.
Carpenter refused because a felony conviction would have cost him his job as a firefighter. Goldstein said he then arranged a meeting with high-ranking prosecutors in order to plead his client's case. The more lenient plea was offered by Chung at a later date, he said.
The May 30 sentencing transcript also provides new details about why prosecutors approved the plea deal. Chung told the judge he believed jurors could conclude that Carpenter was acting in self-defense to protect the children at his home.
Some witnesses, Chung told the court, said the victim had been handing out candy to children when some of the mothers asked him to stop, but he refused. In addition, some of the witnesses who had been at Carpenter's house that night claimed that Chang's zipper had been down, something a jury might view as suspicious, the prosecutor said. And Chung said prosecutors did not believe that Carpenter intentionally tried to choke out the victim.
Chung, however, also said prosecutors believed the victim had no intention to harm the children. Goldstein has repeatedly argued that Chang's behavior justified his client's actions.
The violent clash took place after Chang visited his grandmother in Chatsworth and decided to go outside to take pictures of some Halloween decorations, according to a victim impact statement written by his mother and read by Marcia at the sentencing. She asked him to take some candy to give to trick-or-treaters.
At some point, Chang began giving candy to children at Carpenter's home. Carpenter, a neighbor and another off-duty firefighter, Michael Anthony Vitar, confronted him. Several people at the scene asked Chang to leave and insisted he had crossed onto Carpenter's property, according to Goldstein.
Chang walked away but returned a second time and approached the children, according to the district attorney's office. "He was again asked to leave the property and, when he did not comply, was chased by the defendants down the block," the office said in a statement earlier this week.
At some point, Chang began filming the encounter.
Footage from Chang's iPhone shows the men, led by Carpenter in a He-Man costume, following Chang and repeatedly accusing him of trying to give "drug-laced candy" to children.
Chang was taken to the ground, where Carpenter wrapped his arm around Chang's throat as the others pinned him to the asphalt, according to video shot by a bystander and taken as evidence by police. Chang eventually went limp, and the firefighters started lifesaving measures, according to the video.
Chang spent three days in intensive care. In his statement read aloud by the detective at the sentencing hearing, Chang said doctors told him that his heart had stopped and that he was lucky to be alive. The probation report also said Chang would have died if his assailants had not been firefighters trained in CPR.
The men told police they believed Chang had been under the influence of drugs, but blood tests showed he had no drugs or alcohol in his system, according to court documents. The LAPD tested the candy and found no drugs, according to a source familiar with the investigation.
All three men were charged with felony assault but pleaded to lesser charges. Carpenter and Vitar were suspended for six months without pay by the LAFD but have since returned to work full time, according to a department spokesman.
Marcia declined to comment for this story.
The sentencing hearing transcript shows the detective brought the video footage to the sentencing hearing and urged Kellogg to view it.
"I stand by the Chang family and request that your honor view the video before … sentencing Mr. Carpenter," he said, according to the transcript.
Goldstein has repeatedly criticized the work of the Robbery-Homicide Division, saying detectives failed to interview witnesses who refuted Chang's claim of being chased and harassed by Carpenter and the other men before he was restrained. Several people, including some of the defendants' wives and a pair of registered nurses, bolstered Carpenter's version of events — that Chang was bothering children and refused to leave the area, Goldstein said.
"He spent more time at the sentencing than he did on the entire case," the attorney said of Marcia.
The prosecutor, however, defended the investigation during the sentencing hearing, saying all the detectives "went above and beyond in this case." In a statement to The Times this week, an LAPD spokesman described Marcia's investigation as "thorough" but declined to criticize the plea deal.
David Ring, who is representing Chang in a civil suit against Carpenter and the other men present that night, has denied allegations that his client was harassing children or had his zipper down.
Eugene O'Donnell, a criminologist at the John Jay College of Criminal Justice and former New York City prosecutor, referred to the plea arrangement as a "sweetheart deal" after a Times reporter described the facts of the case to him.
When making a determination between felony or misdemeanor assault charges, O'Donnell said he would weigh whether or not self-defense was a factor in the case. The fact that the men chose to physically confront Chang before calling police would be worth significant consideration, he said.
"That's a case for 911, not for a neighborhood witch hunt," he said. "You're not entitled to go on a witch hunt unless you can articulate some grounds for emergency or necessity."
Goldstein's ties to Lacey and the fact that he was able to go over the line prosecutor's head are concerning, according to O'Donnell.
"It appears improper," he said. "There's a concept of the well-connected lawyer, and the well-connected lawyer advertises the fact that he's a well-connected lawyer to his clients."
On his law firm's website, Goldstein previously mentioned his past work for Lacey's campaign, in close proximity to a paragraph detailing his knack for winning acquittals and favorable pleas. The reference was removed sometime after The Times reported on Carpenter's case late Wednesday night.
In its statement earlier this week, the district attorney's office said prosecutors followed its policy in allowing Goldstein to meet with high-ranking officials to discuss the case. Goldstein, the statement said, "received the same treatment available to any other defense attorney. His relationship with the district attorney had absolutely nothing to do with the resolution of this case."
Goldstein said in an email Friday that the case was decided on its merits. "There was no undue influence," he said.
Follow @JamesQueallyLAT & @LACrimes for crime and police news in California.
ALSO
Ex-Compton Mayor Omar Bradley guilty in public corruption case
New video shows fiery explosion as small plane crashes on 405 Freeway in Santa Ana
USC admits receiving complaints, disciplining former medical school dean linked to drug use
Sign up for Essential California for news, features and recommendations from the L.A. Times and beyond in your inbox six days a week.
You may occasionally receive promotional content from the Los Angeles Times.