L.A. schools want kids to think before they sext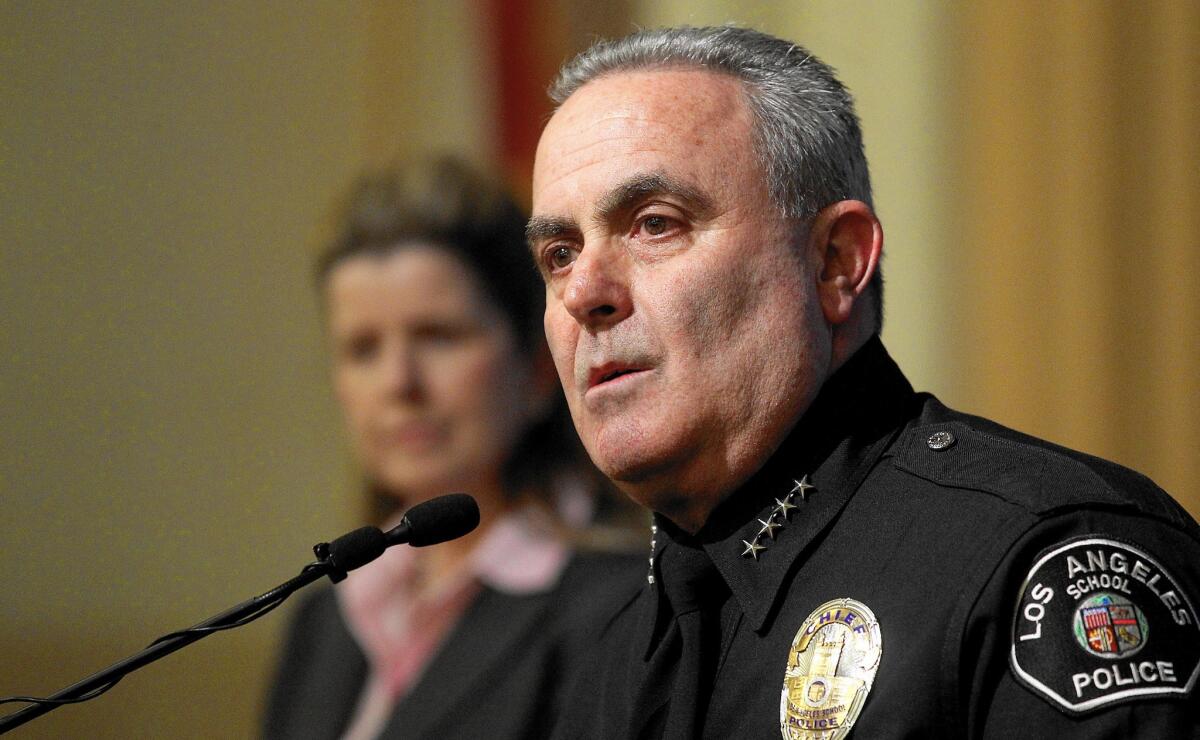 Two Los Angeles high school students are hanging out when a friend arrives with gossip: Someone texted a naked picture to a classmate and it was soon forwarded "all over the place."
When one of the students expresses skepticism, another takes her friends on a journey of discovery about "sexting." Educators, an attorney and a police officer lay out the consequences of sexting – public humiliation, loss of educational and job opportunities, possible criminal violations -- and hammer home a message:
Think twice. What you do now matters later.
The scenario is featured in a video unveiled Tuesday as part of the Los Angeles Unified School District's new campaign against sexting. Officials have asked principals at about 900 elementary, middle and high schools to incorporate information from its "Now Matters Later" website page, which offers the video, lesson plans, posters, bilingual tip sheets for parents and other resources.
"What we're trying to accomplish is to educate kids today so they have a clear understanding that sexting is against the law," L.A. Unified Police Chief Steven Zipperman said at the school police headquarters Tuesday. "This program will reach out to our students, our parents, our staff and our community...and hopefully eradicate this dangerous trend."
Interested in the stories shaping California? Sign up for the free Essential California newsletter >>
Zipperman has said the campaign was not directly sparked by the Venice High case this year in which 15 boys were arrested on suspicion of sexual assault after a sexually explicit photo of at least one of the two suspected female victims was widely circulated on social media. Prosecutors ultimately declined to file charges against the boys, based on insufficient evidence.
But Zipperman said that sexting is "serious stuff" that students and their families should understand.
A 2012 study of more than 1,800 L.A. Unified high school students found that 15% of those with cell phone access surveyed said they had texted a sexually explicit message or photo of themselves and 54% knew someone who had. The study by researchers from USC, Clark University and elsewhere found that those who sexted were more likely to be sexually active. Non-heterosexual students were more likely to sext and have unprotected sex.
As teens' access to social media grows – 92% report going online daily and three-quarters have access to smartphones, according to a 2015 Pew Research Center report – sexting has proliferated. Across the nation, police and prosecutors have charged teens with criminal offenses and more than 20 states have enacted legislation to deal with sexting.
In the L.A. Unified video, a school police officer tells students that sexting sexually explicit photos of those under 18 – even themselves – is considered child pornography. City Atty. Mike Feuer also appears in the video, saying that sending, forwarding or possessing child pornography could result in a criminal record and lifelong registration as a sex offender.
The Times' new education initiative to inform parents, educators and students across California >>
But Zipperman said school police have handled only a "handful" of cases so far.
Deputy City Atty. Tracy Webb, who speaks about cyber safety to as many as 20 schools a month, said the vast majority of students she encounters say they sext to "goof around" or as part of a romantic relationship, often involving breakups. She said Los Angeles prosecutors generally try to handle cases with education.
"We can't arrest and we can't prosecute our way out of this problem," Webb said.
Mileidy Maldonado and Alexandra Hernandez, high school students at the Roybal Learning Complex, said sexting wasn't that widespread - but both knew girls who had been victimized by it. In one case two year ago, Alexandra said, a boy texted nude photos of his then 15-year-old girlfriend that went viral, following the victim from one school to another until she finally had to be home-schooled.
"She was bullied and called names," Alexandra said. "It was horrible."
Holly Priebe-Sotelo, the district's intervention coordinator, said educators will be asked to incorporate the new materials into the current required lessons on bullying and sexual harassment. Lessons in cybersafety will be offered to younger children, with middle school students taught about safe online chatting. More explicit material on sexting will be presented to high school students.
Bilingual materials for parents, such as cybersafety tips and suggested questions to start conversations about the topic, are also available on the website.
Much of the material was provided by Common Sense Education, a nonprofit focused on media and technology, and the National Center for Missing and Exploited Children.
For more education news, follow @TeresaWatanabe.
UPDATE:
1:20 pm: This story was updated with comments from students, educators and law enforcement officials.
This story was originally published at 8:48 a.m.
Sign up for Essential California for news, features and recommendations from the L.A. Times and beyond in your inbox six days a week.
You may occasionally receive promotional content from the Los Angeles Times.