How L.A. teachers scored a decisive political victory with strike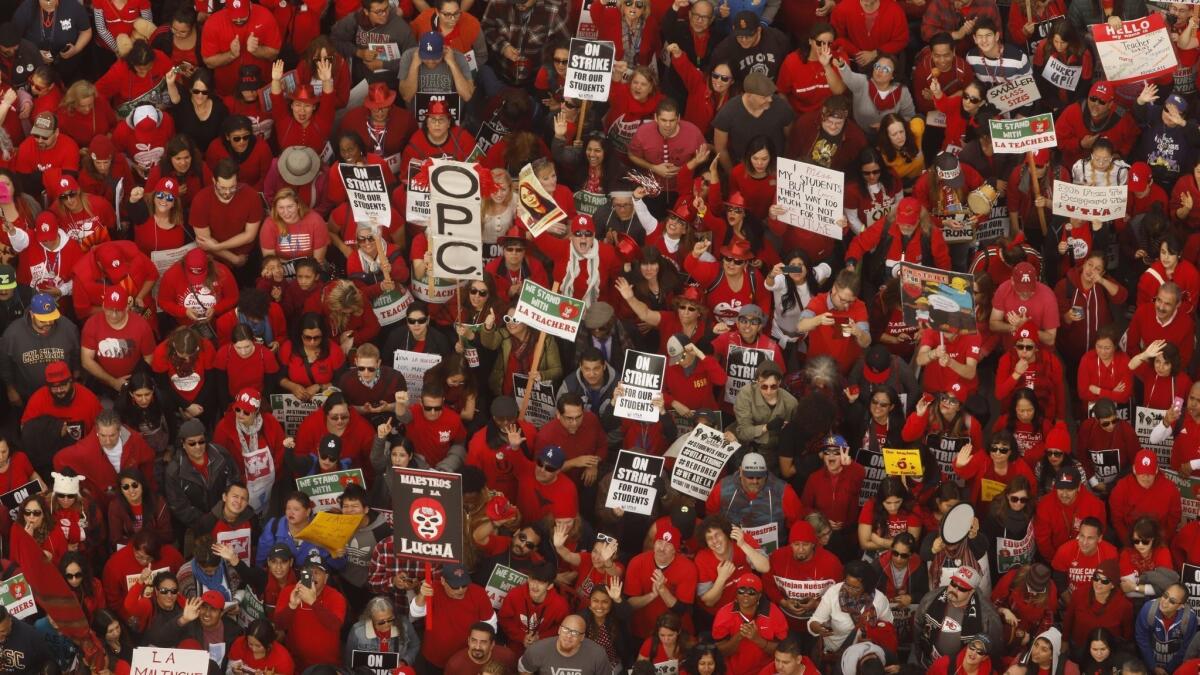 Los Angeles is often criticized for its lack of public engagement and low voter turnout, and as a place where neighborhoods have a sense of community but the city overall feels fragmented.
But the nation saw a different side of L.A. when last week's teachers' strike galvanized the city. Thousands of red-clad teachers marched and rallied on the streets, drawing vocal support not just from residents and parents but from politicians and celebrities eager to back their cause.
By keeping a tight message and engaging parents, the United Teachers Los Angeles union and its president, Alex Caputo-Pearl, were able to highlight issues of inequality and L.A.'s struggling school system in a way that supporters hope has lasting significance.
Over the six-day walkout, teachers made the strike less about their salaries than about class sizes, services for children and the future of public education. Many parents in Los Angeles have fled traditional public schools in favor of charter schools, which are expanding rapidly across the city.
The strike may not have hurt the allure of charters to parents frustrated with the Los Angeles Unified School District. But it brought attention to the financial toll that defections are having on the school system and the difficult learning conditions, especially for students from lower-income families, in L.A. Unified.
The union's message was that "public education is rooted in democracy and in the tradition of the school district," said Charles Kerchner, a labor relations historian and professor emeritus at Claremont Graduate University. "They were actively selling this idea to parents, to the public.
"UTLA and Alex handled this brilliantly," he added. "It almost became a movement."
The long-term implications of the strike are unclear. The teachers union remains in an uncertain position, with half the current members of the L.A. Board of Education having been elected with backing from charter advocates. That could change in March with a special election for the board's seventh seat.
Moreover, it's hard to know whether other labor movements would have similar success without the issue of childhood education in the forefront.
Some see the teachers' strike as a larger increase in political engagement that began with the election of President Trump in 2016 and the many protests that came with the blue "resistance" in California. That continued in 2018, when Democrats took several key House seats across the state in areas once considered safely Republican.
"You're having a consecutive number of events where people are in the streets or supporting people in the streets," said Jaime Regalado, professor emeritus of political science at Cal State L.A., adding that there's a "spirit of resistance, a spirit of support" in California in the Trump era.
Time will tell how long this shift will last. Los Angeles has become notorious for its low voter turnout in local elections, which hit an all-time low of about 18% in the 2009 mayor's race and was only 20% when Eric Garcetti was reelected.
Union leaders said preliminary counts show the agreement was approved by a large majority, but the contract between L.A. Unified and the teachers union wasn't universally embraced by educators, and UTLA's Facebook page was flooded with complaints Tuesday about the agreement. Some teachers complained it was vague on details and watered down. Also, gains were modest on reducing class sizes compared with what union leaders said publicly.
Still, the union achieved its goal, at least temporarily, of uniting parents, educators and their supporters. Downtown rallies backing educators over the last week followed several other recent marches in Los Angeles focused on gun violence and women's rights.
The strike gained momentum as images of marching teachers spread, but parents also played a key role as they picketed alongside their children's teachers or had their kids stay home.
Hollywood parent Lowell Goodman kept his kids out of school and saw the strike as a protest of the erosion of the middle class in Los Angeles, driven in large measure by rising housing costs.
Parents don't have access to the quality public education that past generations did, said Goodman, who marched alongside his kids' teachers at Valley View Elementary.
"This was a revolt of the middle class," said Goodman, a former communications director for a city union. "Middle-class people in Southern California are fed up."
Still, not everyone knew of the strike, said Maisie Chin, executive director of Community Asset Development Re-defining Education, an independent group that works with parents of L.A. Unified students in South Los Angeles. She saw small numbers of parents and striking teachers in South L.A.
"The unification didn't reach the trenches," Chin said. "It underscored the need to look in places like South L.A. and reexamine how closely parents are aware of the strike and the issues."
The question to ask, she said, is "which parents are being engaged, and were the most marginalized parents being approached? And that mainly means African Americans."
Randi Weingarten, president of the American Federation of Teachers, raised the issue of inequity when she joined marching students last week in Los Angeles. By seeking smaller class sizes and job protections for teachers, UTLA was "fighting for the schools that all children deserve, not some children deserve," she said.
"Frankly, these are things that every middle-class or rich parent demands of the schools that their kids go to," Weingarten said.
With long-term funding still an issue for L.A. Unified, money could potentially come from passage of a 2020 ballot measure that would change Proposition 13 or from a possible local parcel tax. It remains uncertain whether the public's support for public education will carry over at the polls.
Other labor strikes are on the horizon in cities including Oakland, where the local teachers union is expected next week to vote on a strike.
UTLA's Caputo-Pearl said this week that labor movements across the country should take note of his union's approach. The L.A. strike was about the "broader common good, and not so much about a narrow working contract," he said.
Times staff writer Sonali Kohli contributed to this report.
Twitter: @dakotacdsmith
Sign up for Essential California for news, features and recommendations from the L.A. Times and beyond in your inbox six days a week.
You may occasionally receive promotional content from the Los Angeles Times.