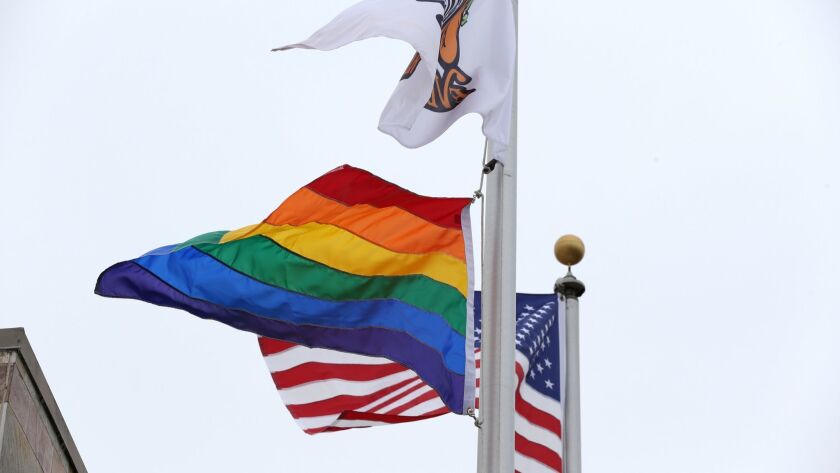 Three days after it was first hoisted, the LGBTQ rainbow flag flown at the Orange County Fair & Event Center was stolen.
The theft occurred Tuesday and was reported to the Orange County Sheriff's Department, according to a statement issued by the fairgrounds this week.
The flag has since been replaced and additional security measures put in place at the state-owned fairgrounds in Costa Mesa, according to Terry Moore, a spokeswoman for the fairgrounds.
The rainbow flag — a symbol of the lesbian, gay, bisexual, transgender and queer, or LGBTQ, community — was raised for the first time at the fairgrounds on June 8 following a May 23 Fair Board vote. The banner will fly year-round at the property.
"We are extremely disappointed that this offensive act occurred because it goes against the message of community and inclusion that we believe in," Fair Board Chairman Robert Ruiz said in a statement. "The OCFEC board supports every community and promotes a safe and welcoming environment for all at our fairgrounds."
Sheriff's spokeswoman Carrie Braun said Friday that the investigation is continuing.
"When you see a rainbow flag flying, the sense of safety that that gives you and the sense of welcomeness that that gives you — for a community that can otherwise be invisible, [it] is very, very important," Fair Board member Andreas Meyer said last month.
Along with the fairgrounds, the cities of Costa Mesa and Laguna Beach have approved displaying the flag at their respective city halls from Harvey Milk Day on May 22 through June, which is LGBT Pride Month.
Nguyen writes for Times Community News.
Nguyen writes for Times Community News.
---