Trouble-plagued South L.A. liquor store has license revoked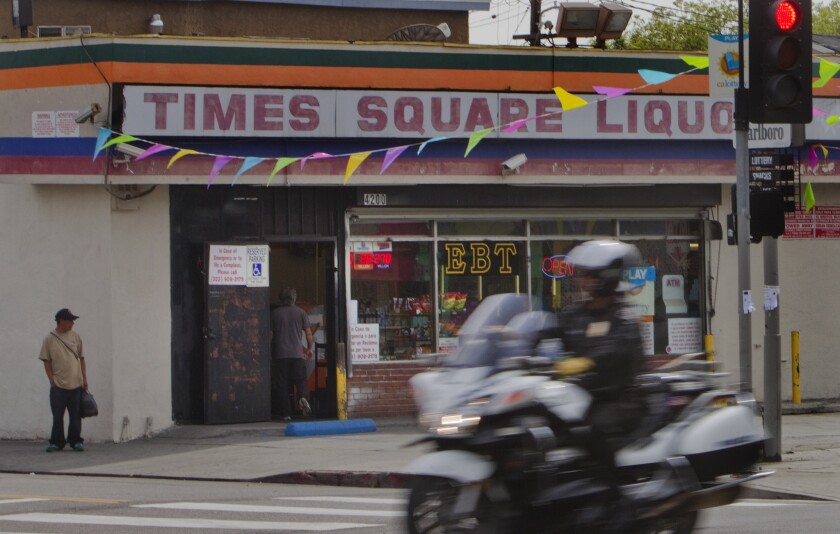 As part of a crackdown on nuisance businesses, city officials revoked the liquor license of a South Los Angeles liquor store Friday that they say had become a hot spot for crime and violence.
Law enforcement officials said that 125 arrests had been made directly related to alcohol purchased at Time Square Liquor over the last two years, including for public intoxication and selling alcohol to minors. Additionally, the business had been cited twice for violating its conditional use permit by selling alcohol without a license.
"This is a long time coming," said LAPD Capt. Ed Prokop.
Since 2009, officials said they have been trying to get the business to comply with the law. Prokop said officials have met with the owner to try to remedy some of the problems, but after dozens of complaints and three public hearings, they decided to revoke the liquor store's license last week.
The move comes after Los Angeles City Councilman Curren Price vowed to take a tough stance on businesses that drain public resources and attract crime. Prokop said there are 158 liquor stores in the nine square miles of South L.A.
Authorities are monitoring the activities of about 10 other nuisance businesses.
"All too often, the residents tell us that bad actors and bad businesses come into our community, make money, create problems, take the money out of the community and leave the problems for us to deal with," said Marqueece Harris-Dawson, president and chief executive of Community Coalition, a South L.A. community organization.
Time Square Liquor, at the corner of 42nd Street and Broadway, has been in business almost three decades, authorities said. On Friday, it was open for business as usual.
Inside the store, oldies blasted from the speakers, but about a dozen neon signs advertising beer brands were dim. Seven refrigerator cases once filled with beer, wine coolers and spirits were covered with white cardboard. At a news conference announcing the crackdown, Price said he will continue working with the community to target other businesess that drag down the neighborhood.
"It's incomprehensible that it has taken four years to close a facility that has been disrespecting the community as this one has," he said.
Twitter: LATangel
---
The stories shaping California
Get up to speed with our Essential California newsletter, sent six days a week.
You may occasionally receive promotional content from the Los Angeles Times.