Long Beach sees PCH as a hub for denser, resort-style development, but residents are wary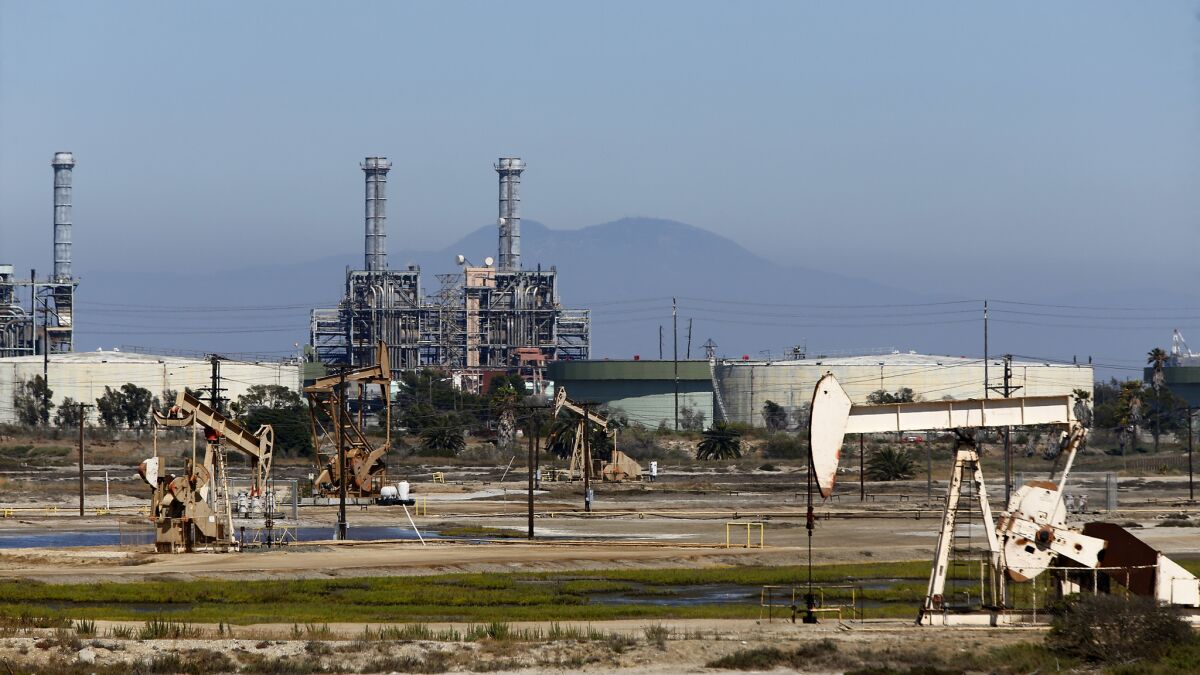 For years, Long Beach has debated how to remake one of its busiest and most important crossroads.
The corner of Pacific Coast Highway and 2nd Street is already home to two shopping centers and serves as the eastern gateway to the Alamitos Bay Marina and the beach communities of Naples and Belmont Shore. It's also home to a sprawling wetlands dotted with oil wells.
Developers have long seen potential in the southeastern tip of Long Beach, but previous efforts to build condo towers and other developments have been pushed back by residents who like the area the way it is.
The future is likely to become clearer in coming months as Long Beach officials consider sweeping zoning changes that could pave the way for new residential units, retail shops and taller buildings.
The plan would allow for mixed-use developments along Pacific Coast Highway but also protect portions of the Los Cerritos Wetlands. The blueprint could be the first significant zoning change to the region since 1977, allowing for buildings of up to seven stories and significantly denser development.
Long Beach is the latest of several Southern California beach communities to grapple with increasing density. Huntington Beach recently added several new hotel and shopping center projects south of its landmark pier. And Santa Monica is now debating efforts to increase development, including several new towers. Until now, much of Long Beach's high-density development has been in its downtown area, which is dotted with offices and residential towers.
Randy Gordon, president and chief executive of the Long Beach Chamber of Commerce, says the proposal for east Long Beach could bring more jobs and businesses to the city, particularly higher-end retailers. Currently, he said, Long Beach residents need to go to upscale shopping malls like South Coast Plaza in Costa Mesa and Los Cerritos Center in Cerritos for that type of shopping.
"I'd rather take the chance to have a little more traffic as a trade-off for much nicer amenities," he said.
But some residents are concerned about the plan and its estimate of up to 8,600 additional residents moving to the region.
Longtime resident Jan Hall served on the City Council from 1978 to 1990 and is among those upset about the plan's potential effect on traffic, population and building heights. Under the proposal, building heights could double.
"I'm very concerned about the height of buildings because they're so out of character with the rest of the area," she said, adding that the plan "changes what's special about this end of town."
The proposed maximum building heights for mixed-use parcels vary, and most properties within southeast Long Beach will not be affected by zoning changes.
For example, the rectangular piece of land between 2nd Street, Shopkeeper Road, East Marina Drive and a portion of Studebaker Road, which is bisected by Pacific Coast Highway, could support buildings up to seven stories if hotel use is included in the projects.
Properties on the southeast corner of Pacific Coast Highway and Loynes Drive — including the Best Western Golden Sails Hotel and Gaslamp — could be up to five stories if they contain hotel use.
The plan envisions sidewalks and bike lanes along Pacific Coast Highway and surrounding roads. It also would require some developments near marinas or waterways to establish at least a 25-foot promenade that the public could use.
Elizabeth Lambe, executive director of the advocacy-based Los Cerritos Wetlands Trust, has worries about possible light and noise pollution affecting the wetlands. She hopes tall buildings will not affect wildlife traveling between the wetlands and bay.
"We want to make sure there's adequate buffers for any development that goes up against the wetlands," she said.
The buffers are typically 100-foot-long portions of land separating the wetlands from surrounding developments, but they may be shortened depending on the project, according to the city.
It's not the first time there have been proposed changes near 2nd Street and Pacific Coast Highway. A plan to replace the Seaport Marina Hotel with a $320-million development that included a 12-story tower was narrowly rejected by the City Council in 2011.
The new plan must be approved by the planning commission and City Council before it can go before the California Coastal Commission.
During a public comment period last year, close to 50 agencies, businesses and residents expressed concerns about the project, including its potential effects on traffic.
"My biggest concerns about the proposed plan is that it seems to have density in an area that has really bad traffic," said Linda Pemberton, a longtime resident who has attended many community meetings on the plan.
Pemberton supports updating the current zoning plan, but she isn't in favor of high density.
Christopher Koontz, a Long Beach planning officer working on the plan, has heard complaints about the project too, but feels it's time for the plan to be updated.
"We can create spaces that will be attractive and will enjoy a lot of public amenities," he said, adding, "no one is disputing that it's a major change."
Councilwoman Suzie Price, whose district includes southeast Long Beach, said she has remained neutral on the plan. She and the rest of the nine-member City Council are expected to vote on the plan on Dec. 6.
The planning commission will hold a study session on the environmental impact report for the public on Aug. 18.
Follow me on Twitter @journoshane.
ALSO
8 dead, 350 square miles burned, 300 homes destroyed since June in grim beginning to California fire season
Lunada 'Bay Boys' surfer gang hit with another class-action lawsuit
When it's this hot in summer, even California's bears like to take a dip in the lake
The stories shaping California
Get up to speed with our Essential California newsletter, sent six days a week.
You may occasionally receive promotional content from the Los Angeles Times.