8 dead, 350 square miles burned, 300 homes destroyed since June in grim beginning to California fire season
As California enters traditional brush-fire season, there is something ominous in the air and on the ground.
As California enters traditional brush-fire season, there is something ominous in the air and on the ground.
Drought-stricken and ready to burn, the tree canopy in the central and southern end of the Sierra Nevada is awash in yellows, browns and oranges. Many of the trees showing green are already dead, but they just haven't shown it yet, said Jeffrey Moore, acting regional aerial survey program manager for the U.S. Forest Service.
"From our written history, this has probably been the worst situation California's forests have faced," Moore said. "If a fire comes in, it kills everything and leaves nothing behind."
Already, the fire statistics for 2016 are grim.
State fire officials estimate roughly 223,600 acres, or 350 square miles, of California have burned so far this year in some 4,000 wildfires on state and federal land. More than 300 homes have burned, and eight people have been killed, including a bulldozer operator helping fight a fire.
Fast-moving fires in the Lake Isabella area, the border region of San Diego and northern Los Angeles County proved particularly deadly, with residents unable to outrun the flames and perishing.
"People need to evacuate early. That's one of the things we've been running into. And they get trapped," said Lynne Tolmachoff, a spokeswoman for the California Department of Forestry and Fire Protection. "There are really, really dry fuels. They ignite rapidly and spread quickly."
Several forces have come together to make this fire season so difficult, with the five-year drought being just one. An unprecedented bark-beetle infestation that's killed 66 million trees since 2010 won't subside for years, even if California's rainfall returns to average, Moore said.
The hardest-hit areas have been the central and southern Sierra Nevada that includes the Stanislaus, Sierra and Sequoia national forests, and officials fear major fires in the coming months.
"That will be ground zero for this year's fire season," said Stanton Florea, a U.S. Forest Service spokesman.
Already, the Erskine fire that burned more than 48,000 acres and killed two people in Kern County over the summer was a snapshot of what could be in store for this season, Florea said.
The little rain that came this winter to Southern California provided enough water to sprout up grass and light brush, but not enough to keep it from quickly turning into bone-dry tinder.
The San Gabriel Complex fire — a pair of blazes that burned in the Angeles National Forest near Duarte in June — scorched more than 4,200 acres and partially started with a car crash that sparked a fire, officials said.
But even where the bark beetles aren't wreaking havoc, the state's sustained drought continues to cast a long shadow.
In Monterey County, the Soberanes fire continues to challenge crews. It has burned more than 53,690 acres and destroyed 57 homes. The cool, coastal conditions have actually hurt crews' efforts to battle the fire, not helped, according to Tolmachoff.
The marine layer that blankets the mountains at night has basically acted as insulation for the fire, trapping the heat within the forest, and created erratic winds and unpredictable flames, she said.
"It's like an oven, enclosed in this area, and gets warmer and warmer. During the daytime when it burns away, all that heat is able to erupt, and you'll start seeing those plumes of smoke," she said.
With containment at only 35%, the wildfire is "now burning into the footprint of the 2008 Basin Complex" fire, according to the National Weather Service. Described as one of California's largest fires in state history, the lightning-sparked blaze scorched 162,818 acres throughout the Big Sur coastline in June 2008 and destroyed 58 structures.
Although the latest wildfire is nowhere near the size of the Basin Complex fire, the Soberanes blaze is just as destructive.
Acting Gov. Tom Torlakson declared a state of emergency last week to help affected communities obtain aid swiftly. The blaze is threatening 2,000 homes and has prompted 300 residents to evacuate.
Raging flames also triggered state park closures along the Central Coast through Saturday, as well as a host of road closures. Trails and roads within Los Padres National Forest's Monterey District were also closed.
More than 300 wildfires burned throughout the state last week, aided by low humidity and a summer heat wave, according to Tolmachoff.
"The triple-digit temperatures — those are just devastating. Those are just drying everything…. It could create a longer fire season going into the month of November," she said.
Burning in Fresno County, the Goose fire remained at 2,241 acres Thursday and was 90% contained. Since it began Saturday, the Goose fire has destroyed four homes and threatened an additional 400 homes or structures.
Helicopters work the Soberanes Fire west of Cachagua, Calif. A wildfire north of Big Sur near California's Central Coast has grown again overnight after burning for nearly two weeks.
(Vern Fisher / Associated Press)
Cal Fire captain Gino DeGraffenreid monitors a firing operation with his crew of firefighters west of Cachagua, Calif. The Soberanes fire has scorched more than 79 square miles and destroyed 57 homes.
(Vern Fisher / Associated Press)
Big Bear Hotshots Erik Evans fires a creek bed along Refugio Road while working the Scherpa Fire in Santa Barbara County.
(Brian van der Brug / Los Angeles Times)
A religious icon stands in the charred remains of a neighborhood in South Lake.
(Luis Sinco / Los Angeles Times)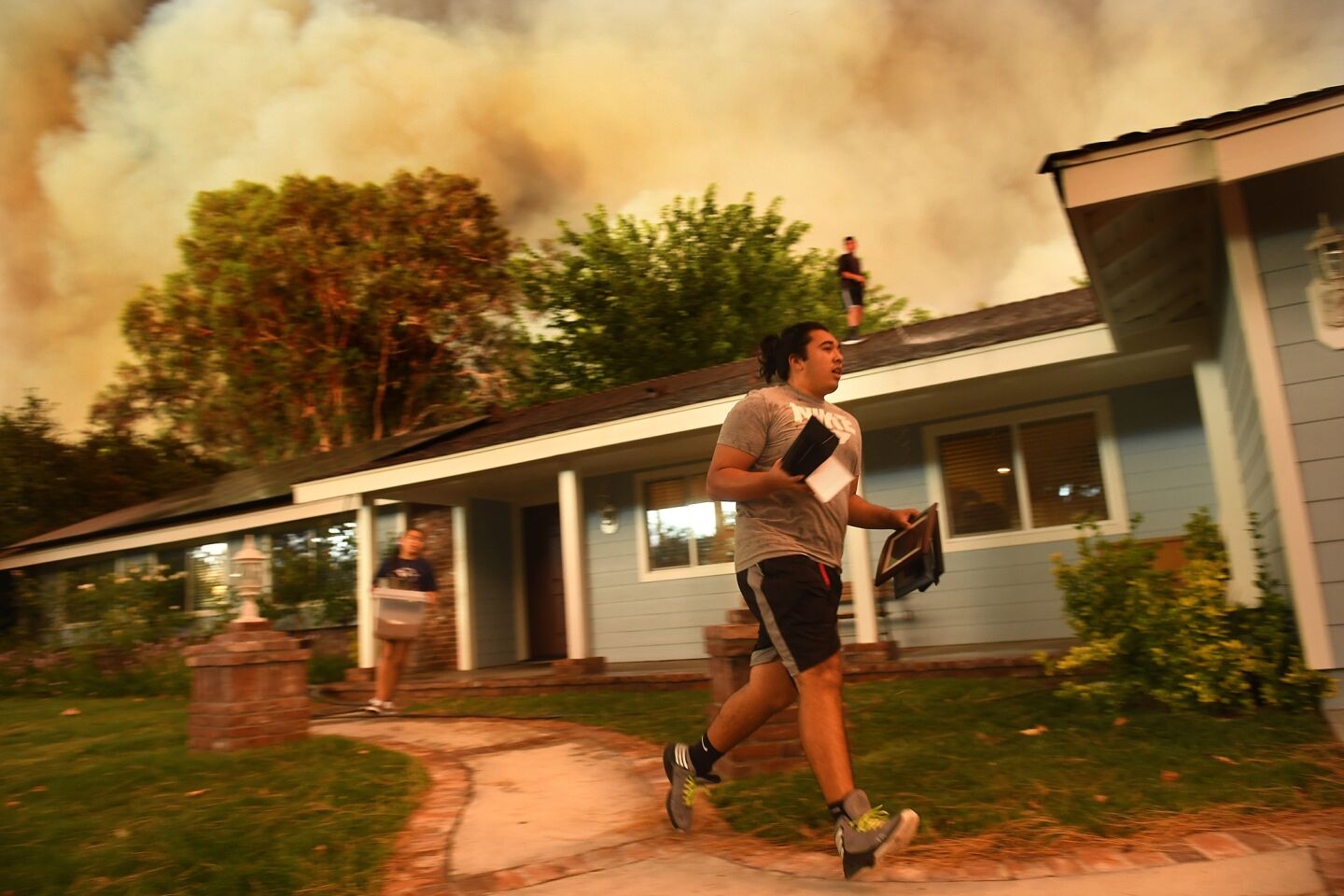 Seth Moberg, 16, gathers belongings from his family's house on Sand Canyon Road as the Sand fire approaches in Santa Clarita.
(Wally Skalij / Los Angeles Times)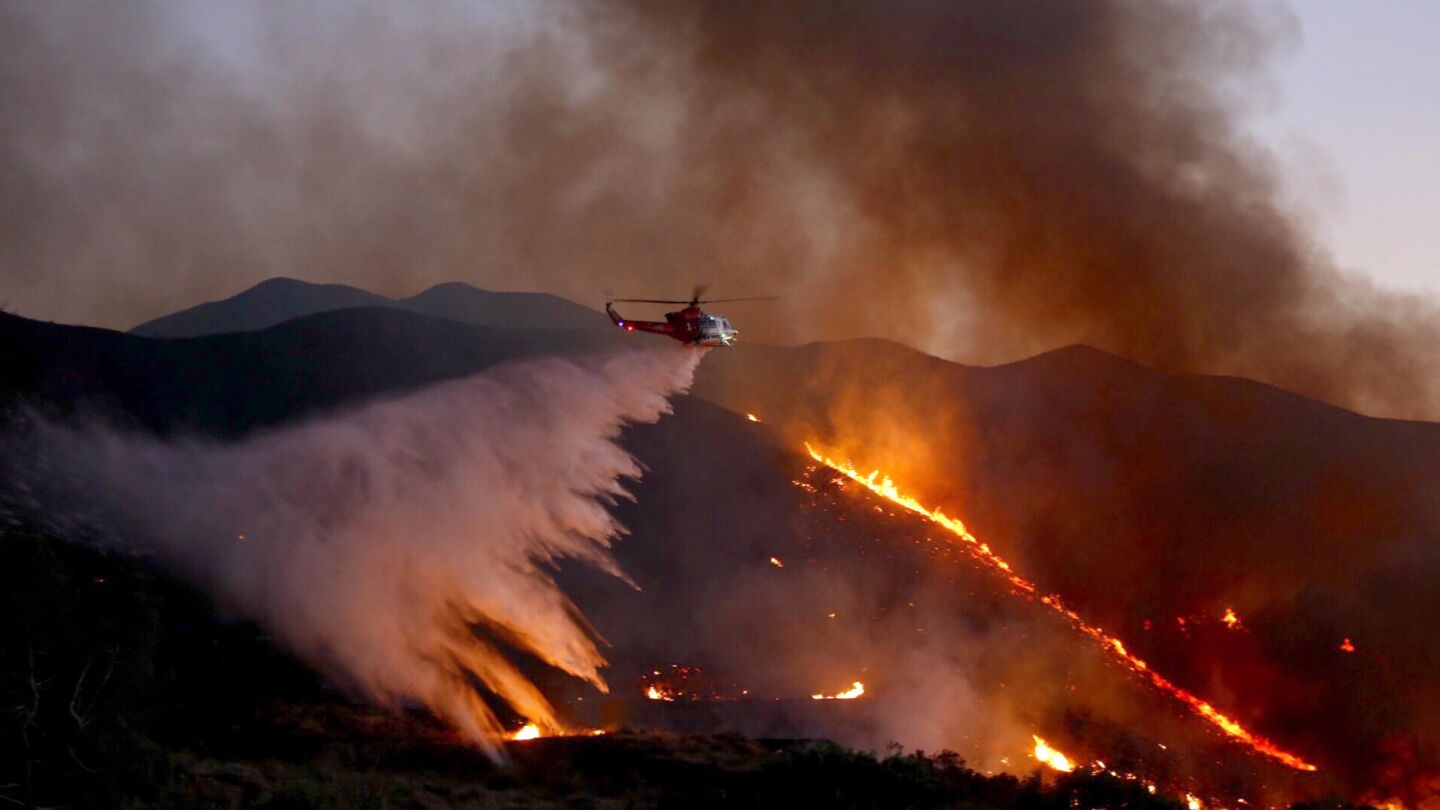 A helicopter drops water on the fast-growing brush fire east of Santa Clarita.
(Francine Orr / Los Angeles Times)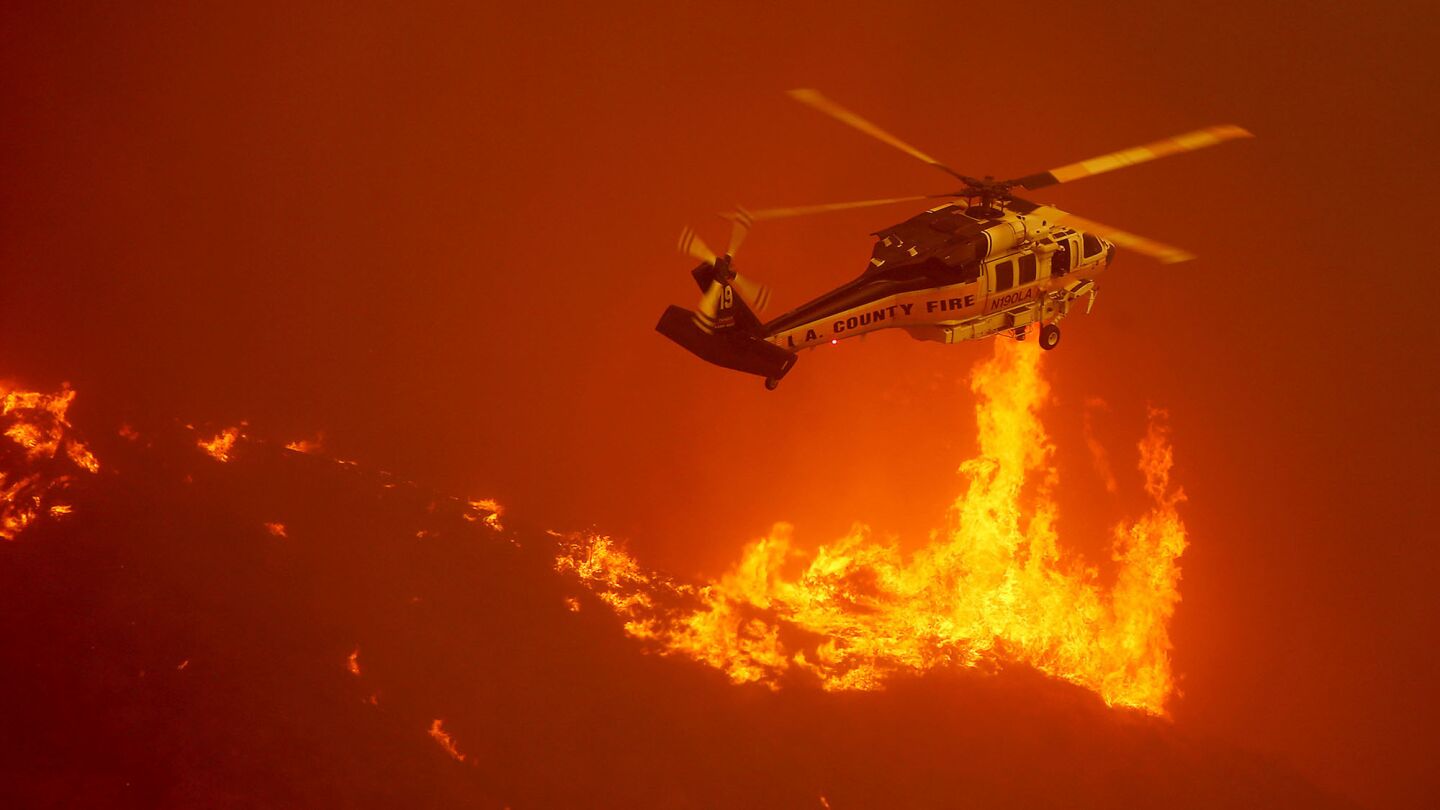 A firefighting helicopter hovers close to the flames from the Sand fire as it burns out of control along Soledad Canyon Road near Acton on Sunday.
(Luis Sinco / Los Angeles Times)
Los Angeles County firefighters Kevin Bowers, left, and Pat Hanrahan are watchful as a plume of smoke builds in the mountains along Soledad Canyon Road near Acton on Monday.
(Al Seib / Los Angeles Times)
Firefighters monitor the burn-out operation in El Capitan Canyon.
(Marcus Yam / Los Angeles Times)
Firefighters march into El Capitan Canyon in Golata to conduct a burn-out operation to corral the Sherpa fire.
(Marcus Yam / Los Angeles Times)
Firefighters combat the front lines of the Sherpa Fire to avoid it from moving onto the 101 freeway, along Calle Real road, in Goleta, Calif.
(Marcus Yam / Los Angeles Times)
Tyra Rene Fuller tears up a she finds a porcelain cast of her daughter's handprint while soring through what's left of her belongings after her home was destroyed by the Erskine fire in Lake Isabella, Calif.
(Marcus Yam / Los Angeles Times)
The sun sets as smoke fills the air looking west toward Lake Isabella.
(Wally Skalij / Los Angeles Times)
The Black Eagles fire crew from Porterville lights a backfire in Lake Isabella, Calif.
(Marcus Yam / Los Angeles Times)
Firefighters from Cal Fire's Sonoma-Lake-Napa Unit pay close attention to a wildfire moving in from every direction in Kelso Valley as the blaze progresses east with the winds near Lake Isabella, Calif.
(Marcus Yam / Los Angeles Times)
Improvements were made near Lake Berryessa, where the 4,700-acre Cold fire was burning north of Winters in Yolo County. By Thursday morning, evacuations were lifted for residents living in the Golden Bear Estates. The blaze is only 15% contained.
Flames continued to smolder in remote areas that firefighters had difficulty reaching.
Aided by aircraft, firefighters were focused on the north end of the fire and trying to hold defensive lines along Highway 128.
Southerly winds developed late Wednesday, allowing the fire to spread north.
"Ground crews as well as aircraft continue to work aggressively to extinguish the slop over," Cal Fire said. "This goes to show the volatility of this fire and the potential for growth that might occur."
ALSO
Two babies in California born with microcephaly from Zika, officials say
'Shrimp Boy' gets life in prison for murder, corruption in San Francisco case
Stockton mayor arrested, accused of playing strip poker with a minor and giving them alcohol
---
UPDATES:
10:00 a.m.: This article was updated with new containment and acreage numbers on the fires.
This article was originally published at 5 a.m.
---
The stories shaping California
Get up to speed with our Essential California newsletter, sent six days a week.
You may occasionally receive promotional content from the Los Angeles Times.