Giving every kid in L.A. a computer tablet? Pros and cons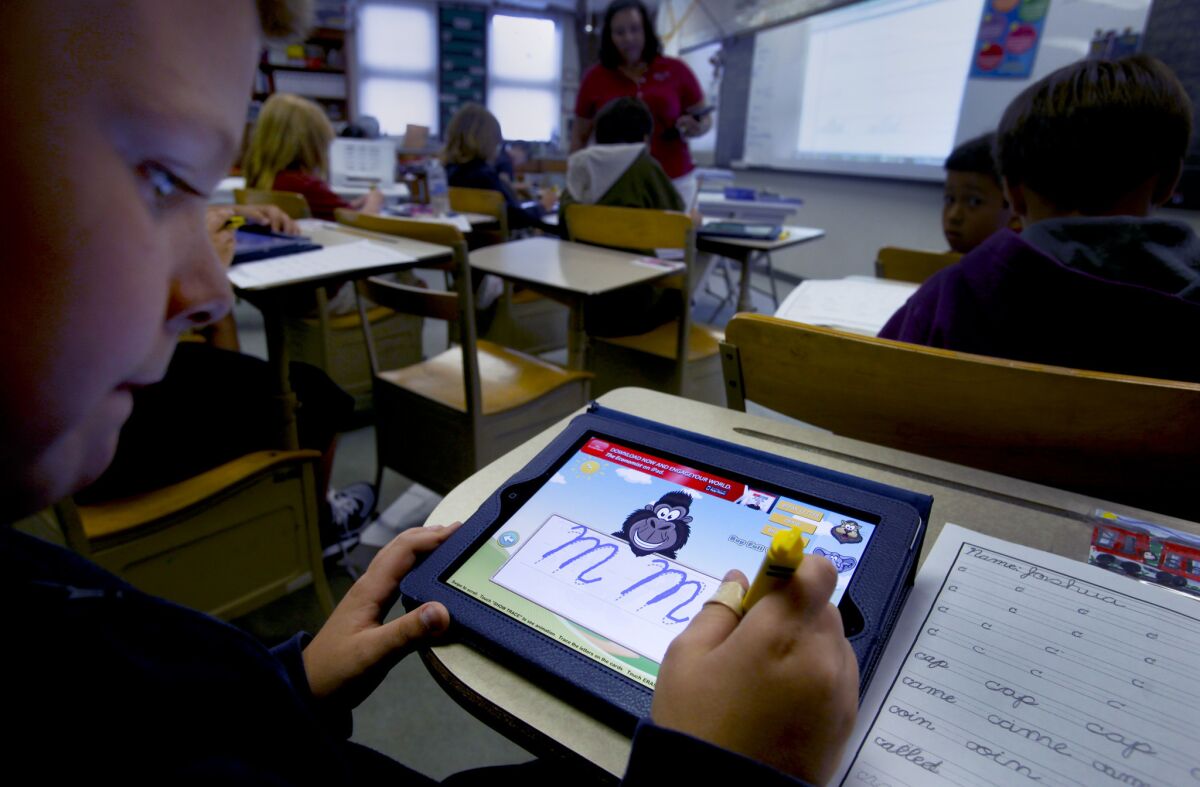 My wife and I have tried, with mixed results, to keep our daughter from becoming too obsessed with digital electronics. And yet her school district, L.A. Unified, has a plan to give every child in every school a digital tablet. LAUSD chief John Deasy, who's been pushing the plan, hasn't yet figured out how to pay the tab. And with more than 650,000 students, we're talking hundreds of millions of dollars in a district where many buildings are falling apart.
In my March 12 column on the LAUSD tablet, I reported on the billions of dollars in deferred maintenance, with no fewer than 35,000 unresolved calls for basic repairs and service, with broken air conditioners, leaky roofs and crumbling bleachers, among other problems.
Deasy told me students will be required to take standardized tests on computers by 2014-15, and he wants his graduates to be trained and ready for life and careers in a tech-oriented world.
So the district has begun a $50-million pilot program, and although I'm still hearing some grumbling from teachers who fear that tablets will be a distraction and an impediment to learning, the experiment gets high marks from the first school where they're being put to the test.
"It's been pretty amazing," said Debra McIntyre-Sciarrino, principal at Valley Academy of Arts and Sciences in Granada Hills.
All the school's 1,200 students got iPads last November, and McIntyre-Sciarrino said despite some early kinks for teachers and students, there's now "a really dynamic learning environment" in many classes. And the tablet is an equalizer, she said, for students who don't have access to computers outside of school.
At the moment, I've got mixed feelings about tablets, and lots of questions. I'm headed to Granada Hills to meet with students and teachers, and I'll have more on the subject in the next few days, with Deasy and others weighing in.
In the meantine, feel free to jump into the conversation.
Yes or no to tablets for all?
ALSO:
LAFD chief presses ahead with firefighter reassignment plan
Toll lane monthly fee to be suspended for L.A. County residents
Former Compton mayor, newcomer head to runoff; results finalized

---
Life is stressful. Our weekly mental wellness newsletter can help.
You may occasionally receive promotional content from the Los Angeles Times.