Authorities seize 111 illegally owned firearms in L.A. County sweep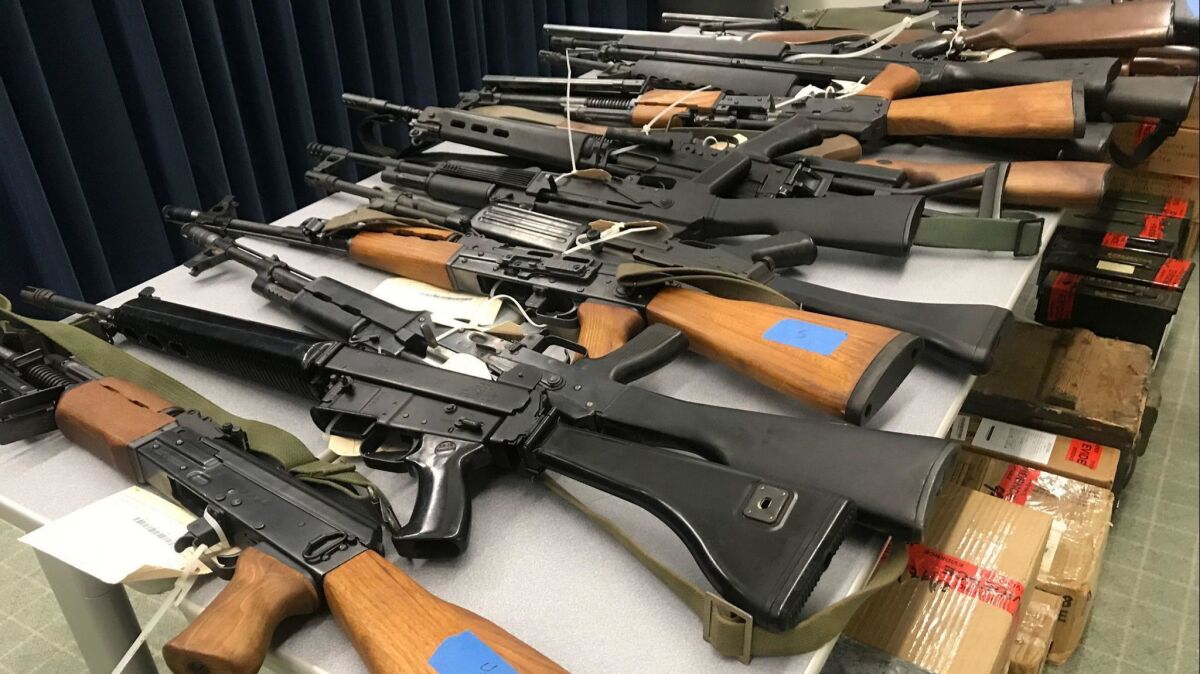 Law enforcement officials have seized 111 firearms and more than 27,000 rounds of ammunition from Californians under a new effort to confiscate weapons from people who have been barred from owning them, authorities announced Tuesday.
Operation Dual Force, a partnership between the California Department of Justice and the Los Angeles County Sheriff's Department, has so far closed 227 cases in the Armed and Prohibited Persons System — a list that identifies those who legally purchased guns but were later convicted of a felony or otherwise disqualified from holding firearms.
Launched in June, the operation has resulted in 35 arrests. It is expected to end this December. Among the cache of weapons authorities confiscated were 56 handguns, 21 shotguns and 24 rifles, as well as 50 high-capacity magazines, California Atty. Gen. Xavier Becerra told reporters Tuesday morning.
"Why California is the only state that does this, I don't get it," Becerra said as L.A. County Sheriff Jim McDonnell stood by his side. "For the buck, you get real value."
In 2006, California became the first state in the nation to create a database that cross-references firearms purchasers against a list of people convicted of crimes, or who are subject to mental health judgments or domestic violence restraining orders that prohibit them from possessing guns.
The list of prohibited people grew in its early years — faster than the understaffed state Department of Justice could seize guns in door-to-door searches, officials said.
In January, about 10,226 people were still on the list of Californians who legally purchased guns but were later disqualified from possessing them. A surge in gun sales and a reduction in funding for the program had stymied efforts by the state Department of Justice to eliminate the backlog.
"The number of people who are added to the APPS database continues to grow, somewhere between 60 to 100 I'm told per day," Becerra said. "Keeping up is difficult. We've approached the legislature to try to help us tackle this."
A change in state law that took effect Jan. 1 is expected to help the state put a big dent in the backlog.
A provision of Proposition 63, passed in 2016, requires people convicted of certain crimes to provide proof that they sold or transferred their firearms before the court finalizes their sentence. Failure to comply could affect the case and result in the court sending officers to recover the firearms.
Becerra said the number of people in the system has dropped to fewer than 10,000, which he called a "historic low."
"In L.A. County, we are down to approximately 1,600 active prohibited subjects," said Samuel Richardson, who supervises a team of Department of Justice agents who seize guns in L.A. County.
That puts the county figures lower than they were three years ago, when the number sat at roughly 4,000, Richardson said.
"We are making progress, it's just extremely slow," he said.
During the press conference, the sheriff detailed the types of cases agents encountered in the field, including one person who was mentally ill and would not surrender his weapons.
"Investigators were approached by several neighbors in the area and they all expressed their concern about the subject being unstable and they all feared for their safety," McDonnell said.
The neighbors, he said, told authorities that the man regularly abused methamphetamine and that he would challenge people and threaten to shoot them during "drug-induced tirades."
In that case, a team recovered 10 guns and several thousand rounds of ammunition, McDonnell said.
In another case, authorities found a man on parole who had a military-style rifle and several hundred rounds of ammunition. The team also found "white supremacist propaganda" at the man's home. A few days later, McDonnell said, investigators discovered an additional two handguns and more ammunition.
The cases will be referred to the Los Angeles County District Attorney's office for prosecution.
Twitter: @sarahparvini
Times staff writer Patrick McGreevy contributed to this report.
---
The stories shaping California
Get up to speed with our Essential California newsletter, sent six days a week.
You may occasionally receive promotional content from the Los Angeles Times.