Foes of L.A.'s new recycling program are pushing for a repeal at the ballot box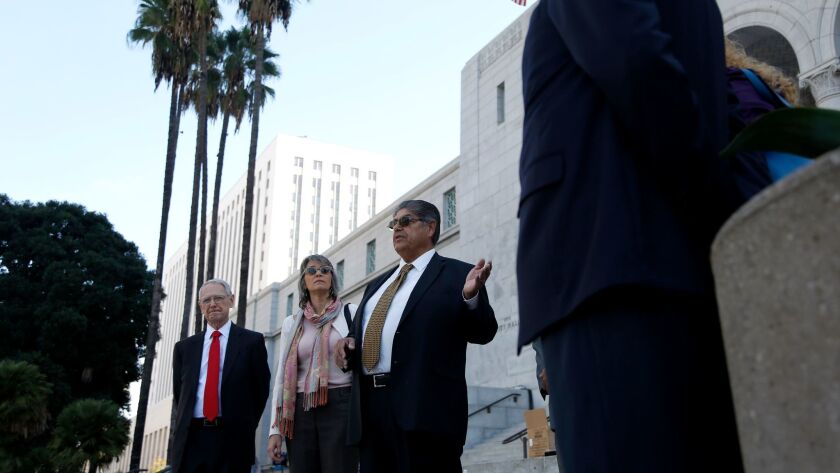 Opponents of Los Angeles Mayor Eric Garcetti's problem-plagued recycling initiative launched a campaign Thursday to dismantle the program, saying they want voters to replace it with a simpler trash system.
Valley Village resident David Hernandez said business owners, landlords and others have begun collecting signatures for a ballot initiative that would give commercial refuse customers more than one company to choose from for their trash pickup.
The proposal would repeal core elements of the RecycLA program, including requirements that trash companies supply their customers with recycling containers and pay their workers higher wages.
"I'm not going into this … thinking that it's going to be easy. It's going to be seven days a week for the next four months," said Hernandez, one of the proponents of the repeal and a frequent candidate for public office — most recently, lieutenant governor.
RecycLA was championed by Garcetti and approved by the City Council, which awarded contracts to seven trash companies in 2016. Under the system, each hauler received the exclusive right to operate in designated sections of the city.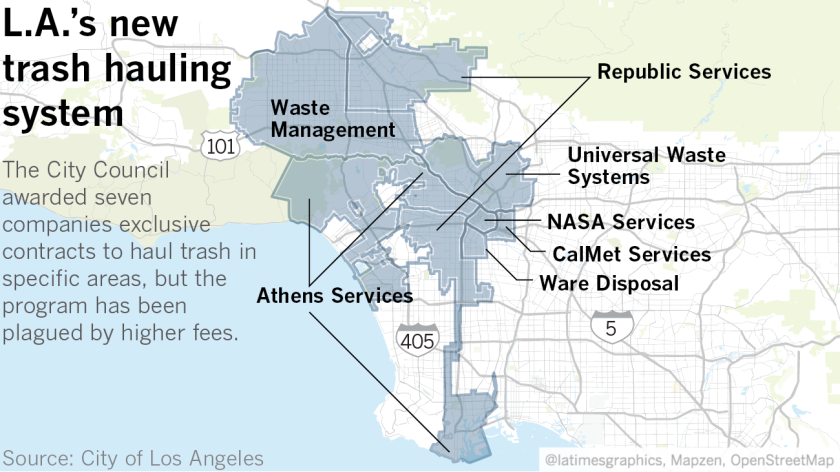 Since the program was launched last summer, many customers have seen their trash bills double or triple. Sanitation officials logged more than 28,000 complaints about missed collections within the program's first six months. Meanwhile, refuse company executives have been at odds with sanitation officials over how trash bills are calculated — and whether certain customer fees are permitted.
Supporters of RecycLA, for their part, say the city is still phasing in the program, moving tens of thousands of customers to new refuse companies. They note that on Feb. 1, the city's Bureau of Sanitation will have the power to hand financial penalties to haulers who fail to properly respond to missed pickup complaints.
Despite the uproar, the push to qualify for the ballot will still have a steep climb. Backers say they must collect more than 64,000 valid signatures — 15% of the total votes cast in last year's mayoral contest — to qualify the proposal for the November ballot.
Environmental groups, labor organizers and others spent years pushing for the creation of RecycLA, saying it will allow the city to meet state recycling targets, improve the conditions of trash workers and put cleaner-burning trash trucks on local streets.
Angelica Gonzalez, conservation program manager for the Angeles Chapter of the Sierra Club, acknowledged that some customers' bills have gone up significantly since the program started. But she portrayed those higher prices as the cost of replacing older trash trucks, and ultimately, cleaning the region's air.
"There's a price, with the damage we have done to the environment," she said. "And as humans, we are paying that price."
Gonzalez was one of several demonstrators who showed up at Thursday's news conference to protest the push to repeal RecycLA. Demonstrators carried signs with such messages as "Why are you taking away access to recycling?" and "Why are you taking away my right to breathe clean air?"
The push to adopt RecycLA was spearheaded in large part by the Los Angeles Alliance for a New Economy, a nonprofit group that advocates for policies favored by labor unions and environmental groups.
Robert Nothoff, director of the group's waste and recycling campaigns, said the ballot proposal would strip away worker protections in a dangerous industry. Asked about higher trash bills, he said: "What's the cost of actually taking away the ability to breathe clean air? That's what this [ballot proposal] would do."
Nevertheless, the idea of repealing RecycLA drew support on Thursday from one of the city's more prominent restaurant owners — Norm Langer, owner of Langer's Delicatessen in the city's Westlake area.
Langer said he has had a unionized workforce for decades and favors efforts to increase recycling. But he argued that the city's new system has left businesses with diminished trash service and no way to change companies.
Over the past month, the restaurant has had at least five missed refuse pickups, Langer said. The monthly bill, he added, has jumped to $2,200 from roughly $1,200.
"I can't live with this situation — uncollected trash, higher bills, me having to put on extra labor," he said. "It adds additional costs to me to operate my business, and that's a problem."
Twitter: @DavidZahniser
---
The stories shaping California
Get up to speed with our Essential California newsletter, sent six days a week.
You may occasionally receive promotional content from the Los Angeles Times.