L.A. Sheriff's Department indictments: 'Sad day,' Baca says
An inmate walks a hallway in Men's Central.
(Jay L. Clendenin / Los Angeles Times)
A reproduction of a painting hangs on the wall outside the medial clinic at Men's Central.
(Jay L. Clendenin / Los Angeles Times)
Handcuffs used to restrain inmates are secured to benches in the medical area of Men's Central.
(Jay L. Clendenin / Los Angeles Times)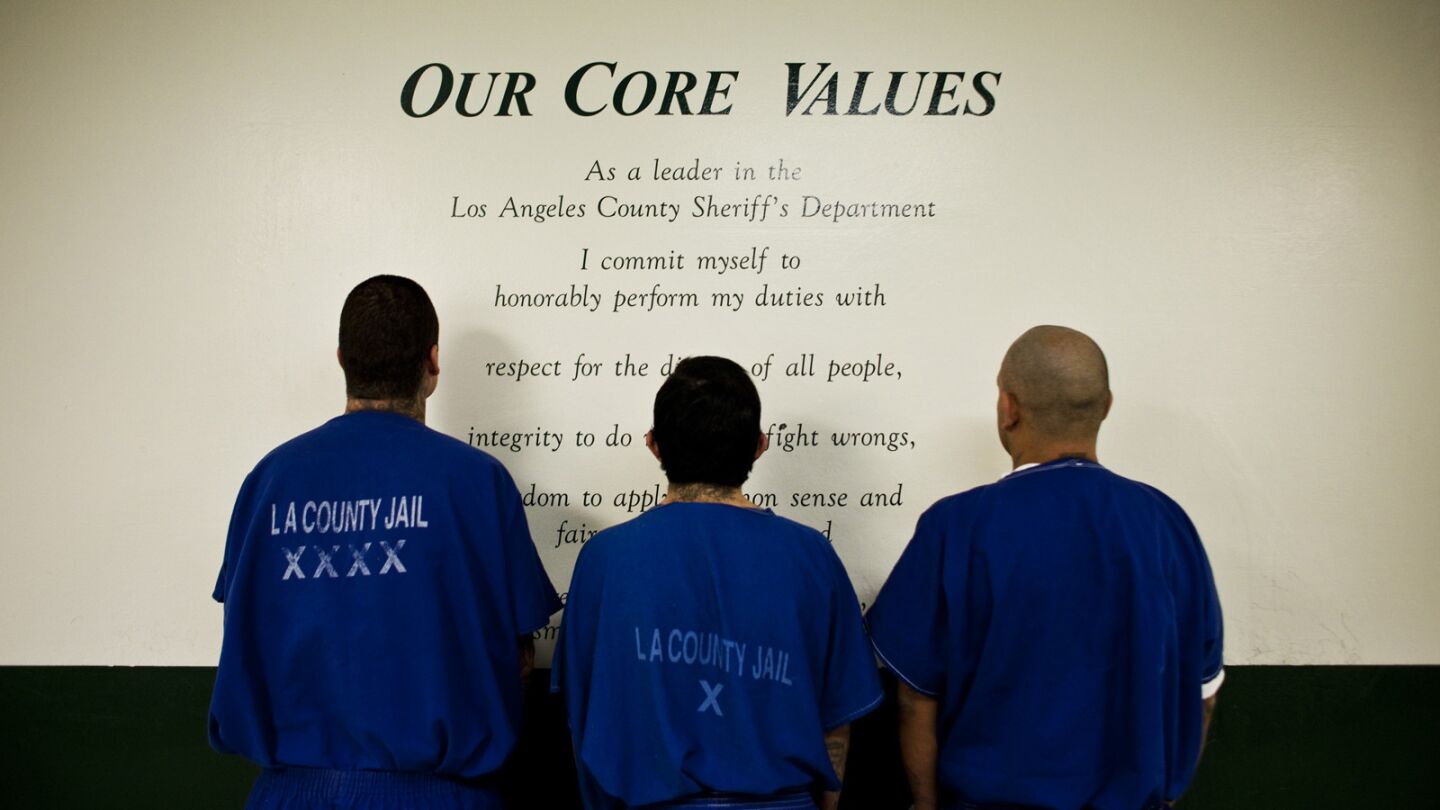 Inmates stand below the core values statement on a wall of Men's Central..
(Jay L. Clendenin / Los Angeles Times)
Phones on the 3000 floor of Men's Central. According to deputies, inmates determine which phones can be used by which race by the position of the receiver.
(Jay L. Clendenin / Los Angeles Times)
Colored tape directs inmates to various areas of Men's Central..
(Jay L. Clendenin / Los Angeles Times)
A single-man cell on the 3000 floor of Men's Central.
(Jay L. Clendenin / Los Angeles Times)
Lunches for inmates are delivered at Men's Central.
(Jay L. Clendenin / Los Angeles Times)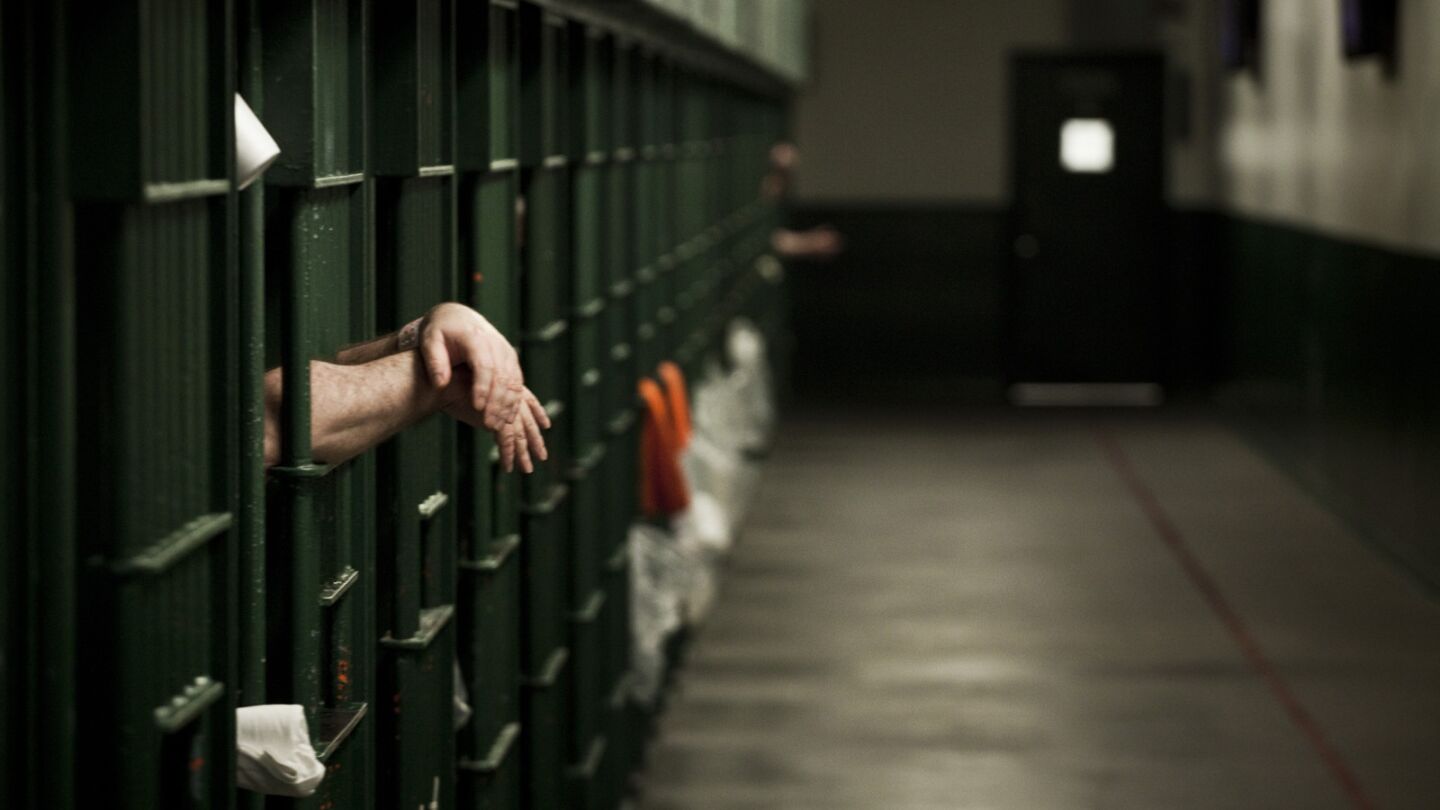 Cells within the Men's Central jail in Los Angeles.
(Jay L. Clendenin / Los Angeles Times)
Los Angeles County Sheriff Lee Baca said the charges against 18 current and former sworn officers on allegations of jail misconduct mark a "sad day" for the department, but he denied suggestions that it represents a larger, institutional problem.
At a news conference Monday afternoon flanked by more than a dozen of his top aides, Baca said he and the department have fully cooperated with the FBI's investigation and "didn't hold anything back."
"Please know that I respect the criminal justice system and no one is above the law," Baca said.
LIVE CHAT: Discuss the indictments Tuesday at 9 a.m.
He later added: "I accept responsibility.... You don't see me retire from the job (or blame others)."
For the last 163 years, 99.9% of Sheriff's Department employees "have done outstanding work," Baca said, adding that he is confident that 99.9% remain on the "right track."
On Monday, federal officials unsealed four grand jury indictments and one criminal complaint alleging that 18 Sheriff's Department employees engaged in abuse and misconduct inside Los Angeles County jails.
MORE: Tracking claims of deputy brutality
Charges in the indictments range from conspiracy and obstruction of justice to improperly arresting and searching visitors to the jails.
In announcing the arrests, U.S. Atty. Andre Birotte Jr. said the incidents "did not take place in a vacuum."
"In fact, they demonstrated behavior that had become institutionalized," he said in a statement.
"The pattern of activity alleged in the obstruction of justice case shows how some members of the Sheriff's Department considered themselves to be above the law. Instead of cooperating with the federal investigation to ensure that corrupt law enforcement officers would be brought to justice, the defendants in this case are accused of taking affirmative steps designed to ensure that light would not shine on illegal conduct that violated basic constitutional rights."
But Baca denied that the problems were widespread.
"There is no institutional problem within the Sheriff's Department when it comes to correcting itself," Baca said, adding that reforms have been widely reported on.
"The exceptions of force incidents — 14 or 15 under indictment ... is not an institutional number. So that's my answer."
Baca declined to answer detailed questions about the allegations, citing the ongoing investigation.
"I've been waiting for the particular information and now we have it," he said.
He also declined to answer questions about whether an inmate was hidden from the FBI.
Federal authorities allege that officials hampered the federal investigation after the Sheriff's Department discovered that an inmate was working as a federal informant.
The officials moved the inmate — identified only as AB in the indictment — and changed his name, even altering the department's internal inmate database to falsely say that he had been released, according to the indictment.
In addition, sheriff's officials confronted one of the lead FBI agents outside her home and falsely claimed that they were in the process of obtaining a warrant for her arrest, the indictment alleges.
The actions were taken despite a federal judge's order that the informant appear before a federal grand jury as part of the FBI's investigation, the indictment alleges. The Sheriff's Department was served with the judge's order Aug. 25, 2011.
A separate indictment details three separate incidents in which prosecutors alleged that a sheriff's sergeant encouraged deputies he supervised at the visiting area of Men's Central Jail to use excessive force and unlawful arrests of visitors.
Visitors were taken to a deputy break room, which could not be seen by the public, and beaten by sheriff's officials, the indictment said. One visitor had his arm fractured.
In June 2011, an Austrian consul's husband was arrested outside the jail because he had walked near the doors going into the visiting center, according to the indictment.
When the consul requested to speak to a supervisor about her husband's arrest, she too was placed in handcuffs and arrested, even though she had committed no crime and would have been immune from prosecution, the indictment said.
The couple were taken to the same deputy break room, where they were searched, the indictment said.
ALSO:
Ex-Napster exec fatally struck by sheriff's patrol car while biking
Police used 'deadly force' on Kelly Thomas, retired FBI agent says
Paul Walker crash: Man who allegedly stole Porsche rooftop apologizes
---
Life is stressful. Our weekly mental wellness newsletter can help.
You may occasionally receive promotional content from the Los Angeles Times.