6 paid sick days for workers in L.A.? City Council says yes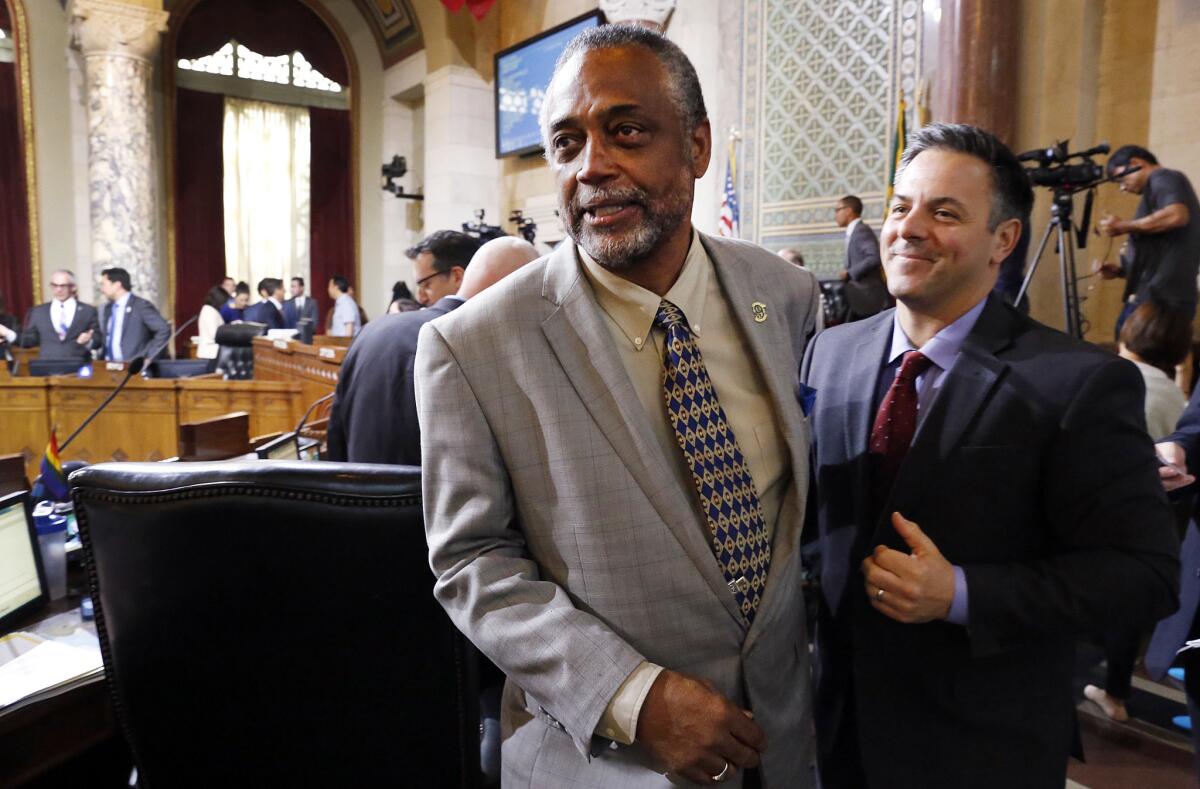 Los Angeles workers would be able to earn at least six paid sick days annually — twice the state minimum — under a proposed law that the City Council backed Tuesday.
Labor and community activists had pushed for L.A. to increase the mandated amount of time off for local workers who fall ill or need to take care of a loved one, arguing that employees too often are forced to decide between their health and their jobs.
Under the new law, which must be drafted by city attorneys, "no longer will workers have to make a choice between putting food on the table and getting well," said Rusty Hicks, executive secretary-treasurer of the Los Angeles County Federation of Labor.
Some business groups argued that the new requirements would place another burden on employers who already are facing other costly new mandates — including a string of increases to the L.A. minimum wage that eventually will require businesses to pay at least $15 hourly. The California Restaurant Assn., for instance, warned that the new rules could jeopardize small restaurants.
More sick days will impose "a big burden on our local businesses," said John Howland, government relations director of the Central City Assn.
The proposed law, however, would not go as far as rules already imposed on L.A.'s big hotels and city contractors, which must provide a dozen paid days off for sickness and other needs.
Business groups feared last year that the city would expand those requirements when City Councilman Curren Price said citywide rules should be "consistent" with earlier L.A. laws. Price told reporters Tuesday that city lawmakers had picked six days in "an effort to compromise."
The City Council voted 13 to 1 to ask city lawyers to start drafting the new law, with Councilman Mitch Englander opposing it and Councilwoman Nury Martinez absent.
Join the conversation on Facebook >>
If the law wins final approval, Los Angeles will join more than two dozen other cities and counties nationwide that have mandated a minimum number of paid sick days, according to the National Partnership for Women & Families.
Other California cities, including San Francisco and Santa Monica, have mandated that big employers allow workers to earn at least nine paid sick days annually.
The L.A. rules would go into effect for bigger businesses in July. Small businesses — those with 25 employees or fewer — would have an additional year before they would have to comply.
"We need to give these small businesses some sort of reprieve," City Councilman Paul Krekorian said.
But council members balked at a move by Councilman David Ryu to completely exempt small businesses. Englander, who supported that exemption, later said that its failure was the reason he cast the sole vote against requiring more sick days.
Backers of the new law estimate that more than 650,000 L.A. workers could be affected by the city requirements, based on an earlier analysis by the Institute for Women's Policy Research that gauged how many workers had no access to paid sick leave before California passed its law in 2014.
Under the proposed law, Los Angeles workers would be able to accrue an hour of sick leave for every 30 hours they work — the same rate as under California state rules. But the L.A. proposal differs from California law because the state allows employers to limit workers to using three days annually.
Los Angeles employers also could offer the required sick days upfront, instead of having employees accrue them over time.
Workers in L.A. would not be paid for unused sick days, but accrued time could be carried over to the next year. Businesses could cap that accrued time at 72 hours, or set a higher cap or none at all.
Follow @latimesemily for what's happening at Los Angeles City Hall.
ALSO
Black women ejected from Napa wine train reach settlement
Four people shot in Long Beach, 1 fatally; shooter at large
L.A. Mayor Eric Garcetti and other elected officials pledge to support transgender people
Sign up for Essential California for news, features and recommendations from the L.A. Times and beyond in your inbox six days a week.
You may occasionally receive promotional content from the Los Angeles Times.