Inspectors find deplorable conditions on L.A.'s skid row: Overflowing trash and burrowing rodents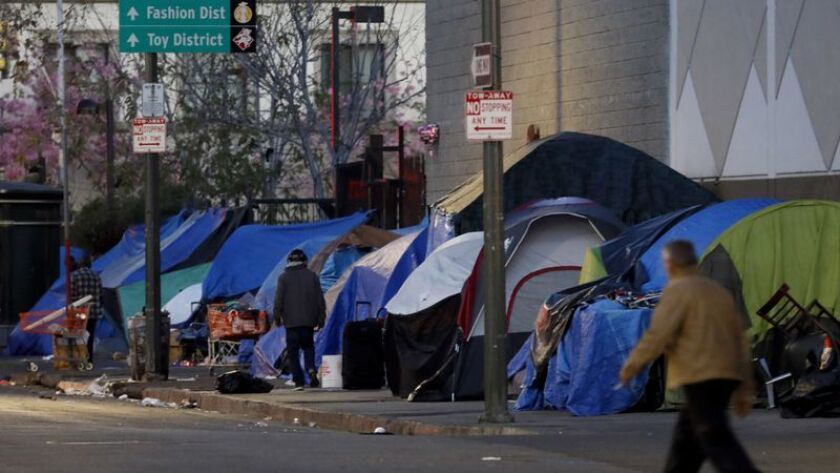 When county health inspectors went out recently to Los Angeles' skid row, they found overflowing dumpsters, trash-strewn streets and alleys and rodent burrows.
The inspectors also issued scores of violations to businesses that had failed to properly store or remove trash, the Los Angeles County Department of Public Health said this week.
Los Angeles officials are struggling with complaints about refuse and rodents as jarring new numbers that show more homeless people living on the streets brings new attention to the city's squalid conditions.
Mayor Eric Garcetti announced last week the city would dedicate inspectors to crack down on illegal dumping and put out more trash cans in downtown L.A. The city is also working with the county on solutions.
"There is so little enforcement of laws in downtown L.A.," said Estela Lopez, executive director of the Downtown Industrial Business Improvement District. "There's neglect, there's blight."
Her business improvement district covers about 80% of what is traditionally known as skid row, and her group picks up from five to seven tons of trash a day in a $2-million annual operation paid for by the property owners, she said.
"I don't care where the trash comes from," Lopez said. "I just want the streets to be clean."
The Department of Public Health said in a statement Wednesday that inspectors had issued 85 violations after touring the skid row area last week.
The specific violations were "related to overflowing trash bins at the exterior of the businesses, and/or rodent activity including rodent burrows/harborage," the county said in a statement.
The county said its department didn't issue fines, but businesses that don't fix their problems could be referred to the city attorney's office for possible criminal prosecution.
Inspectors went to skid row last week "in response to recent health concerns around a skid row encampment." The county plans to expand surveillance activities of encampments throughout the region, the statement said.
Lopez couldn't speak directly about the violations because she didn't know what specific area in skid row was targeted by county officials.
The county's announcement about the violations comes on the heels of a letter sent by the county's health officer, Muntu Davis, to Garcetti's office.
Davis last week urged the city to put out trash receptacles and regularly remove waste in the skid row area.
Toilets and hand-washing stations equipped with soap, water and paper towels should be made available, the letter said. County officials also said the city should come up with a plan to identify and clean accumulated human waste to reduce the spread of diseases at encampments.
County officials last week announced the number of homeless living on the streets, in vehicles and in shelters rose to nearly 59,000 countywide. Within the city of Los Angeles, the number swelled to more than 36,000, a 16% increase.
Twitter: @dakotacdsmith
---
The stories shaping California
Get up to speed with our Essential California newsletter, sent six days a week.
You may occasionally receive promotional content from the Los Angeles Times.