Homelessness jumps 12% in L.A. County and 16% in the city; officials 'stunned'
L.A. Times Today airs Monday through Friday at 7 p.m. and 10 p.m. on Spectrum News 1. 
In a hard reality check for Los Angeles County's multibillion-dollar hope of ending homelessness, officials reported Tuesday that the number of people living on the streets, in vehicles and in shelters increased by about 12% over last year.
The annual point-in-time count, delivered to the Board of Supervisors, put the number of homeless people just shy of 59,000 countywide. Within the city of Los Angeles, the number soared to more than 36,000, a 16% increase.
And as in past years, most — about 75% — were living outside, fueling speculation of a growing public health crisis of rats and trash near homeless encampments downtown.
The findings in L.A. follow a string of similarly dire point-in-time counts from across California, as government officials struggle to respond more forcefully to the state's abject lack of affordable housing. The shortage is driving up rental prices, forcing people onto the streets at a rapid pace.
Scenes from the 2019 Greater Los Angeles Homeless Count »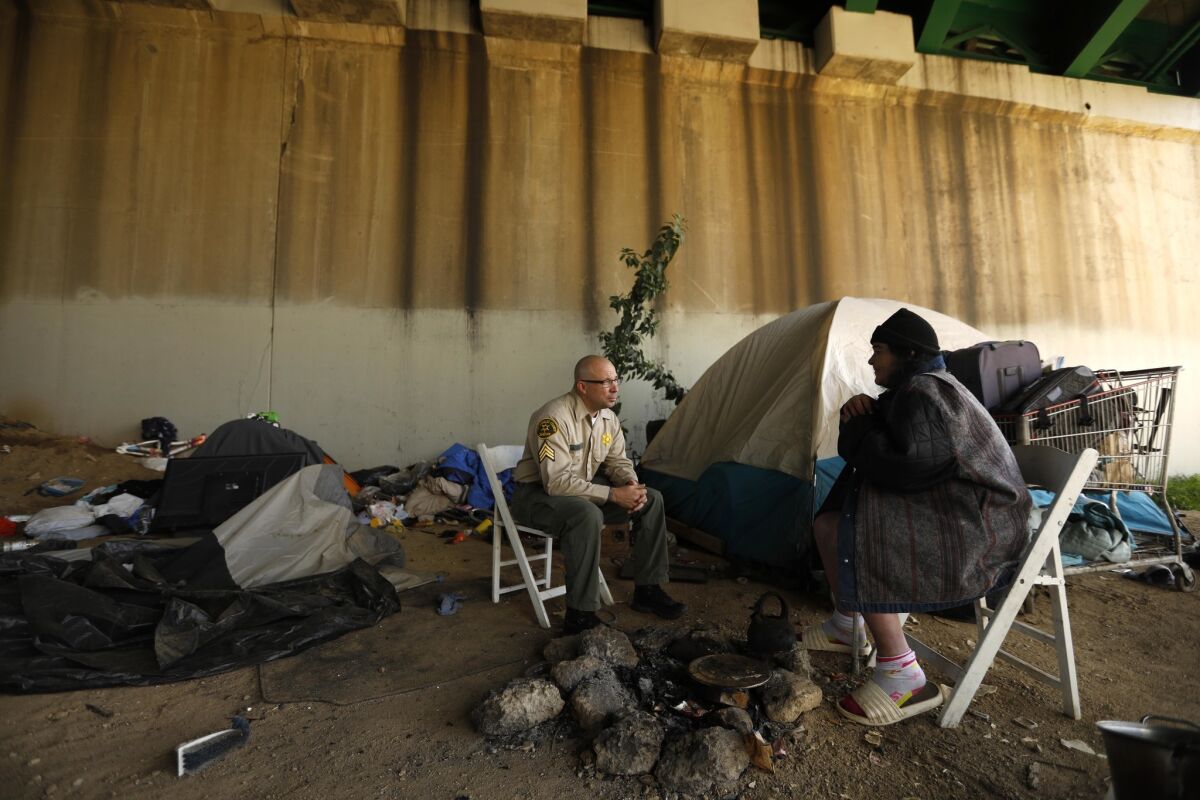 RELATED: See LAHSA's presentation on homelessness in LA County »
"At this point of unprecedented wealth in the county of Los Angeles, we are equally confronted with unprecedented poverty manifesting itself in the form of homelessness," Supervisor Mark Ridley-Thomas told The Times.
In a statement, Los Angeles Mayor Eric Garcetti called the increase in homelessness "heartbreaking," but said he was hopeful about the city's recent work to alleviate the crisis, including an investment of $42 million to respond to public health concerns and intensify street-based services.
"This work has never been for the faint of heart, and we cannot let a set of difficult numbers discourage us, or weaken our resolve," Garcetti said in a statement to The Times.
But among others in L.A. County, the point-in-time count crushed the optimism from last year's tally, when a modest decrease in homelessness was recorded. The uptick left officials struggling to understand how the tide could have turned so badly in a year when millions of dollars had been spent rolling out new initiatives to move people into shelters and permanent housing.
RELATED: There's a trash and rodent nightmare in downtown L.A., with plenty of blame to go around
Funds from the 2017 Measure H sales tax reached full strength last year and expanded homeless services got more people off the street than ever before — a little more than 20,000 into some form of housing, according to the county. Yet the number of people becoming homeless outpaced those historic gains.
"Last year's count, we felt we were trimming in a way that would suggest we were getting our arms around this," Ridley-Thomas said. "And yet this year we are pretty well stunned by this data."
Tuesday's supervisors meeting was packed with homeless and housing advocates, some of whom yelled, "Shame on you!" and "That's an undercount!" when county officials showed the point-in-time count on a large screen.
Board chair Janice Hahn admitted that getting chronically homeless people off the streets seems to be taking longer.
"The residents are seeing more encampments, more people sleeping on the sidewalks in dirty, unhealthy and heartbreaking conditions," she said. "They are frustrated by this problem. We need to give people answers."
But bracing for what appeared to be difficult years ahead, L.A. city and county officials have backed off their one-time mantra of "ending homelessness," and are fully linking the crisis on the region's streets to a housing crisis that is beyond their control.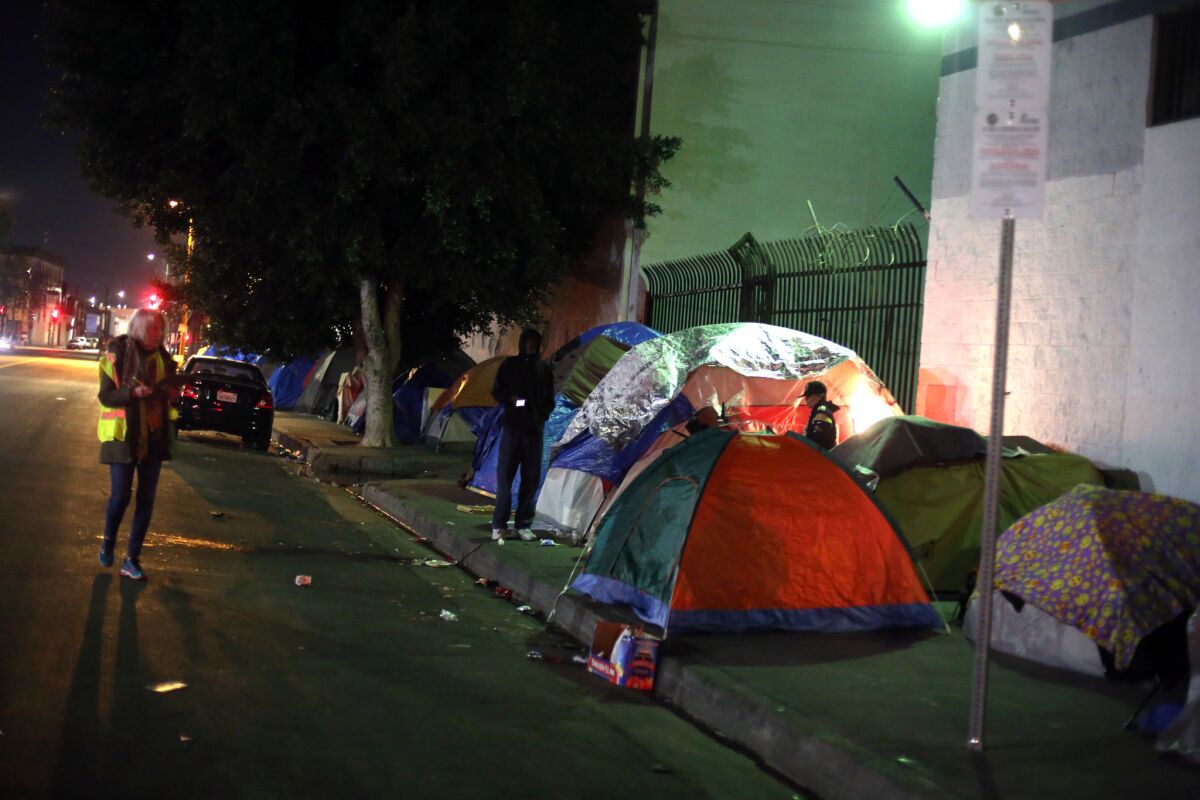 "If we don't change the fundamentals of housing affordability, this is going to be a very long road," Peter Lynn, executive director of the Los Angeles Homeless Services Authority said in a briefing with The Times. "If we don't get ahead of affordability, we're going to be very hard pressed to get ahead of homelessness."
At the supervisors meeting, Phil Ansell, the county's lead official on homelessness, noted that, every day last year, 133 homeless people moved into permanent housing, but another 150 people became homeless.
Still, both Lynn and Ridley-Thomas rejected the idea that new programs and resources to address homelessness had not been effective.
"Overall, the service portion of the effort on mental health, substance use, the issue of housing, rent subsidies, those are important and we should stay the course," Ridley-Thomas said. "Where we have to work much harder is in the area of affordable housing."
Without the flow of new dollars for services, Lynn said, the point-in-time count would have been worse and more closely resembled the dramatic jumps in neighboring Southern California counties and in the San Francisco Bay Area.
Orange County changed the way it conducted its count and recorded a 43% increase from its last count in 2017. Ventura, San Bernardino and Kern counties all reported increases of 20% or more.
Lynn pointed to two vulnerable groups as proof that resources work. Even though nearly 3,000 more veterans were reported homeless last year, there was no noticeable change in the number of homeless veterans on the street. Families experiencing homelessness grew by 8% with nearly 8,000 families being provided homes.
One of the largest increases, however, was among people 18 to 24 years old. Lynn said a 24% jump was partly the result of a change in the methodology of the count. But still, he said, "there was a significant increase, many more unsheltered. We were able to house more youth this year than last year, but this is an overflow population."
Also exceeding the county average was a 17% spike of the chronically homeless — people with a mental or physical impairment who have been on the street or in shelter for more than a year.
Lynn said the dent made in that population by transitioning nearly 5,000 people into permanent housing was overshadowed by the phenomenon of people "aging in" — those who were counted last year but, at that point, weren't "chronic" because they had only been homeless for less than a year.
The growth of homelessness was also uneven across L.A. County. The Westside experienced the largest increase at 19%, following a year in which its numbers were down by even more. The San Gabriel Valley was close behind with a 17% increase, marking the second consecutive year its homeless population had grown.
Two relative bright spots were Pasadena and Long Beach, which along with Glendale conduct their own counts. Pasadena saw a 20% drop, while Long Beach remained relatively flat with only a 2% increase since 2017.
Long Beach's mayor, Robert Garcia, credited the influx of county and state funds for helping execute a plan to put more people into shelters. But he said that about 52% of the city's homeless population was homeless for the first time. "People need to understand the link between homelessness and housing affordability," he said.
The effects of a sizzling rental market and the soaring cost of living in Los Angeles were palpable at the newly opened temporary shelter in Councilman Gil Cedillo's district near MacArthur Park Lake.
Garcetti committed to opening shelters in every council district, but the results have been slow. Only three have opened. The one in Cedillo's district began serving 28 single women and five families last month.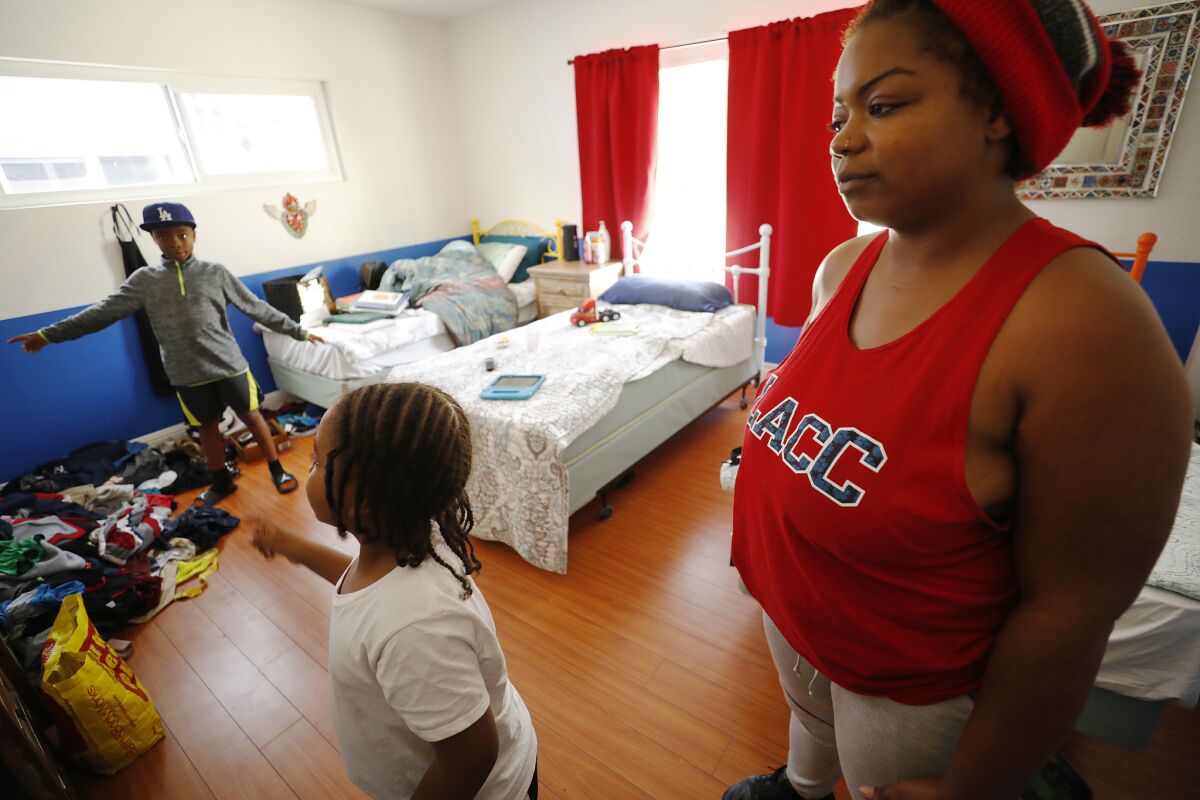 Inside, Anna Gray watched her two sons Patrick, 5, and Harold, 9, bounce around the spartan room as she recounted her life. Gray had lived in a studio for five years and had fallen behind on the rent. When the landlord wanted to raise it to market rate, she realized she wouldn't be able to afford it.
She has been moving from shelter to shelter ever since.
"At one point I had two jobs, I was working, had a car and still couldn't find housing," Gray said. "Let's be real. I'm a single mom. I have all these struggles in life."
This year's dramatic increase in homelessness has spurred United Way of Greater Los Angeles, the mega nonprofit that provided financial support, volunteers and messaging for the Measure H tax hike and the city's Proposition HHH homeless housing bond, to reevaluate its efforts, President and Chief Executive Elise Buik said. For a decade the agency has zeroed in on homelessness, but now it is looking to broaden its agenda to take on housing.
RELATED: Rats at the police station, filth on L.A. streets — scenes from the collapse of a city that's lost control
"We haven't focused as much on affordable housing, but we are now," Buik said. "We've got to start getting more affordable housing in the region."
Similarly, nonprofits such as the People Assisting The Homeless, or PATH, which builds affordable housing and runs shelters, have begun to call for change at the state level to help address what's playing out on the street. Los Angeles County needs almost 517,000 more units of affordable rental housing to meet demand, and a renter needs to make $47.52 per hour, which is more than triple the minimum wage, to pay the median monthly rent of $2,471, according to a recently released report by the California Housing Partnership.
"As rent continues to increase and wages remain stagnant, the potential for individuals to fall into homelessness increases," said Joel John Roberts, chief executive of PATH. "To counteract this imbalance, we must continue to invest in solutions like permanent supportive housing and push for legislation in Sacramento."
As head of a city-county bureaucratic agency that was formed primarily as a conduit for homelessness funds and to conduct the annual count, Lynn said he can do little more than react to those root causes.
"We're the safety net of last resort," Lynn said. "I can't fix poverty. I can't fix housing affordability. I can't fix the criminal justice system. I can't fix the foster system. But the poverty rate here is crushing a lot of Angelenos, and the economy that is booming so well is leaving out a large number of people."
Times staff writers Dakota Smith and Matt Stiles contributed to this report.
The stories shaping California
Get up to speed with our Essential California newsletter, sent six days a week.
You may occasionally receive promotional content from the Los Angeles Times.