As homeless crisis worsens in L.A, the county leans on city officials to act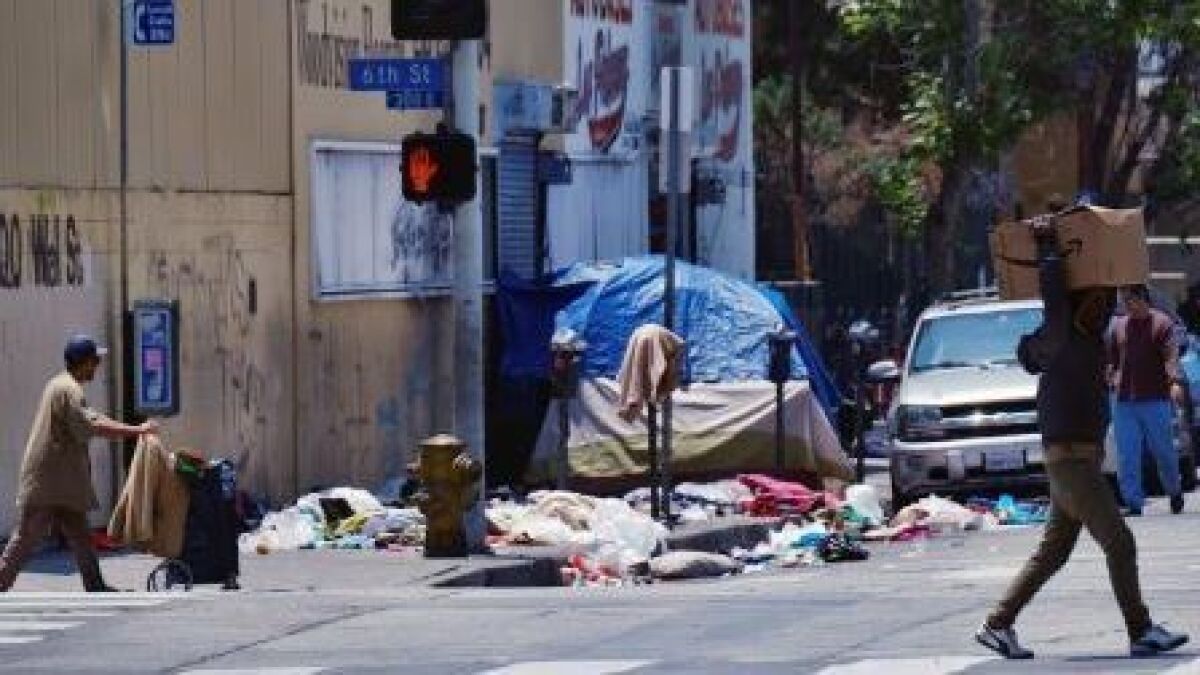 Amid a deepening homelessness crisis, top Los Angeles County officials are grappling with how best to collaborate with City Hall as it struggles to deal with sanitation issues arising from thousands living on the streets.
On Friday, the county's health officer, Dr. Muntu Davis, sent a letter to the city expressing concern about simmering health issues that will worsen in homeless encampments where bathrooms are scarce and on city streets buried in heaps of dumped trash.
"Of concern to us are the public health risks that can arise from the persistence of trash (waste) illegally dumped in public spaces, rodent infestations, and lack of adequate facilities for personal hygiene and sanitation for the homeless encampments in the area," Davis wrote in the two-page letter, a copy of which was obtained by USA Today.
Alex Comisar, a spokesman for Mayor Eric Garcetti, said Garcetti was looking into the letter.
"Keeping the streets clean is a top priority," he said. "We already collaborate with the county on this issue every day, and we will continue working together to make sure our streets are healthy and safe."
The county's Department of Public Health declined to release the letter and issued a statement saying the agency "continues to collaborate with the City of Los Angeles to mitigate unsanitary conditions and to minimize public health risks."
The back and forth comes at a time when Garcetti, the City Council and county supervisors are scrambling to stem the rising number of homeless people despite spending hundreds of millions of dollars last year alone to combat the issue.
The pressure on elected official ratcheted up in recent weeks, when a new tally showed the number of homeless in the county climbed 12% over the past year to roughly 59,000 people. Much of the increase occurred within city boundaries, where the number jumped to more than 36,000, a 16% increase.
Compounding the problem is a rash of illegal trash dumping on and around the city's downtown skid row area, where businesses are believed to be illicitly tossing huge amounts of refuse to avoid paying to have it hauled away properly.
Rotting trash and human waste from people living in tent encampments on city sidewalks has turned parts of the city into dangerous cauldrons for disease and rat infestation.
Last week, county Supervisor Kathryn Barger won passage of a motion instructing the county government to write a plan for working together with health and sanitation officials at the city of Los Angeles to improve conditions on the streets.
"I was concerned about the pattern we were seeing with the communicable diseases that arise because of the poor conditions on the streets," she said. "It's important for us to work with public health to look at what we can do to address the issue as it relates to the public health situations that are occurring."
Board Chair Janice Hahn said she too worried about the county's role in preventing what she said was "filth and squalor" and a "public health crisis."
In response, the director of the county's public health department, Barbara Ferrer, who oversees Davis, the county health officer who wrote the letter to the city, told supervisors that she sent a team of inspectors to survey areas where unsanitary conditions were documented. She said those inspectors found many problems related to illegal trash dumping, but also rodent burrows and other poor conditions.
Ferrer said her team planned to meet with counterparts from the city to discuss rodent control and improving sanitation for people living on sidewalks, but noted that the county is also focused on getting people off the streets to safeguard them.
"How do we make sure that people aren't lying in filth and that in fact we have good sanitation?" she said. "Most importantly, I think for us, is the issue of services and support."
During last week's discussion on the homeless count at the Board of Supervisors meeting, dozens of residents and housing advocates spoke about the issue.
Some, such as Chris Roth, who lives in downtown, urged the supervisors to think first about offering services to the homeless population, not "sweeps" of the streets to clean up encampments.
"Changing that aspect of things would have a huge impact on the lives of people," he said. "Putting in portable toilets and showers is not something that's going to cost a ton of money but it will go a very, very long way toward addressing the public health crisis that is our homelessness epidemic."
The director of the county's homelessness initiative, Phil Ansell, said the core of the county's effort — funded by hundreds of millions in funds approved by voters in 2016 — has been to secure interim and permanent housing for people.
"There is always room for improvement and innovation," he said, noting recent efforts by the county to offer mobile showers and to create "safe parking" zones for homeless people sleeping in cars.
The stories shaping California
Get up to speed with our Essential California newsletter, sent six days a week.
You may occasionally receive promotional content from the Los Angeles Times.