California father, 12-year-old daughter stuck in Africa following Trump travel ban, lawyer says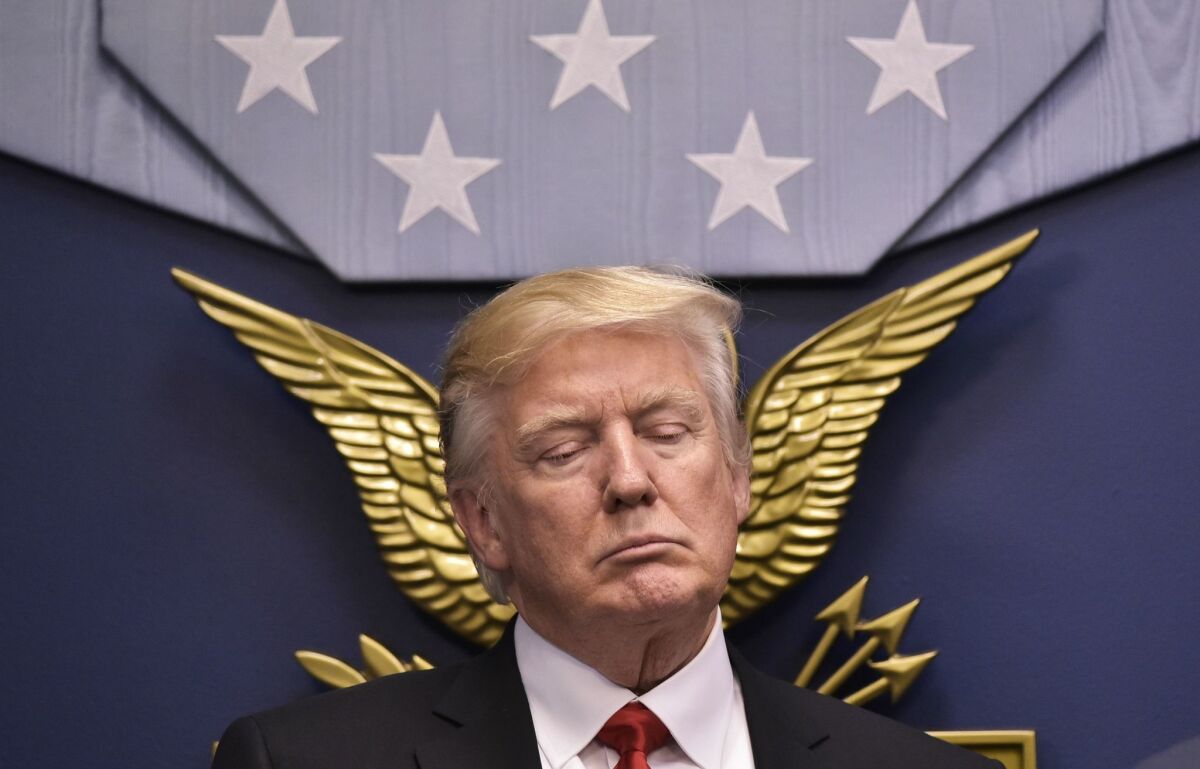 It was a trip that was supposed to reunite a long-separated family, but a San Joaquin Valley man has found himself and his 12-year-old daughter effectively stranded in the Horn of Africa following President Trump's recent travel ban.
Ahmed Ali, a U.S. citizen and resident of Los Banos, had been working with immigration officials for years to bring his daughter, Eman, to California.
In 2011, he obtained a family-based immigrant visa petition for the girl, who had been living with her grandparents in Yemen. After his fee payments were accepted and her visa was approved, the 38-year-old flew to Africa last week to retrieve the girl.
But on Saturday, as the father and daughter waited to board a flight at a Djibouti airport, his daughter was stopped and blocked because of Trump's executive order temporarily banning citizens and refugees from several Muslim-majority countries from entering the United States.
Ali and his daughter are now stuck in Djibouti, waiting to hear whether they can reenter the U.S., according to their lawyer.
"He is understandably distressed and frustrated because everything is uncertain," said his attorney, Katy Lewis. "We still don't have a path to get them on a plane yet."
On Monday, several immigration groups filed a nationwide class-action lawsuit on behalf of U.S. citizens and permanent residents, including Ali and his daughter, challenging Trump's ban. The lawsuit asserts that Trump's executive order violates the statutory prohibition against discrimination and the Constitution's guarantee of equal protection under the law.
In the lawsuit filed in federal district court in Washington, attorneys argued that "there is a real possibility that the United States will not permit [Ali's daughter] to enter the United States, along with her U.S. citizen father, to join her U.S. citizen mother and her two U.S. citizen sisters."
His daughter's visa had been approved a day before Trump signed the order, barring immigrants from Iran, Iraq, Libya, Somalia, Sudan, Syria and Yemen.
Ali and his family moved to the U.S. from Yemen in 2004, but they returned to the country not long after because his wife's mother was ill. While in Yemen, Eman was born.
Congressman Jim Costa (D-Fresno) has pleaded to do "everything within our jurisdiction to help Mr. Ali and his daughter to get home as soon as possible and safely."
Calling the president's order "flawed policy," Costa said, "It has the potential to be ruled unconstitutional."
Lewis said she is working with the congressman to obtain a travel letter, exempting the family from the order. But so far, she said she hasn't had any luck.
The U.S. Consulate in Djibouti has told Lewis they are waiting for further guidance from the U.S. officials to determine whether they can issue the letter to Ali and his daughter.
"It's just particularly upsetting that she can't enter the U.S. and rejoin her family, who are U.S. citizens," the lawyer said.
Lewis has been working with Ali's family for several years to help Eman with her visa. Because she lived in Yemen, Eman and her family went through extensive vetting and encountered several hurdles at embassies in the war-torn country, she said. If the girl is allowed to enter the U.S., she would immediately be allowed to become a citizen because she is a minor and her parents are citizens, Lewis said.
But for now, the status of Eman's return remains in limbo.
Ali is the sole breadwinner for his family and works as a manager at Buy N Save Market in Los Banos, his attorney said. His wife, 14-year-old daughter and nearly 2-year-old daughter remain at home in Los Banos, eagerly awaiting their return.
Meanwhile, Ali and his daughter are stuck in a hotel in Djibouti, according to Lewis, where they have no family and no clue what their future holds.
For breaking news in California, follow @VeronicaRochaLA on Twitter.
ALSO
San Francisco sues Trump over 'sanctuary cities' order
Trump order banning entry from seven Muslim-majority countries roils California campuses
'Coordinated chaos': Scores of volunteer attorneys mobilized to try to stop detentions and deportations at LAX
---
The stories shaping California
Get up to speed with our Essential California newsletter, sent six days a week.
You may occasionally receive promotional content from the Los Angeles Times.