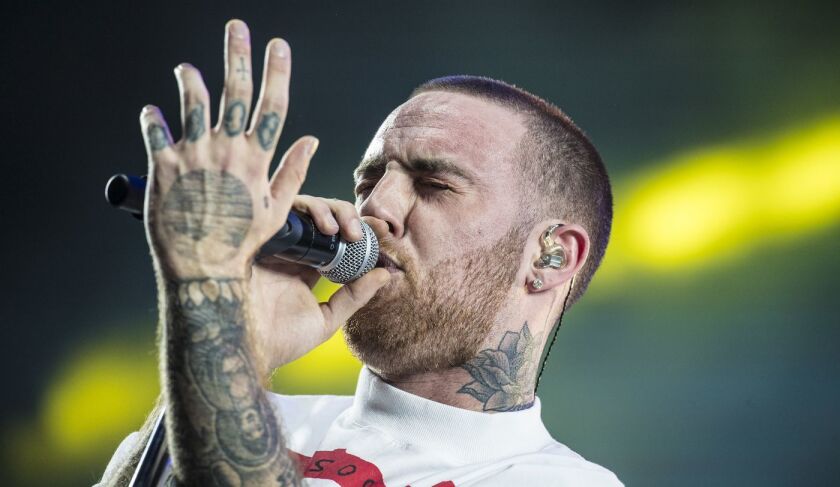 Mac Miller, a well-known producer and rapper, died from accidentally overdosing on a mixture of fentanyl, cocaine and alcohol in September, the Los Angeles County coroner said Monday.
Miller, 26, whose real name was Malcolm James McCormick, was found Sept. 7 in the bedroom of his Studio City home and pronounced dead at the scene by paramedics. A friend of Miller's who called authorities told paramedics that the artist seemed to go into cardiac arrest, a source involved in the investigation told The Times in September.
Los Angeles police officials quickly determined there were no signs of foul play and turned the investigation over to coroner's officials. Authorities at the time suspected he had overdosed but waited to make an announcement until toxicology tests had been completed.
The rapper had long struggled with drug and alcohol issues.
Shortly after his public split with singer Ariana Grande in May, Miller crashed his Mercedes-Benz G-Class SUV into a pole. The singer and two passengers fled the scene in the San Fernando Valley, but he was later arrested and charged with driving under the influence.
Miller was best known for his hits "Donald Trump," "Self Care" and "Programs." He garnered attention as a teenager in Pittsburgh with a series of mix tapes. Miller also worked as a producer under the name Larry Fisherman.
Miller's struggles had played out in the tabloids, particularly his relationship with Grande.
In an interview published in August in Rolling Stone, Miller said that his breakup with Grande was difficult but that he was moving on with a new album.
"I'm just being real. That's good. Now I have space for me. And that's great too," he told the magazine.
He also pushed back against concerns over his drug use.
"If a bunch of people think I am a huge drug addict, OK. Cool. What can I really do?" he said. "Have I done drugs? Yeah. But am I a drug addict? No."
In an interview with Vulture, he said he tried not to worry about the headlines about him and what others think.
"It just seems exhausting to always be battling something … to always be battling for what you think your image is supposed to be. You're never going to be able to get anything across. It's never gonna be the real … No one's gonna ever really know me," he said.
In his last Instagram story before his death, Miller posted a video of a record player spinning "So It Goes," the last track on his fifth studio album, "Swimming." The song includes the lyric "Nine lives, never die … I'm still gettin' high."
Twitter: @Hannahnfry
---