After an ugly brawl, Sylmar High students walk out of class and call for unity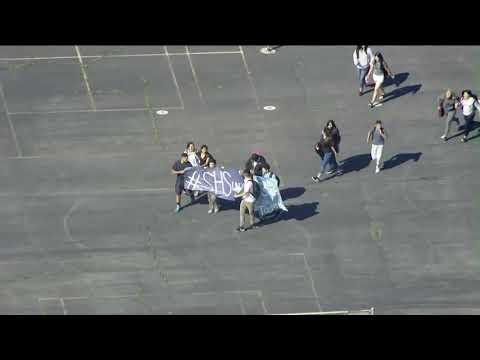 Hundreds of students participated in what was billed as a "peace rally" Thursday at Sylmar High School in response to increased tensions on campus.
Days after a violent brawl rocked their campus, hundreds of Sylmar High School students walked out of classes Thursday to call for unity and refute claims that the massive fight was racially motivated.
As news helicopters clattered overhead, students interlocked arms and chanted, "It's not about race," as others held up banners that read "Hey media" and "#SHS United."
"We're not doing this out of defiance. We're doing this out of unity," said Luis Abundez, a senior. "We want everybody to know that this little incident that happened at our school doesn't define Sylmar High School."
Monday's brawl involved some 40 students, and video of the incident showed students kicking and punching wildly as police officers struggled to separate them. It still remains unclear exactly what triggered the violence, but students suggested afterward that gang tensions, race and a dispute stemming from the recent prom may have been factors.
After the two-hour demonstration on Thursday, students insisted that the incident had been blown out of proportion by the media.
"It was no race war, nothing like that. It was a typical fight," said Sebastian Cooks, a senior. "Sylmar is a good school."
Join the conversation on Facebook >>
When discussing the fight, other students said people who did not attend the school -- and who they identified as gang members -- had jumped the fence to get in. And students then had to defend themselves, they said.
The students said they do not see gangs within the school and that the fight was one that just got out of control -- sparked by a misunderstanding.
More than 2,300 students are enrolled at Sylmar High School. According to the National Center for Education Statistics, 2,157 are Latino, 72 are black, 44 are white and 30 are Asian or Pacific Islander.
Thursday's rally lasted from roughly 8:15 a.m. to 10 a.m. Participating students shared videos of the walkout on Twitter and said the fight was not racially motivated.
"You guys are handling this very well," school Principal James Lee told students at the rally. "You are acting better than adults on this."
However, Supt. Michelle King of the Los Angeles Unified School District, issued a statement after the demonstration in which she said: "The district does not approve of activities that take students out of the classroom."
In a prepared statement, King said: "We appreciate the show of unity by students of Sylmar High School and the Sylmar Leadership Academy and their enthusiasm in expressing support for their schools. However, this should not overshadow the importance of instruction and student learning."
King also reiterated that the safety of students was critical to the district.
"Safety remains the district's top priority, and we will continue to monitor the situation," she said in Thursday's statement.
Not all Sylmar High students or their parents have taken that message to heart however.
Parent Beatriz Camarillo arrived at the school Thursday morning to pick up her son Emmanuel Tinoco. The 17-year-old said he did not feel safe and wanted to go home.
"How can I not be worried?" his mother asked in Spanish. "Not just for him, but for all of the students."
See the most-read stories this hour >>
Tinoco said there seems to be a lot of tension within the school and he preferred to be at home.
"Everyone is cautious and everyone is on high alert," he said. "I'm just afraid if people are planning on doing something like that again. I just don't feel safe at all."
Other students outside the school said they felt safe coming back and encouraged others to return.
"I know the parents and why they want to keep their daughters and sons at home, but at the end of the day -- we're going to get through it as a school, as a family," said Darnae Lynch, 18. "... Come to school."
On Wednesday night, students, parents, and school officials held a community meeting to discuss Monday's fight.
"I don't feel safe in school," student Shane Bennett said. "We have to walk around in groups at school because we don't feel safe."
Interested in the stories shaping California? Sign up for the free Essential California newsletter >>
Among those who attended Wednesday's community meeting was actor Danny Trejo, who is known for his violent cult films. The "Machete" star had this message for school officials: Listen to students for a solution.
After school officials talked about their plans to deal with the brawl, and students still hadn't been given the floor to voice their concerns, Trejo, a San Fernando Valley resident, stood up and declared: "You are not listening to them."
As the actor pointed at the crowd, he said: "They'll come up with the solution."
L.A. schools Police Chief Steve Zipperman said it is unclear whether any criminal action will be taken against the students involved in Monday's fight. Officers are still reviewing video footage, evidence and interviewing witnesses.
In an email to parents earlier this week, Principal Lee said several students were involved in the fight and that "disciplinary action" had been taken.
Twitter: @brittny_mejia and @VeronicaRochaLA
ALSO:
California's schools will soon be on the hook for things like suspensions, attendance and graduation rates
Overturned big rig jamming traffic on 10, 110 freeway transition for hours
Search suspended for diver who disappeared during abalone hunt along California coast
Sign up for Essential California for news, features and recommendations from the L.A. Times and beyond in your inbox six days a week.
You may occasionally receive promotional content from the Los Angeles Times.