Man accused of killing deputies used aliases, fake birthdate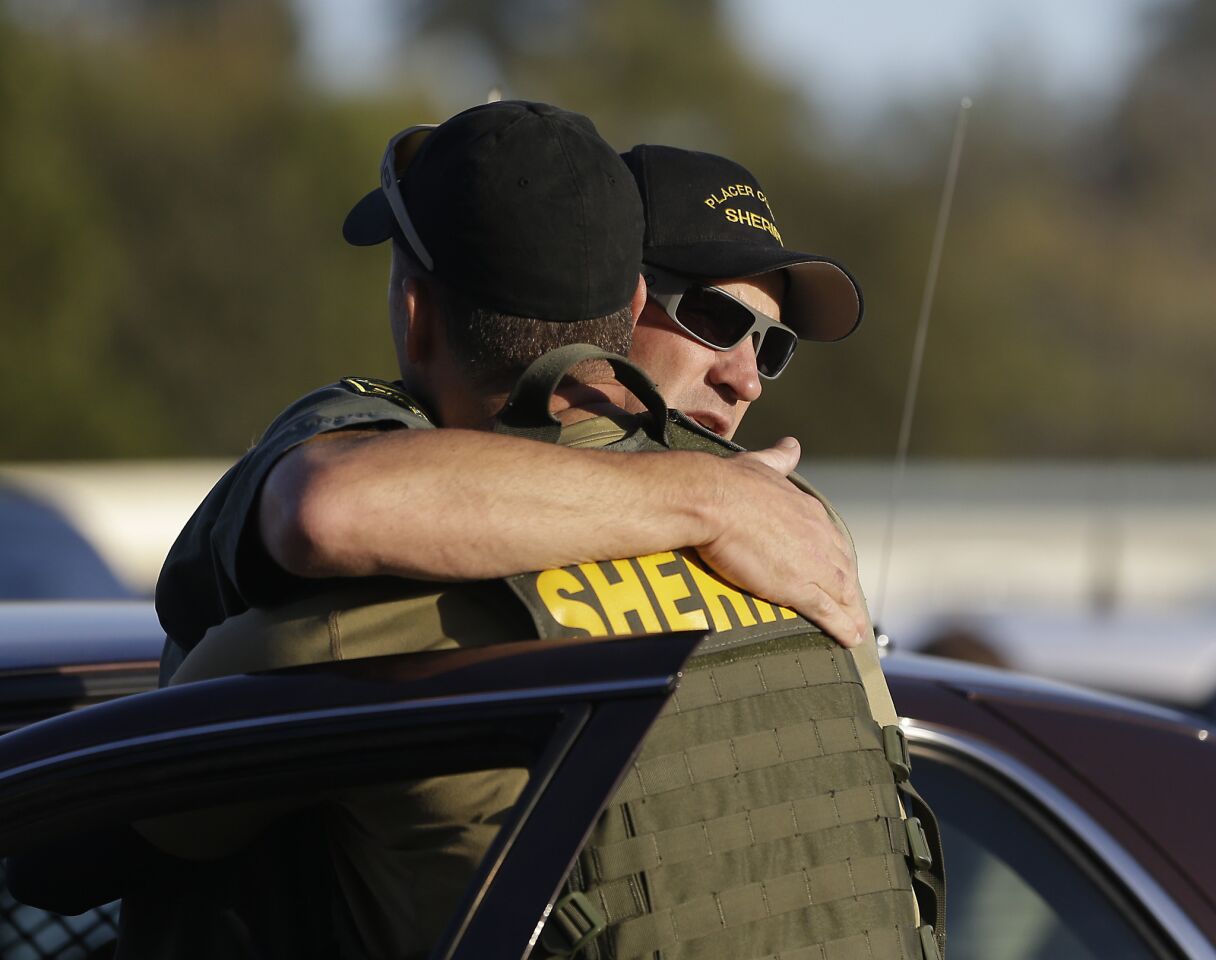 A pair of Placer County sheriff's deputies embrace after a suspect was arrested who allegedly shot and killed two deputes, wounded a third and a bystander during a series of shootings that spanned across two California counties.
(Rich Pedroncelli / Associated Press)
Law enforcement officers gather at the site where a Sacramento County sheriff's deputy was fatally shot by an assailant who then allegedly carjacked two vehicles and prompted a manhunt that ended with two other deputies wounded, one mortally, along with a motorist.
(Rich Pedroncelli / Associated Press)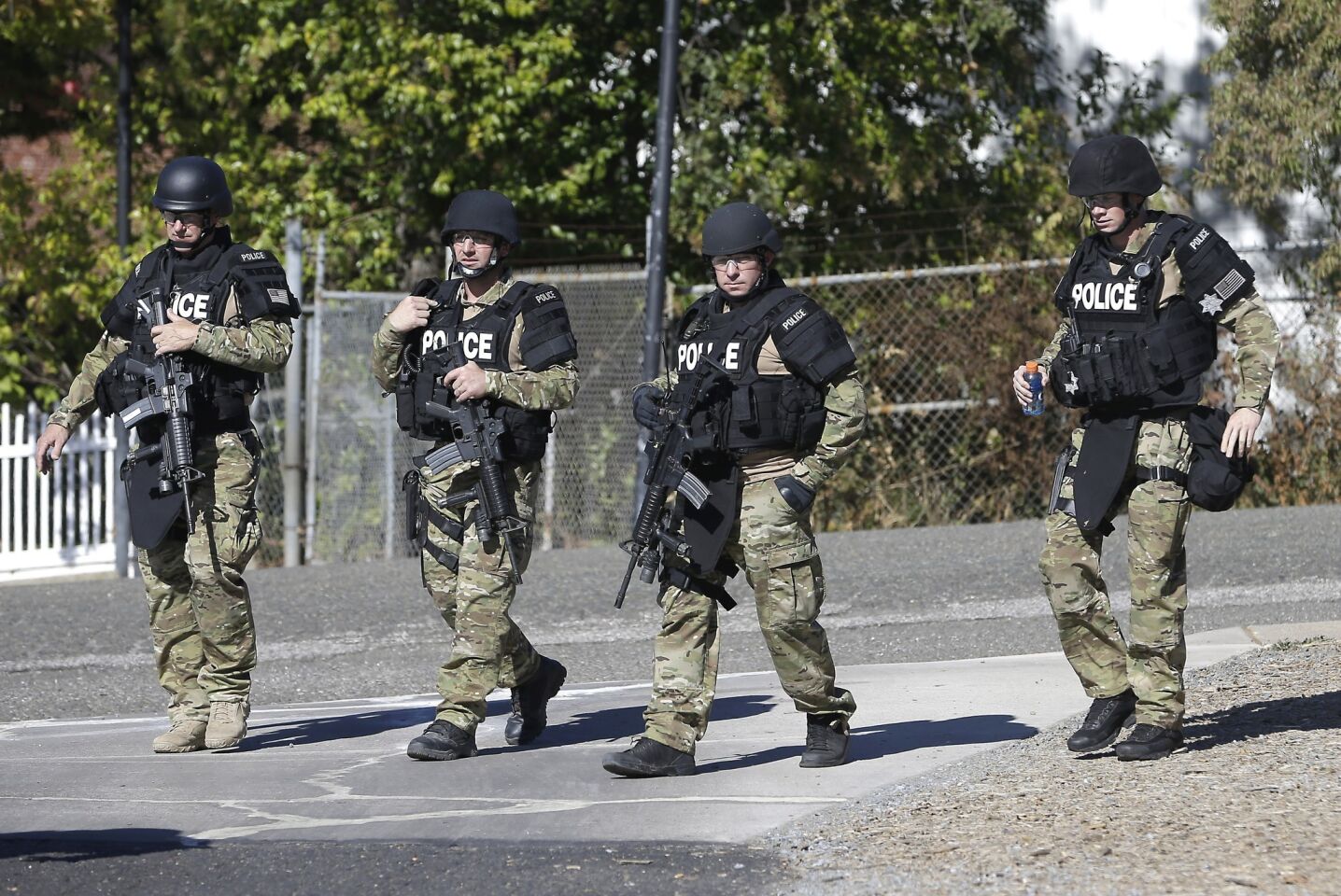 Law enforcement officers in tactical gear leave the Gold County Fairgrounds to help search for an assailant who shot three sheriff's deputies, killing two, and wounded a motorist in two Northern California counties.
(Rich Pedroncelli / Associated Press)
A law enforcement sniper team sets up during the search for an assailant who shot three sheriff's deputies in two Northern California counties.
(Rich Pedroncelli / Associated Press)
A California Highway Patrol car and other law enforcement vehicles set up a roadblock near Placer High School leading to a rural area where authorities were searching for an assailant who shot three sheriff's deputies in two Northern California counties.
(Rich Pedroncelli / Associated Press)
Sacramento County sheriff's spokeswoman Sgt. Lisa Bowman talks to reporters about the fatal shooting of a Sacramento County deputy by an assailant who then carjacked two vehicles, prompting a manhunt that ended with another deputy dead and a third deputy and a motorist wounded.
(Rich Pedroncelli / Associated Press)
The man accused of killing two sheriff's deputies during a six-hour rampage in Northern California last week appeared to use several aliases and birth dates to avoid being identified and deported.
A fingerprint check performed early Saturday after his arrest revealed that the suspect — who told police that his name was Marcelo Marquez — was in fact Luis Enrique Monroy Bracamonte, 34, a convicted felon who had twice been deported to Mexico.
A law enforcement source familiar with the case said Monroy has used at least three names and two birth dates in official records, making it difficult for investigators to delve into his background. The source spoke on the condition of anonymity because the case was ongoing.
Monroy and his wife have multiple Facebook pages, each using different names.
Authorities in Arizona said they knew him as Luis Bracamonte, who was arrested four times on drug-related offenses in Maricopa County. He was deported in 1997 and again in 2001, federal immigration officials said.
At some point, Monroy reentered the United States and worked as a landscaper in the Salt Lake City area for several years before moving to California.
While in Utah, Monroy — using the name Marcelo Marquez —- was arrested on charges of filing a false police report and hit-and-run. Officials said Monday that the arrest should have required him to be fingerprinted. But for reasons that remain unclear, he was not flagged as being in the country illegally.
Roxeanne Vainuku, a spokeswoman for the West Valley City Police Department in Utah, said Monroy was cited and released, not formally booked in jail during the 2003 arrest. As a result, only his index fingerprint would have been taken for identification purposes. The print would have been forwarded to a state database, but Vainuku said it was unclear specifically what information that database would yield.
Vainuku said West Valley City officials made the connection after receiving questions from reporters about Monroy's history in the Utah city. She said the department had run some of his other aliases but found no other records of arrests.
Authorities in Northern California have released few details about the investigation, including what might have motivated the attacks.
The violence began Friday morning in a Motel 6 parking lot, when two Sacramento County sheriff's deputies approached a parked car they deemed suspicious, authorities there said. Investigators said Monroy and his wife, Janelle Marquez Monroy, 38, were inside.
Officials say that Luis Monroy opened fire, striking Deputy Danny Oliver, 47, in the forehead. The father of two was later pronounced dead.
The couple sped off. About a mile away, authorities said, they tried to carjack a motorist. When the man refused to hand over his keys, he was shot in the head.
After stealing a second vehicle, the couple made their way to Auburn, a small Placer County town about 30 miles northeast of Sacramento. There, authorities say, the Monroys were confronted by a second set of deputies, and Luis Monroy again opened fire.
Deputy Jeff Davis, a 17-year department veteran, was wounded in the arm. Det. Michael Davis Jr., 42, was killed — 26 years to the day after his father died in the line of duty.
Luis Monroy fled to a nearby home and barricaded himself inside, authorities said. He was eventually driven out with tear gas.
He was booked on suspicion of murder, attempted murder and carjacking. His wife was booked on suspicion of attempted murder and carjacking. They were scheduled to be arraigned Tuesday.
On Monday, Maricopa County sheriff's officials released details on Luis Monroy's criminal history in Arizona.
His first arrest in the Arizona county came in 1996, when he spent four months in jail for the sale of narcotics and other felonies, Sheriff Joe Arpaio said. He was released to immigration officials in 1997.
A year later, Arpaio said, Monroy was arrested on suspicion of drug possession and misconduct involving weapons. Arpaio said he was released from jail "for reasons unknown."
The third Arizona arrest came in May 2001, again on drug charges. Federal authorities said Monroy was deported to Mexico that month. But Arpaio said he was arrested in Arizona less than three months later for failing to appear in court. He posted bond and was released.
Monroy's father-in-law said Monroy and his daughter met 17 years ago and got married three years later.
Mauro Marquez, 55, described his son-in-law as controlling, saying that Monroy forced his wife to give up a good job and move to Utah from Arizona.
Marquez said his daughter called him from jail early Saturday, saying that her husband had threatened to kill her and her family if she didn't go with him.
"She had no idea what he was going to do," Marquez said. "She was terrified. What else could she do?"
kate.mather@latimes.com

richard.winton@latimes.com

joseph.serna@latimes.com


---
Life is stressful. Our weekly mental wellness newsletter can help.
You may occasionally receive promotional content from the Los Angeles Times.