Man's leg partially amputated in power plant implosion accident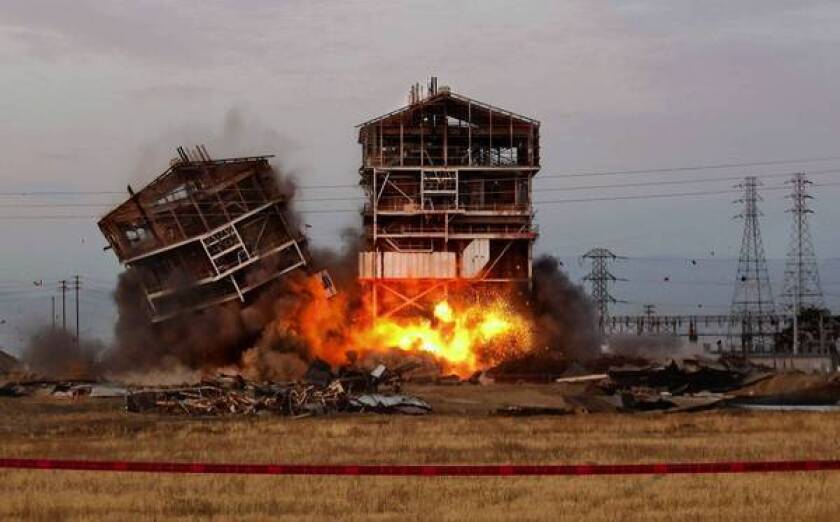 A man was being treated at a Fresno hospital after being hit by flying debris during the demolition of an old power plant in Bakersfield on Saturday morning.
Pieces of metal ejected from inside the plant during the implosion had struck a 43-year-old man, severing part of one leg, and seriously injured another spectator, Bakersfield Police Lt. Scott Tunnicliffe said.
The police department put out a statement adding "the male victim suffered a traumatic partial amputation of one leg and major injuries to the other."
Several thousand people had gathered by 6 a.m. to watch the planned implosion of a closed steam power plant owned by Pacific Gas and Electric, according to police and Denny Boyles, a spokesman for the company.
The curious onlookers stood outside a 1,000-foot safety perimeter set up by the demolition company that Pacific Gas and Electric had hired for the job, Boyles said.
When all was ready, explosive charges placed at critical points in the building were detonated in a pattern meant to bring it down on itself in a heap of rubble and a cloud of dust.
At least two other people suffered minor lacerations from metal pieces. Vehicles parked nearby were hit as well.
The seriously injured man was transported to a nearby hospital and later flown by helicopter to Fresno for further treatment, said Tunnicliffe, who added that the man's condition was not known.
Police recovered one piece of metal that was about half a foot long and weighed a few pounds, Tunnicliffe said. The fragment that injured the man had been taken by a spectator, he said.
"Our thoughts and prayers are with this man and the others who received injuries," Boyles said. "As a company we are deeply saddened."
After the company tore down other parts of the plant, which had been out of use since 1986, the decision was made to implode two remaining steel boiler towers that stood 140 feet tall, Boyles said.
Pacific Gas hired Cleveland Wrecking Co. to handle the demolition, Boyles said, and that company brought in an explosives company and another subcontractor to assist with the job.
Cleveland Wrecking Co. released a statement saying: "This was a terrible accident, and our hearts go out to the individuals who were injured. We will be conducting a full investigation and will cooperate with the authorities. It would not be appropriate for us comment further at this stage."
Boyles said he did not know how the 1,000-foot safety perimeter had been determined.
The site, which many in the community considered an eyesore, was being cleared for possible sale and development, Boyles said.
Tunnicliffe said police were not investigating the incident as a crime. Boyles said the power company was working with the demolition companies to determine the cause of the accident.
ALSO:
O.C. deputy charged with pepper spraying teen's pizza
Redondo Beach moves forward with waterfront redevelopment
Former L.A. County GOP official allegedly had explicit chats with girl
---
The stories shaping California
Get up to speed with our Essential California newsletter, sent six days a week.
You may occasionally receive promotional content from the Los Angeles Times.