Snow leopard, armor recovered after teen party at vacant mansion
Industry Sheriff's Det. Larry Villareal carries the mounted snow leopard back to the evidence locker after it was put on display for the media along with other items stolen from a home in La Habra Heights in November.
(Mel Melcon / Los Angeles Times)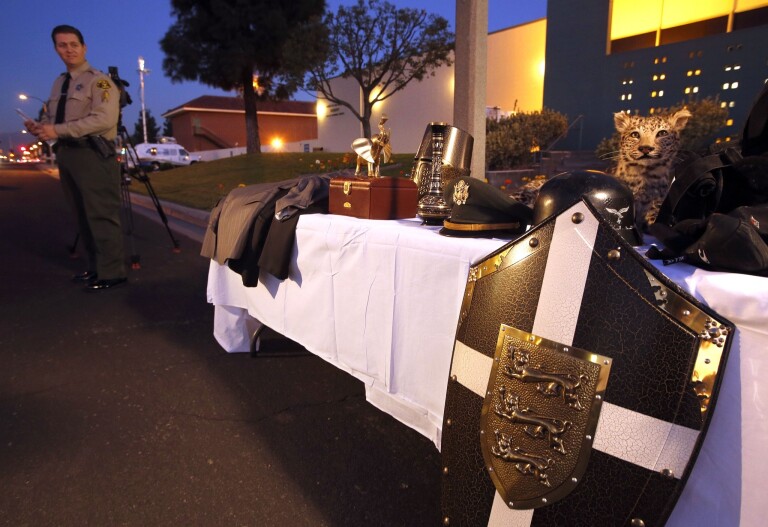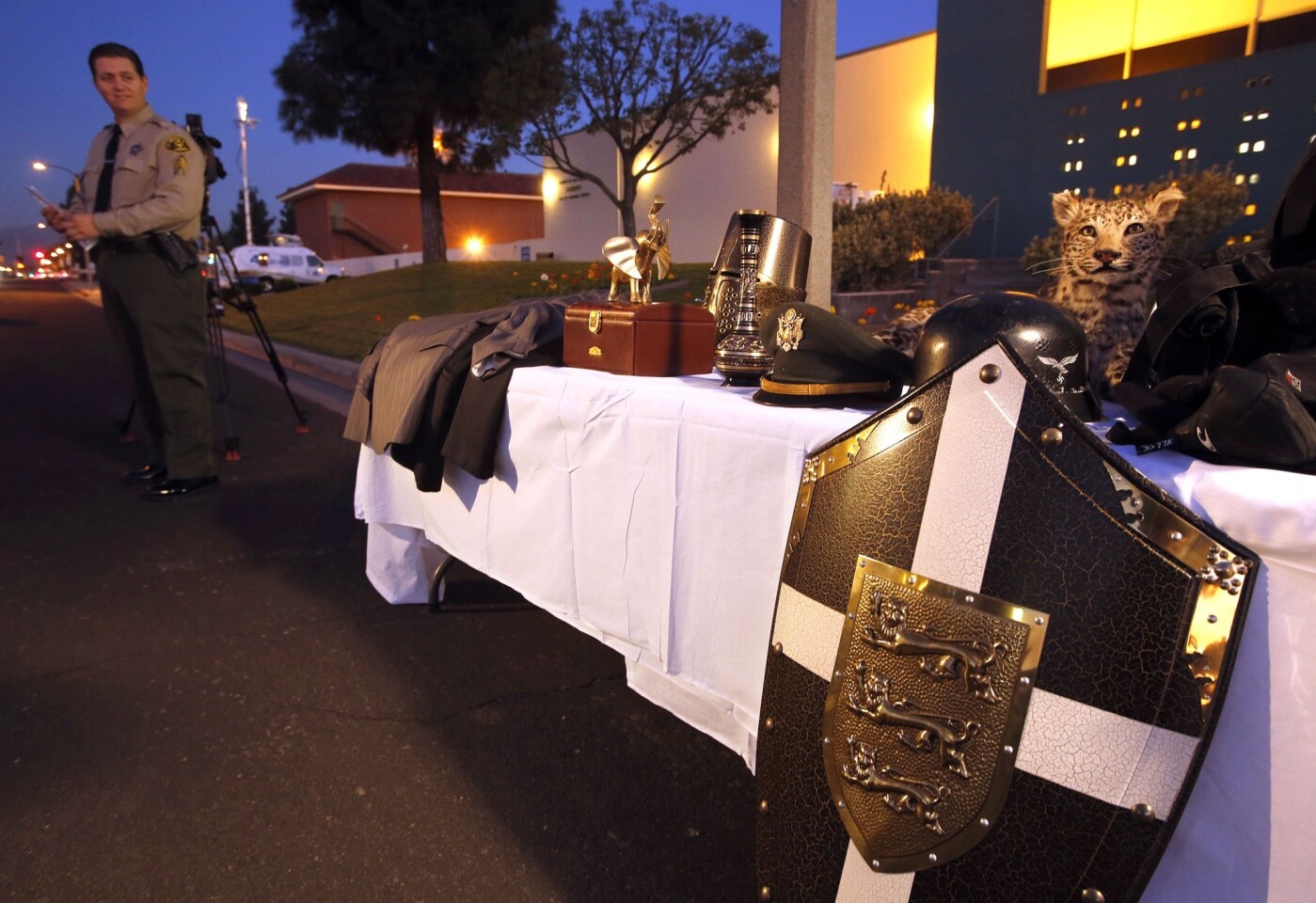 Industry Sheriff's Sgt. Robert Boese looks at some of the stolen items that were recovered, including a reproduction of a knight's shield and the mounted snow leopard.
(Mel Melcon / Los Angeles Times)
Det. Larry Villareal, left, and Det. Josue "Josh" Rodriguez take stolen items back to the evidence locker, including a metal horse sculpture.
(Mel Melcon / Los Angeles Times)
A mounted snow leopard, valued by the owner at $250,000, is on display with other stolen items in front of the city of Industry Sheriff's Station on Dec. 11. The items were stolen from a home in La Habra Heights and 16 teenagers were arrested in the Nov. 23.
(Mel Melcon / Los Angeles Times)
This post has been updated. See note below for details.
A mounted snow leopard worth more than $250,000, pieces of armor and designer clothes were among the items recovered by sheriff's detectives investigating a party planned over social media and held, without the owner's knowledge, at a vacant, multimillion-dollar La Habra Heights mansion.
[Updated at 7:21 p.m., Dec. 11: Early Wednesday, 16 people were arrested in connection with the vandalism and robbery that occurred at the home in late November, Lt. Arthur Scott of the Los Angeles County Sheriff's Department said.
[Three 18-year-old males, Kevin Larios and Andres Uribe, both of La Habra, and Nickolas Koontz, of La Habra Heights, were among those arrested.
[Thirteen of the suspects were juveniles — 10-males and three females — and have not been identified, but they were from the cities of La Habra, Whittier and unincorporated areas nearby, he said.]
The party was planned over social media after the house was discovered to be vacant while the owner was out of town, Scott said. Between 4 p.m. Nov. 23 and 9 a.m. Nov. 24, numerous individuals attended the party, and at some point broke into the house through a window that was pried open, he said.
Property damage — broken windows and "thrashing" — and the stolen items, which included shields and helmets, electronics, nine designer suits, jewelry and the mounted snow leopard, totaled more than $1 million, he said.
"I don't think they knew what they were doing, I don't think they know what they had," he said.
When the snow leopard was recovered, the suspect admitted to detectives that he simply grabbed something because all the "good stuff was gone," Scott said. Told that it was worth more than a quarter of a million dollars, the "kid says, 'How many zeros is that?' "
Neighbors didn't report anything amiss at the time of the party — the area is quiet, and the home isn't visible from the road, he said. A groundskeeper or house-sitter reported the break-in Nov. 24.
Detectives are still investigating how the party was planned, and are tracking other items that have not been recovered, he said.
Though burglaries and home invasions in Hacienda Heights are not uncommon, Scott said this is one of the first of this kind he's heard of.
"This is kind of unusual, at least to me," he said.
ALSO:
Man killed in drive-by shooting in Watts, police say
Sriracha shipping halted until mid-January by state regulators
Man's slaying of sister in convalescent home called 'mercy killing'

Twitter: @Sam_Schaefer
---
The stories shaping California
Get up to speed with our Essential California newsletter, sent six days a week.
You may occasionally receive promotional content from the Los Angeles Times.