Councilwoman says Red Line subway isn't safe and won't ride it with her daughter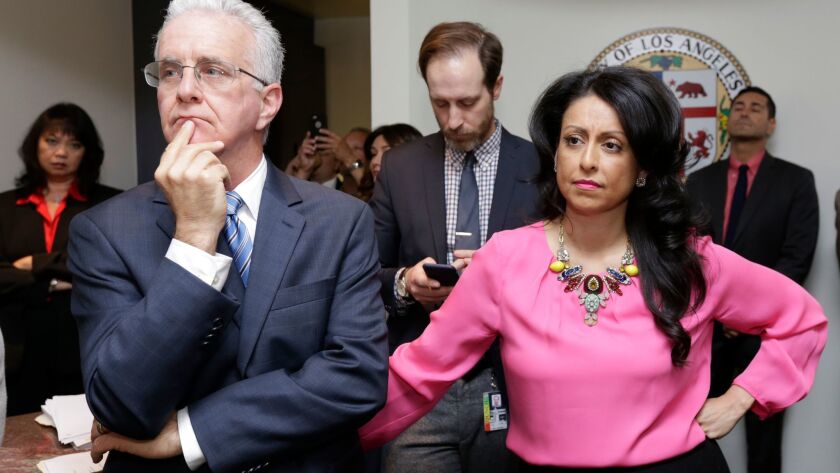 Los Angeles City Councilwoman Nury Martinez said Wednesday that she does not feel safe riding with her 8-year-old daughter on the Metro Red Line subway, which carries passengers between North Hollywood and downtown.
Appearing before the council's Public Safety Committee, Martinez said she wants more accurate data on harassment and sexual assault within the transit network. During her remarks, she described Metro buses and trains as "enclosed areas where victims have very little room to escape."
"As a mom, I can tell you it's terrifying to sometimes think of having to get on the Red Line. I won't for that very reason," she said. "I don't have to see the data collection to know that if I feel unsafe to ride the train with my kid, that I'm just simply not going to use it.
"I know a lot of people who feel the same way, and it's simply not acceptable," said the councilwoman, who represents part of the San Fernando Valley.
Martinez's remarks were the latest example of customer concern over security and sexual harassment within the Los Angeles County Metropolitan Transportation Authority transit system, also known as Metro. In a 2016 survey, 29% of former passengers told Metro that they had stopped taking public transportation because they felt unsafe.
Metro officials say they have been taking steps to beef up security. Since July, the transit system has been patrolled by a combination of the Los Angeles County Sheriff's Department, the Los Angeles Police Department and the Long Beach Police Department, in addition to the agency's own security force. The agency has also created a 24-hour hotline for riders who are harassed or assaulted on buses and trains.
Dave Sotero, a spokesman for the transit agency, said passengers who experience a public safety threat should call (888) 950-SAFE or, in an emergency, 911. Metro has doubled its law enforcement presence over the last year, he said, and launched a public awareness campaign to highlight the issue of sexual harassment.
"We want our riders to ride Metro safely and without fear 100% of the time," he said.
Over the last five years, ridership has declined by 15% on the network overall and by nearly 20% on the system's buses. Martinez said she knows people who are avoiding Metro's rail system over the possibility of an incident on a station or in a train car.
"It's one thing for me to fend for myself," she said after the meeting. "It's another for my kid to be exposed to that."
Twitter: @DavidZahniser
Twitter: @laura_nelson
---
For reporting and exclusive analysis from bureau chief John Myers, get our California Politics newsletter.
You may occasionally receive promotional content from the Los Angeles Times.