Ex-Mayor Bob Filner pleads guilty to false imprisonment, battery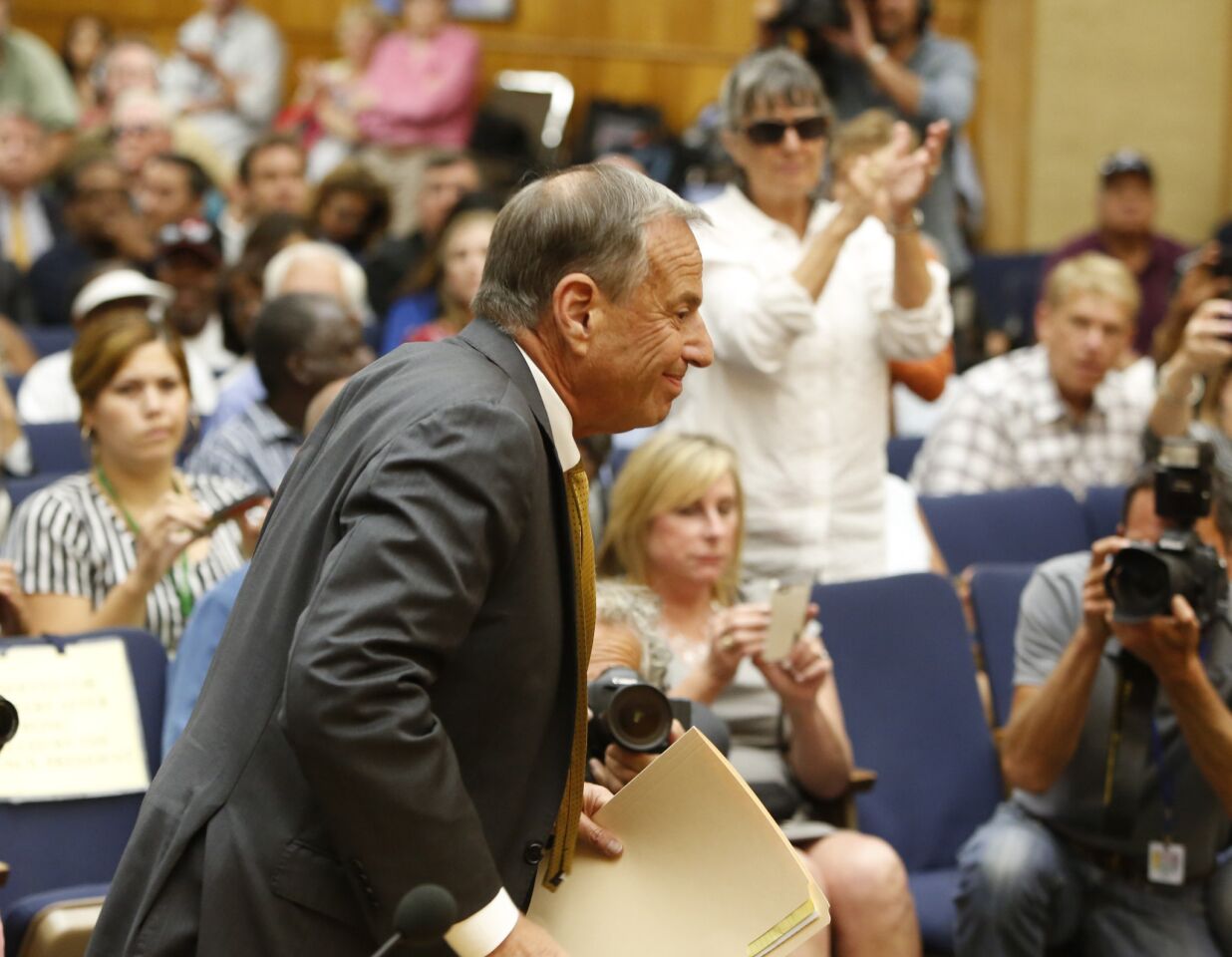 Bob Filner enters the San Diego council chambers to announce that he is resigning as mayor as his supporters applaud in the background. He was publicly accused of sexual harassment by many women.
(Don Bartletti / Los Angeles Times)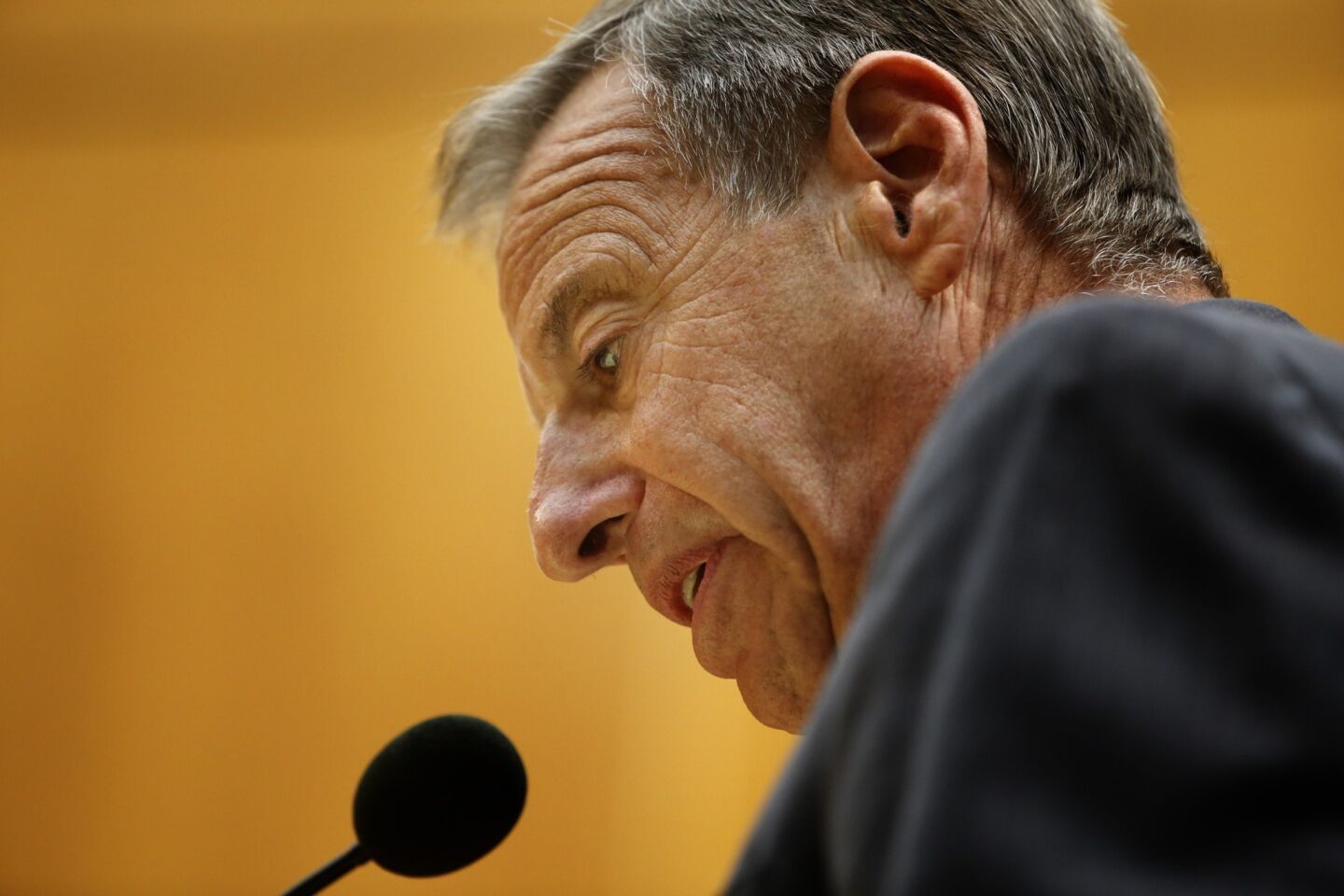 In the San Diego City Council chambers Bob Filner announces he is resigning as mayor.
(Don Bartletti / Los Angeles Times)
As Bob Filner addresses the City Council, the official San Diego city statement is projected on a screen.
(Don Bartletti / Los Angeles Times)
San Diego City Council President Todd Gloria, right, listens to public comment about Mayor Bob Filner during a special meeting in the council chambers. Later in the afternoon, Filner appeared and announced his resignation, with Gloria appointed interim mayor.
(Don Bartletti / Los Angeles Times)
SAN DIEGO — Ex-Mayor Bob Filner, who left office in a scandal over allegations of sexual harassment of women, Tuesday pleaded guilty to one felony count of false imprisonment and two misdemeanor counts of battery.
Under the plea agreement, Filner will not serve any time behind bars but will spend three months in home confinement, give up most of his mayoral pension and promise never to run for office again.
Filner will also undergo treatment as "directed by a mental health professional" during his three years of probation.
During his probation, Filner may not vote, serve on a jury or own a firearm, prosecutors said.
The felony count could have brought a maximum sentence of three years in prison, each misdemeanor count a maximum of 12 months in jail.
"This conduct was not only criminal," said state Atty. Gen. Kamala Harris, "it was also an extreme abuse of power."
The charges, filed in San Diego County Superior Court by Harris' office, relate to three alleged victims, identified in court papers as Jane Doe 1, 2 and 3.
The felony count involves allegations of false imprisonment by violence, fraud, menace and deceit.
The count alleges that Filner used "undue" force to hold a woman against her will.
The battery counts involve accusations that he kissed one woman and grabbed another by the buttocks.
Formal sentencing was set for Dec. 9 by Judge Robert Trentacosta, who ordered that Filner be booked and released. Prosecutors did not seek bail.
Filner, looking submissive, appeared at a brief hearing where the charges were formally lodged and his guilty pleas entered. He was accompanied by his attorney Jerry Coughlan, one of the city's top criminal attorneys.
Los Angeles attorney Gloria Allred, who filed a civil lawsuit against Filner on behalf of his former director of communications, applauded prosecutors for bringing the charges and the victims for stepping forward to tell how they had been treated by Filner.
"His conduct as the mayor of San Diego was reprehensible, and justice demands that he be punished for the harm he has caused to countless women who trusted and believed in him,' Allred said by email.
Filner, 71, the city's first Democratic mayor in 20 years, resigned Aug. 30 after cutting a deal with the City Council for the city to defend him against a sexual-harassment lawsuit filed by an ex-staffer.
The council also agreed to pay up to $98,000 to Filner's private attorneys. All nine council members had called for his resignation.
In six weeks, 19 women had gone public with allegations that Filner had made sexual advances, including lewd comments and unwanted touching. Many of the women had gone to Filner when he was mayor or a member of Congress to ask for his help in public issues.
Filner tried without success to defuse calls for his resignation by admitting he had been abusive toward women, promising to undergo behavioral therapy and talking of his plans to be "the best mayor I can."
The county Sheriff's Department had established a hotline to field accusations against Filner.
The state attorney general's office began a criminal investigation after Dist. Atty. Bonnie Dumanis said she had a conflict of interest because she had run against Filner for mayor and been eliminated in the primary.
ALSO:
Four LAX dry ice bombs: 'No nexus' to terrorism, police say
USC cracks down on fraternities, after injury, alcohol incidents
Man accused of killing teacher blamed her for losing care of kidsTwitter: @LATsandiego
tony.perry@latimes.com
---
Life is stressful. Our weekly mental wellness newsletter can help.
You may occasionally receive promotional content from the Los Angeles Times.