EPA begins $3-million cleanup at site of Maywood magnesium fire
The U.S. Environmental Protection Agency launched a cleanup this week of the Maywood metal yard that burned down in June, part of a two-month waste removal project at the closed business.
The EPA warned that clearing out hazardous debris may send noxious odors into nearby neighborhoods, an irritating reminder of a fire that displaced hundreds of residents and revived fears about the proximity of industrial sites to homes in southeast Los Angeles County.
In the early morning of June 14, flames tore through scrap metal recycler Panda International Trading Co. and a precious metals recycler operating on a portion of the company's Fruitland Avenue property, Sokor Metals.
Investigators said at the time that about 10,000 pounds of magnesium fed the fire, which stubbornly burned for more than a day. Firefighters struggled to contain the flames because water would trigger explosions with magnesium. County fire officials had to use a dry chemical extinguishing agent.
Tests showed the fire's ash had high concentrations of magnesium and aluminum, among other metals. The fire forced about 300 people to be evacuated from nearby homes and businesses. Many sought shelter at a YMCA in Maywood.
At least 43 homes had to be cleaned up before residents returned, according to county health officials.
Investigators have not said what started the fire. No charges have been filed in connection with the blaze.
Just hours after the fire erupted, L.A. County Fire Department officials considered it a possible arson, according to a preliminary report obtained by The Times. L.A. County Sheriff's Sgt. Derek Yoshino wrote that the circumstances surrounding the fire were suspicious because of a recent environmental inquiry into one of the businesses at the site.
Sokor Metals, which used hydrochloric and nitric acid to reclaim precious metals from computer circuit boards, was cited a week before the fire for alleged hazardous waste violations, according to an affidavit for a search warrant filed in L.A. County Superior Court.
Sokor Metals was also cited for an alleged failure to prevent a fire or the release of hazardous materials, according to court papers.
The owner of Sokor Metals, Ashoor Koriel, contended that electrical equipment near the property sparked the fire.
"I was not operating when the fire occurred, and none of the chemicals I was using were flammable," he said in a statement.
The attorney representing Da Xiong Pan, who operated Panda International Trading Co. and owns the property, also denied that his client's business caused the fire.
"The fire started somewhere else," said the lawyer, Sal Coco, reiterating Koriel's claim that electrical equipment sparked the fire.
Pan has not been allowed to visit his property, Coco said. A fabric-lined fence was installed to prevent dust from reaching neighbors, and the EPA said Monday that crews were installing a barrier to prevent debris from reaching nearby homes during the cleanup.
The federal cleanup, which could cost as much as $3 million, comes nearly a month after Panda International Trading Co. and Pan pleaded guilty to felony charges that they unlawfully disposed of hazardous waste at the site.
The charges were unrelated to the fire and stemmed from inspections conducted in 2013.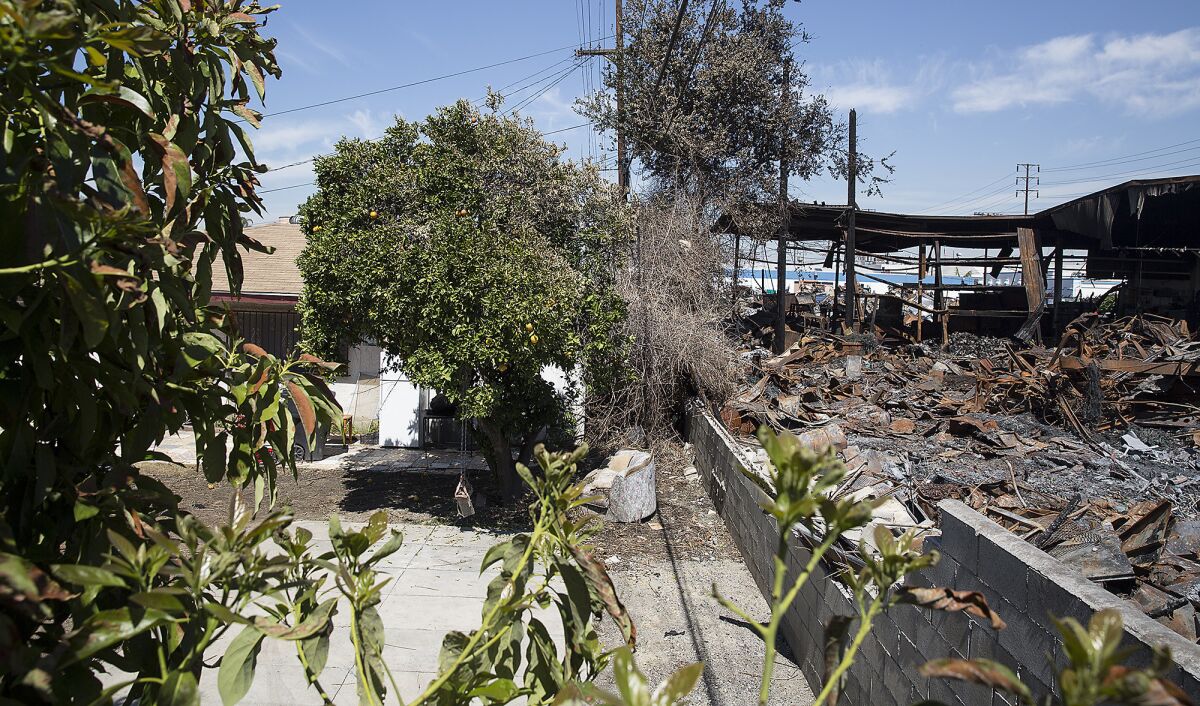 The L.A. County district attorney's office filed charges April 28 after investigators with the state Department of Toxic Substances Control found that toxic levels of metal particulates had been released onto a public sidewalk in front of the company's facility.
The black dust contained copper, lead, zinc, cadmium, nickel and chromium, according to the agency.
On Sept. 14, Pan pleaded guilty to five felony counts. The company pleaded guilty to one felony count.
A judge sentenced Pan to 16 months in prison, which was reduced to one day in jail and 1,000 hours of community service.
The company and its owner were also ordered to pay more than $53,000 in restitution. Under the terms of a three-year probation period, neither Panda nor Pan can run businesses that store or dispose of hazardous waste, said Hansen Pang, a chief investigator at the Department of Toxic Substances Control.
Coco, Pan's defense attorney, acknowledged that his client committed the waste violations but did so out of ignorance of the proper procedures.
"I don't think he understood the rules and regulations," Coco said. "He should have had some professional help."
Twitter: @MattHjourno.
---
UPDATES:
8:10 p.m.: This article was updated with comments from an attorney, one of the business owners and other details.
This article was originally published at 4 a.m.
---
The stories shaping California
Get up to speed with our Essential California newsletter, sent six days a week.
You may occasionally receive promotional content from the Los Angeles Times.