Metal residue removed from homes, sidewalks and cars following magnesium fire in Maywood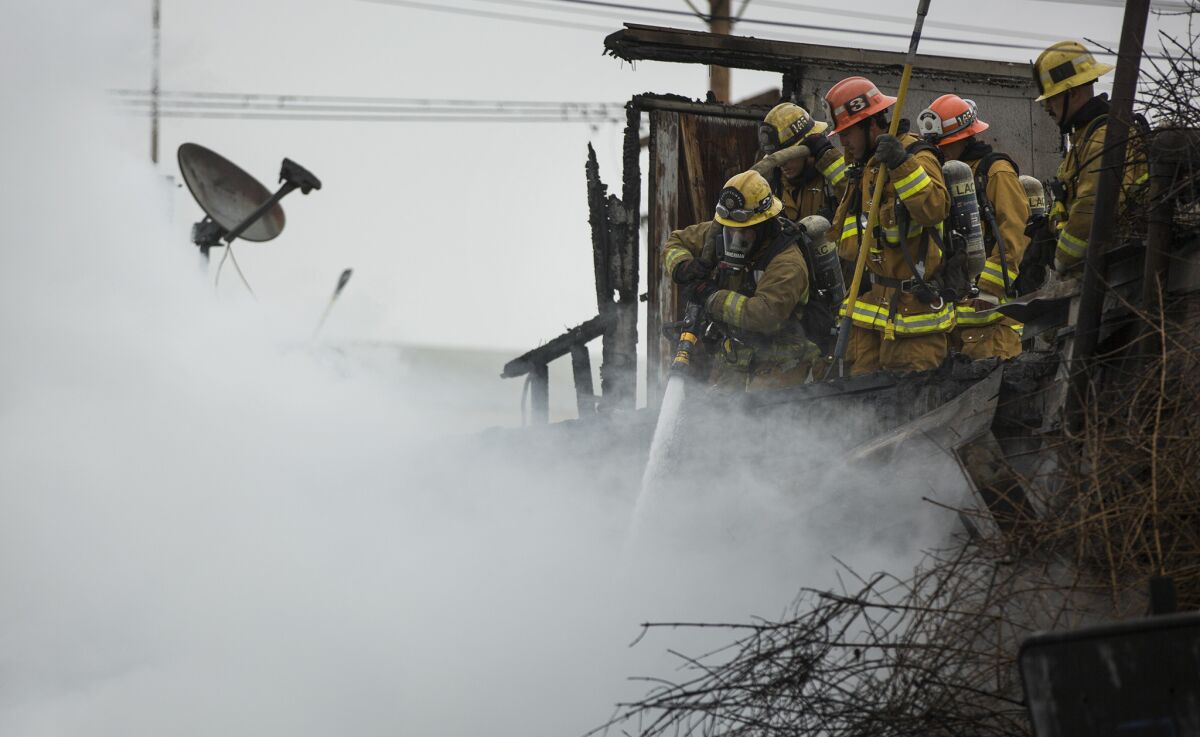 Firefighters are testing homes for health hazards near the site of a massive magnesium-fed blaze that burned for more than a day in a Maywood industrial park.
Firefighters have been washing down homes, sidewalks and cars to ensure residue found nearby does not pose any health risks, according to the Los Angeles County Fire Department. Air quality tests also were conducted inside homes in the affected area near the 3500 block of Fruitland Avenue.
"That is our No. 1 priority," Deputy Fire Chief John Tripp said Wednesday.
The large fire erupted at 2:31 a.m. Tuesday at a plastics facility, then spread into a metal recycling yard. The blaze triggered explosions and hundreds of evacuation orders for businesses and residents in the neighborhood. The fire finally was extinguished around 4 p.m. Wednesday.
Plumes of smoke sent fine metal particles into the air and created an odor reported as far away as the San Fernando Valley.
Firefighters struggled to get a handle on the massive blaze because, unlike most fires, it didn't respond well to water.
Traditional extinguishing methods such as sand and dirt also were useless because they contained water and caused explosions, so firefighters had to smother the fire with a rare, dry-chemical extinguishing agent, county Fire Inspector Richard Licon said.
At one point Tuesday, the fire was spreading in three directions toward homes and businesses. Several explosions occurred as firefighters sprayed water onto the blaze.
Large quantities of magnesium was found scattered throughout the recycling yard, Licon said.
Investigators are looking into business practices at the facility and how the magnesium was stored, he said.
The owner of a metal recycling facility at 3570 Fruitland Ave., where the blaze was also reported, recently was charged with five felony charges for storing and disposing hazardous materials improperly and without a permit at his site.
Da Xiong Pan, who also goes by Daniel Pan, pleaded not guilty in May to those charges.
The Fire Department investigated his site, Panda International Trading Co., in 2013 and asked the California Environmental Protection Agency's Department of Toxic Substances Control to check on the facility, agency spokesman Russ Edmondson said.
Investigators visited the scrap metal recycling facility in June and November 2013 and collected evidence showing that toxic levels of metal particulates were released onto a public sidewalk in front of the company's facility, the agency said.
The black dust contained copper, lead, zinc, cadmium, nickel and chromium, according to the agency.
Pan never requested a permit from the agency and had been running illegal recycling operation for electronic waste, Edmondson said.
After the operator was notified of the violations, he "cleaned up, or managed the hazardous waste appropriately," he said.
For breaking news in California, follow VeronicaRochaLA on Twitter.
---
Life is stressful. Our weekly mental wellness newsletter can help.
You may occasionally receive promotional content from the Los Angeles Times.