In troubled, tiny Maywood, mileage stipends add to council salaries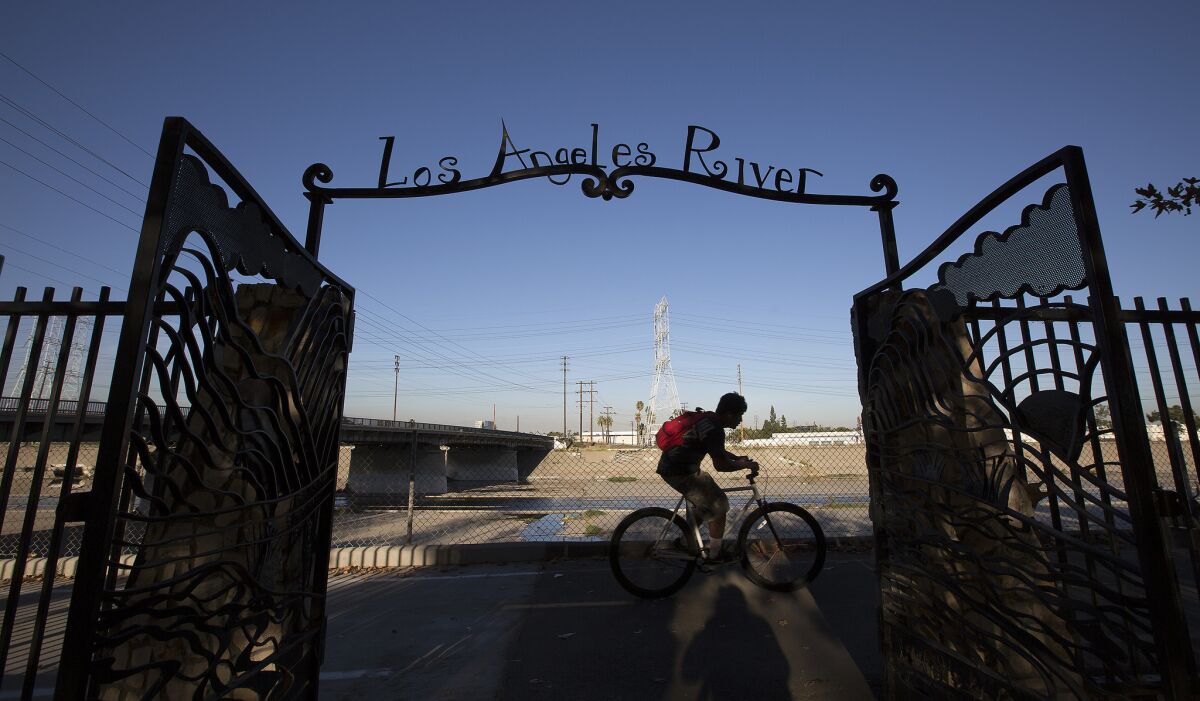 At just over a square mile, Maywood is the second-smallest city in Los Angeles County. To traverse from one end to the other of the working-class town takes but a few minutes.
But that didn't stop municipal leaders from granting themselves, the city treasurer and the city clerk $250 monthly mileage stipends.
If Maywood used the Internal Revenue Service's suggested reimbursement rate for business travel of 54 cents a mile, city officials would need to drive 463 miles a month to reach the $250 mark.
Maywood has struggled with financial problems for years, and a recent state report said the town of 28,000 people southeast of downtown Los Angeles is on the edge of a financial cliff. The city has $16 million in debts and no plans to pay them off, the state found.
Councilman Ramon Medina said he thought the reimbursement amount sounded reasonable, though he said he has attended only one board meeting since being elected in November.
"I didn't think it was going to be a big chunk of money," Medina said. "But other people have complained. Maybe it's something we need to go back and visit."
See the most-read stories this hour >>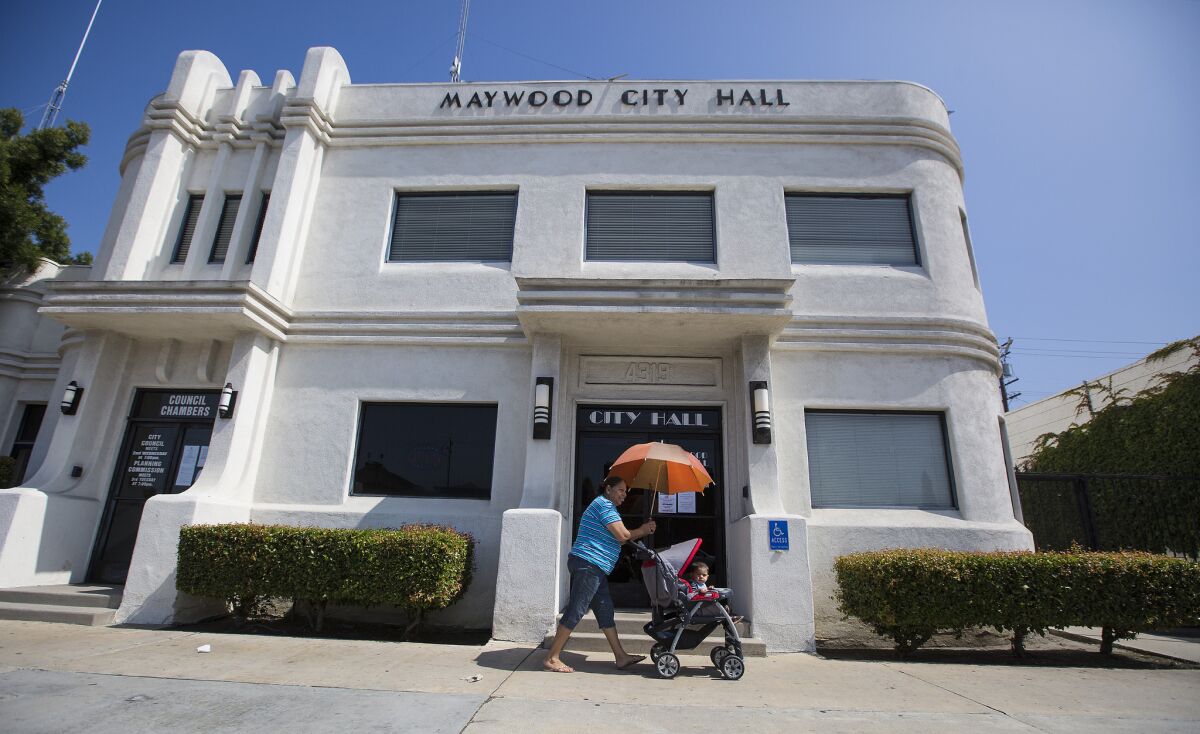 Critics say the mileage stipend is simply an attempt to provide officials with more compensation. Council members make about $550 a month for part-time work plus additional money for serving on other government bodies.
"It's a pay raise, that's all it really is" said Eduardo De La Riva, the only council member to vote against the stipend. "It doesn't make sense. We're not financially stable. Knowing that in the last 4 to 5 years we had been cutting back on spending, the last thing we should have been doing is finding ways to spend money."
Jessica Levinson, a Loyola Law School professor and president of the Los Angeles City Ethics Commission, agreed that the payments come across as bumps in salary.
"I'm laughing through the tears," Levinson said. "The city's in this precarious financial position. This is a time to be trimming things that are absolutely unnecessary, and an automatic stipend for mileage, when you're serving a city that is 1.2 square miles, is not a necessity."
"It's one more chapter in a really sad narrative in the seeming mismanagement of Maywood," she added. "It's unfortunate. It leads to a cycle of discontent."
RELATED: Why the city of Maywood is facing a state audit and a probe by the district attorney >>
Maywood was on the brink of bankruptcy in 2010, when officials laid off much of the City Hall staff and dismantled its police department. It contracted policing services to the L.A. County Sheriff's Department and had the neighboring city of Bell handle many administrative functions.
Those plans, however, were scuttled after The Times revealed huge salaries paid to top Bell officials, which eventually led to criminal charges.
Then, last August, the California state auditor determined that Maywood had yet to recover and deemed the city a potential "high-risk entity," launching an extensive review of the city's finances and operations.
The review is designed to assess Maywood's financial health and its "potential for waste, fraud, abuse and mismanagement," according to a state report.
City records show the mileage stipends were approved in December, the same month council members Medina and Sergio Calderon were sworn into office, according to city records. Also sworn in were City Clerk Gerardo Mayagoitia and City Treasurer Gloria Viramontes, who is the sister of Medina.
Maywood city records show that five of the eight committees that the council members served on — one held at City Hall, the others in surrounding cities — pay a monthly stipend of $100 to $200. Only one board, the L.A. County Sanitation District, pays for mileage in addition to the monthly stipend. At least three boards are voluntary.
De La Riva said he expressed concerns about the mileage allowance. He also said the payments seemed too high for the amount of driving that is required in such a tiny city.
See more of our top stories on Facebook >>
Even if a council member served on all the boards — and none do — the total mileage driven from City Hall to the different boards would total about 120 miles. That's about a quarter of the mileage that would be required to reach the $250 stipend if the IRS' suggested rate for business travel was used.
Mayagoitia said he didn't particularly object to the stipend, but he didn't see how the council members needed it.
"Is it justifiable? No it isn't," Mayagoitia said. "They're getting money for something they're not doing."
De La Riva said Medina should have recused himself when he voted for the stipends and when they restored the salary of the city treasurer — Medina's sister — which he said had been cut to $100 from $425 a month last September.
Medina said he did not recused himself because no one told him to, including City Atty. Mike Montgomery.
Former City Treasurer Salvador Contreras said he was surprised to learn that the city treasurer was once again receiving the higher monthly salary. He said when he was in the position, he often felt bad about getting paid so much for a job that did not require a lot of work.
Contreras said his job entailed signing checks and working with the finance director. But he said the workload was so low that he pleaded with the former city manager to give him more work.
"It not only bothered me but it bothered my family. They would even ask: 'Why are you getting all this money?' and I would say I was trying to do extra things so that I can feel better about the pay," Contreras said. "It was somewhat uncomfortable."
He said a monthly $250 stipend for mileage was simply unnecessary in Maywood.
"I wouldn't get paid to go to my house to City Hall when it's less than a mile away," he said. "This was way out of line."
Councilman Ricardo Villarreal said he didn't think twice about voting in favor of the monthly stipends because he thought the roughly $550 a month they get for serving as council members didn't cover other costs like meals with other officials and mileage.
"I thought it was fair," he said.
Council members Thomas Martin and Sergio Calderon did not respond to requests for comment for the story.
Critics also took issue with the council voting to pay planning commissioners $65 a month. For years, it was an unpaid position. Cindy Lara, a planning commissioner, said even she was surprised when she learned she would get paid because the commission rarely meets.
"This is where I live and this is where I'm raising my son, where I'm raising my family. I grew up here, so it's not bad to not get paid," Lara said. "Why can't they use that money to pay someone else — like code enforcement?"
Twitter: @LATvives
ALSO
Why the city of Maywood is facing a state audit and a probe by the district attorney
Drug lord-themed Maywood restaurant has fans but isn't to everyone's taste
White students rapping a racial slur stirs posh Brentwood School
The stories shaping California
Get up to speed with our Essential California newsletter, sent six days a week.
You may occasionally receive promotional content from the Los Angeles Times.