26 charged in $40-million Southern California medical kickback scheme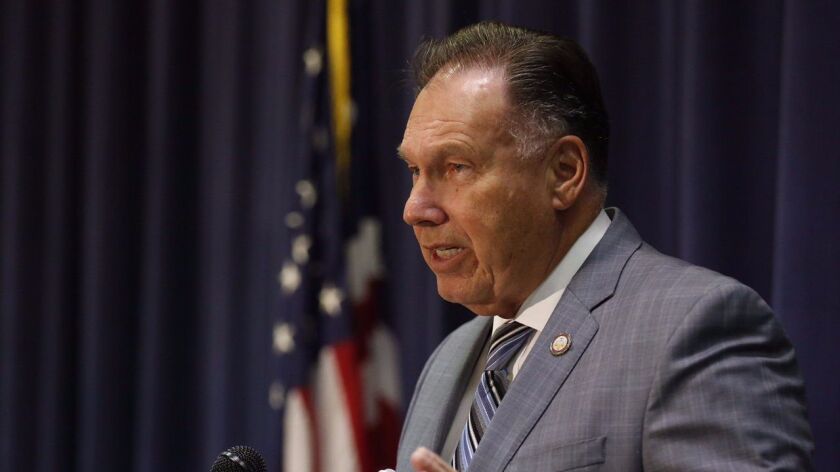 Prosecutors charged 26 doctors and other medical professionals Thursday in an alleged kickback scheme that may have defrauded up to 13,000 patients in California and netted the defendants roughly $40 million as they overcharged for medication or prescribed balms that had no known medical value.
In a joint statement, Orange County Dist. Atty. Tony Rackauckas and State Insurance Commissioner Dave Jones said the plot was spearheaded by Tanya and Christopher King of Beverly Hills, the owners of two medical billing and management companies. The husband and wife are accused of paying doctors to prescribe unnecessary medications and tests. Authorities said the doctors and the companies associated with them then masked those kickbacks as "marketing expenses."
Nearly $40 million was billed to the insurance companies of the affected patients, who were on workers' compensation, authorities said.
"The Kings and their co-conspirators played with patients' lives, buying and selling them for profit without regard to patient safety," Jones said in the statement. "Patients have the right to expect treatment decisions by healthcare professionals are based on medical need and not unadulterated greed. The magnitude of this alleged crime is an affront to ethical medical professionals."
The Kings could not immediately be reached for comment.
The owners of Steven's Pharmacy in Costa Mesa, Charles Bonner and Mervyn Miller, are accused of working with the Kings to prescribe more than $1 million worth of creams that had not been approved by the U.S. Food and Drug Administration and were not known to have medical benefits, authorities said.
The Kings would purchase the creams for between $15 and $40 from the pharmacy, but then billed insurers up to $700 for each prescription, according to investigators. Tanya King was accused of paying physicians $50 per prescription to take part in the scam, officials said.
Some of the doctors charged in the case also ordered unnecessary urine tests, under the guise that they wanted to confirm their patients were taking prescribed medications, investigators said. After the doctors ordered the tests, the Kings would pay $60 to a toxicology group for each screening performed, then bill insurers hundreds of dollars more per test, according to the news release.
"In order for the system to survive, we must have ethical doctors who abide by their Hippocratic oath to 'do no harm,'" Rackauckas said in the statement. "The intent of many of the laws surrounding the insurance industry is to keep the three Ps – physician, patients and profit -- separate."
Follow @JamesQueallyLAT for crime and police news in California.
ALSO
Police departments say they don't enforce immigration laws. But their manuals say something different
'Wrong place. Wrong time.': Beaten San Pedro teen may have been caught in gang initiation, cops say
Former 'Power Rangers' actor sentenced to six years in prison for killing roommate
---
The stories shaping California
Get up to speed with our Essential California newsletter, sent six days a week.
You may occasionally receive promotional content from the Los Angeles Times.