Part of Metro's Green Line will close again for two weeks starting Friday
The Metropolitan Transportation Authority will halt service to six Green Line stations for two weeks so workers can finalize a connection to a new light rail line that is under construction through South Los Angeles.
Service to the Green Line's Redondo Beach, Douglas, El Segundo, Mariposa, Aviation and Hawthorne/Lennox stations will stop at 9 p.m. Friday and will resume the morning of Jan. 20, Metro said.
The $2-billion, 8.5-mile Crenshaw Line is scheduled to open in mid-2020, about six months behind schedule. After its ribbon-cutting, Metro trains will run seamlessly from the Mid-City area of Los Angeles onto the Green Line along the 105 Freeway.
During the shutdown, Metro crews will finish connecting communications and power systems at the junction where the two rail lines intersect, work that requires shutting off power to parts of the Green Line.
"We're working really hard to make sure that when we open the Crenshaw Line, everything runs really smoothly," Metro spokesman Jose Ubaldo said.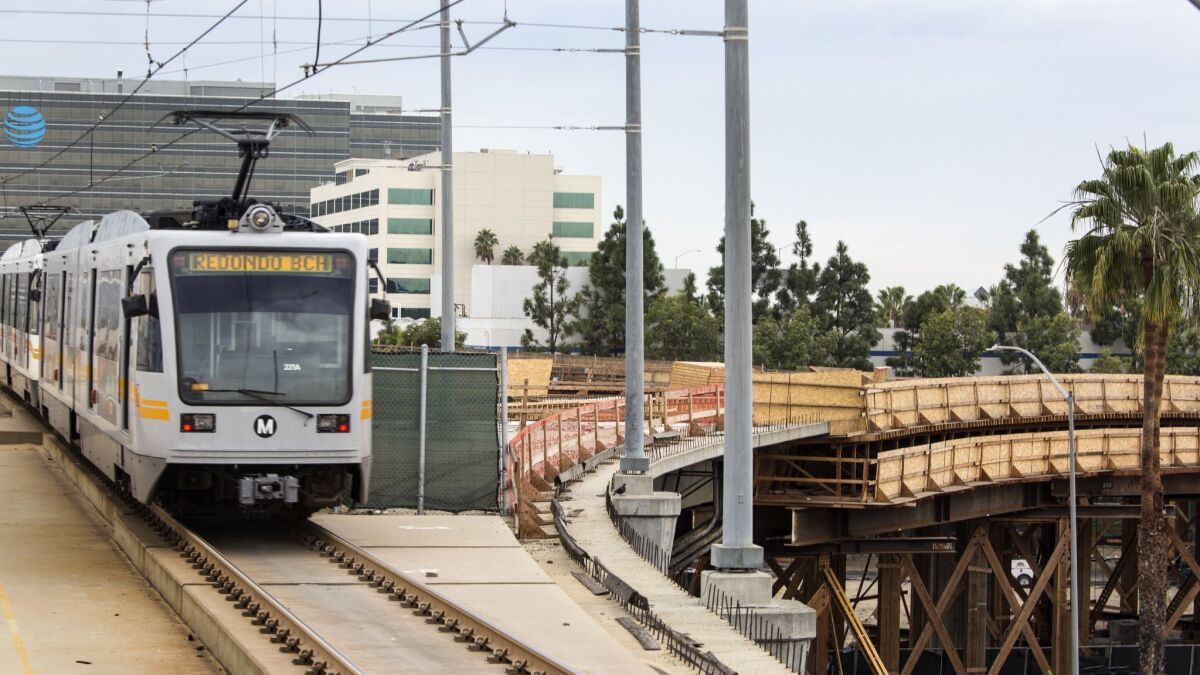 Trains will run as usual between the Green Line's eastern terminus in Norwalk and the Crenshaw station in Hawthorne. Passengers will then need to transfer to shuttle buses to reach the South Bay.
The buses will mirror the Green Line's schedule, arriving every six minutes during rush hour, every 15 minutes at midday and every 20 minutes after 8 p.m. The closures could add 20 minutes to a one-way trip, Ubaldo said.
Last January, riders endured a nine-week closure at five Green Line stations in the South Bay while Metro built the connection between the two light rail lines. The closures lengthened commutes and caused delays for local bus lines that pick up riders at Metro stations.
The shutdown scheduled for this week has been planned since before the 2018 closure, said Metro community relations manager Ayda Safaei.
It follows years of ridership woes on the Green Line, the only Metro rail line that does not connect to downtown. Monthly trips have fallen by about 25% over the last five years — from more than 1.2 million trips in November 2013 to fewer than 845,000 trips in the same month in 2018.
The Metro board approved a service plan last month for the first year of the Crenshaw Line's operation that calls for two-car trains running between Mid-City and Norwalk and two-car trains running from Redondo Beach to a Blue Line station in Willowbrook.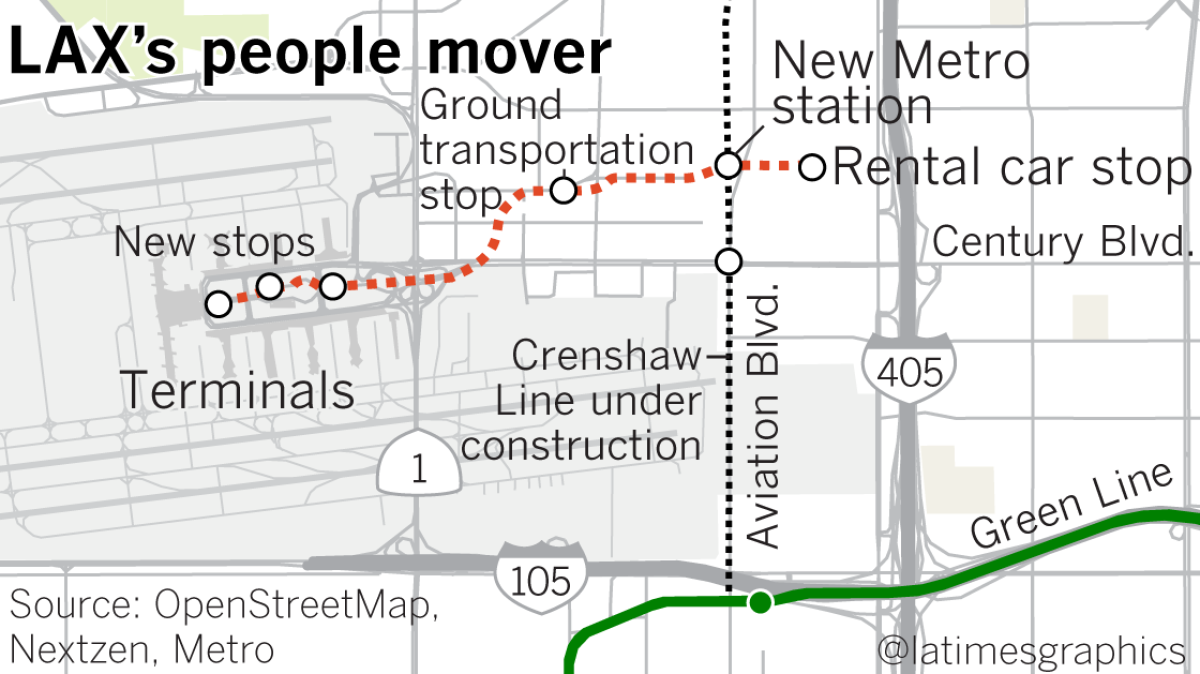 When the Crenshaw Line opens, Metro will add eight stations — in Inglewood and in the Los Angeles neighborhoods of Baldwin Hills, Hyde Park, Leimert Park and Westchester — to Los Angeles County's growing rail map.
A ninth station, scheduled to open in 2023, will provide the region's long-awaited rail connection to Los Angeles International Airport.
Metro also plans to open a station at 96th Street and Aviation Boulevard that will serve as a transfer point to a smaller, automated train system. That train, similar to systems in Denver and San Francisco, will include stops at a consolidated car-rental facility, a ground transportation hub and LAX's terminal area.
For more transportation news, follow @laura_nelson on Twitter.
---
The stories shaping California
Get up to speed with our Essential California newsletter, sent six days a week.
You may occasionally receive promotional content from the Los Angeles Times.