Metro to study which properties could house facilities for the homeless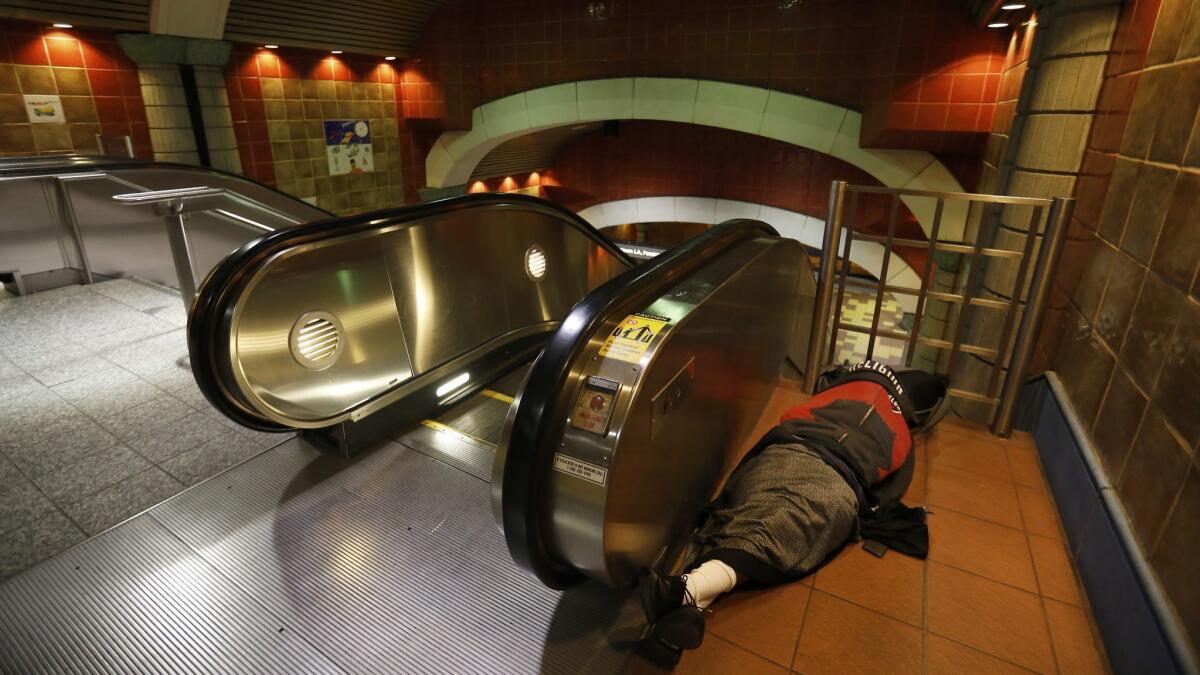 As homelessness surges across Los Angeles County, the region's largest transportation agency is exploring whether some of its properties — including bus yards and Metro stations — could be used to provide services for people living on the streets.
At a downtown meeting Thursday, Metro's board of directors asked the agency to prepare a list of properties that could accommodate showers, storage for belongings, parking lots where people could sleep in their cars overnight, or other facilities.
The county's rising homeless population has become a major concern for Metro as ridership on the system continues to decline. Nearly three in 10 riders told the agency that they stopped taking transit because they felt unsafe.
During Thursday's meeting, Los Angeles County Supervisor and Metro director Mark Ridley-Thomas urged an expansion of a program that pays for homeless outreach along the Red Line subway, where complaints about cleanliness and safety are common.
Ridley-Thomas asked Metro to study where outreach workers would be most effective on other rail lines and on the sprawling bus system, which carries about 70% of total riders. Overnight buses along major corridors, including Pico and Santa Monica boulevards, see a high concentration of homeless riders.
"We don't have a moment to waste," Ridley-Thomas said. "We have to run faster to keep up with this crisis."
Metro staff will report in May on expanding the homeless outreach program, and later this year on which properties could accommodate homeless services.
Metro is a major landowner in Los Angeles County, with a portfolio that includes dozens of train stations, parking lots and bus yards, as well as parcels adjacent to rail lines that were acquired during construction.
Some properties are slated for development but sit unused now, said Metro director and Los Angeles Councilman Mike Bonin, who urged the agency to draft a list of "surplus and vacant" properties. Until construction starts, he said, they could be used for RV parking or other services.
The footprint around some Metro stations would also be "very appropriate" locations for a trailer with showers, toilets and laundry machines, Mayor Eric Garcetti said in an interview.
A similar facility operates four days a week on a city-owned parking lot in skid row. The "refresh center" is monitored by security officers and a maintenance crew.
Los Angeles officials are making similar plans for city-owned property. Analysts have identified 119 city-owned parking lots that they say could be sites for permanent supportive housing, and the City Council approved Garcetti's plan to install makeshift trailers to house up to 60 people near the historic El Pueblo site downtown.
Five Bureau of Sanitation yards in West L.A., San Pedro, Northeast L.A. and the San Fernando Valley now house storage sites for belongings that city officials remove from homeless encampments during clean-ups. The storage facilities are managed by the nonprofit Chrysalis.
For more transportation news, follow @laura_nelson on Twitter.
Sign up for Essential California for news, features and recommendations from the L.A. Times and beyond in your inbox six days a week.
You may occasionally receive promotional content from the Los Angeles Times.