Woman pulled from subway train by LAPD files claim alleging excessive force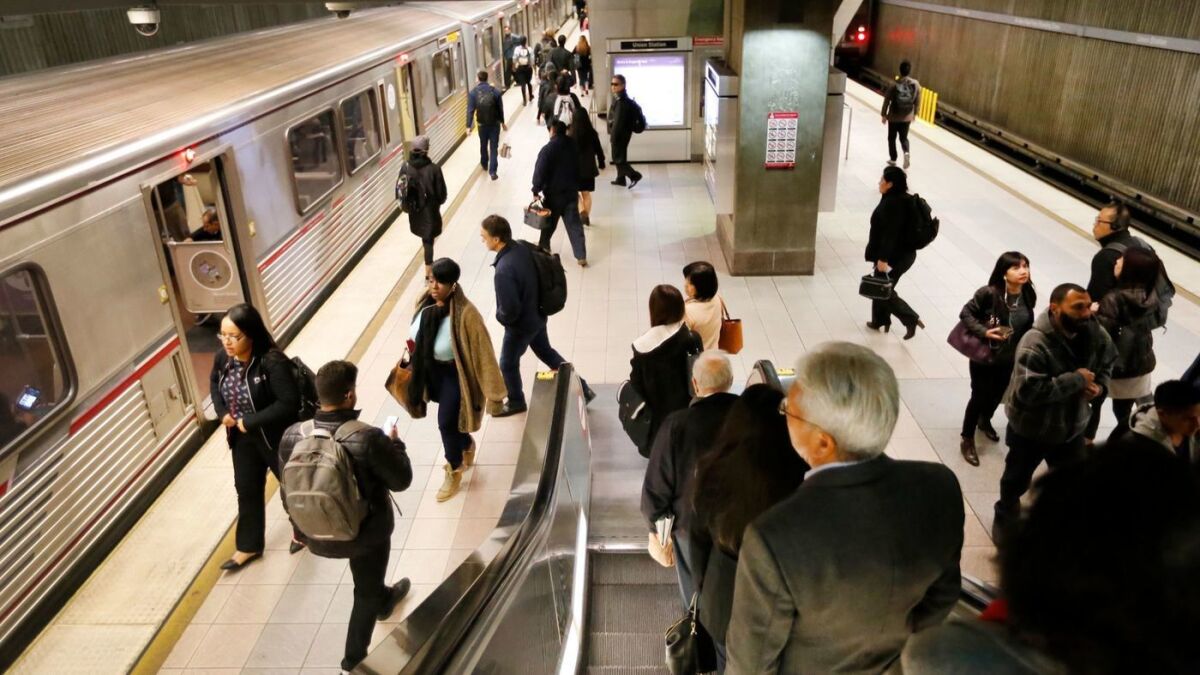 A woman who was pulled from a Metro subway train after she refused a policeman's order to take her foot off the seat has filed a claim against the city, saying she suffered an injury during the incident.
At a news conference Monday, 18-year-old Bethany Nava said she sprained her wrist dwhen a Los Angeles police sergeant grabbed her arm and pulled her off the Red Line train at the Westlake/MacArthur Park station Jan. 22.
A bystander'svideo of the confrontation has been viewed more than 13 million times and has prompted the LAPD to initiate a use-of-force investigation.
The controversy comes amid a crackdown on code-of-conduct violations on Metropolitan Transportation Authority vehicles. Such violations include eating, drinking, vaping, gambling, littering and placing feet or shoes on seats.
Nava — who was flanked by her attorney and her mother as she spoke Monday — said she did not hear the Los Angeles police sergeant the first time he asked her to take her foot off the seat. The video of the incident shows her wearing earbuds.
"He snapped in my face to get my attention. I then paused the music, turned toward him and he said 'put your foot down' and I did. I put my foot down and he walked away," she said.
Nava acknowledged she then put her foot on her thigh and then she saw the sergeant was back in front of her.
She said he yelled for her to put her foot down or he would arrest her and she immediately responded by placing both feet on the floor.
At that point, Nava said she asked the lawman, "Why you arresting me? What is the law I am breaking?"
Nava said the sergeant responded, "There doesn't need to be law, you disobeyed me."
He then pulled her off the train, she said.
Passenger Selena Lechuga got off the train at the same time and shouted at the officer, telling him he was taking matters too far. She was handcuffed by police at the same stop and spit in an officer's face, video showed. She was eventually arrested for battery on a police officer.
Nava's claim, which is a precursor to a possible lawsuit, accuses the sergeant of excessive force, false imprisonment, negligence, infliction of emotional distress and violating her civil rights. She wore a brace on her right wrist Monday.
Nava said other passengers on the train were eating food and drinking beverages, activities that are also violations of Metro's code of conduct. She said she doesn't know why the sergeant singled her out.
"It all happened so quickly, I just needed an explanation as to why it was happening," she said. "I was very confused. I needed to know why he was telling me all these things."
Nava was ultimately cited for loud and boisterous conduct on a train and released. She was not cited for violating rules for putting her foot on a seat, her attorney said.
The Los Angeles city attorney's office did not immediately comment on Nava's claim Monday.
Metro's chief executive released a statement about the treatment of the young woman.
"As Metro continues to work with our partners at the Los Angeles Police Department on the investigation of a young woman being forcibly removed from a Metro subway train … I want to be clear about my position: We want our Customer Code of Conduct rules enforced, but I'm disappointed at the way the situation escalated," Phil Washington said. "The investigation is underway to gather all the facts, and until we have the complete story, we must not rush to judgment. Meanwhile, we remain committed to enhancing safety and the overall rider experience for all of our customers, and look to our patrons to be our partners in that."
For breaking California news, follow @JosephSerna on Twitter.
---
The stories shaping California
Get up to speed with our Essential California newsletter, sent six days a week.
You may occasionally receive promotional content from the Los Angeles Times.