Miley Cyrus should not feel ashamed for her VMA twerking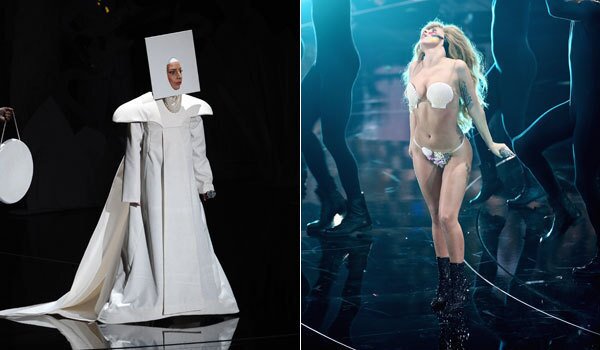 Lady Gaga kicked things off in customary head-turning fashion with the debut performance of her new single, "Applause." Despite a slow start, she soon kicked things into a higher gear. Though chances are most people will be discussing her multiple costumes changes rather than the actual song. Switching wigs and outfits more often than she changed tempos, Gaga went through a variety of looks before ending up in a string bikini and clamshell top, giving the audience a very brief flash of her bum while twirling on stage. Will that get blurred in subsequent airings?
(Invision / AP / Getty Images)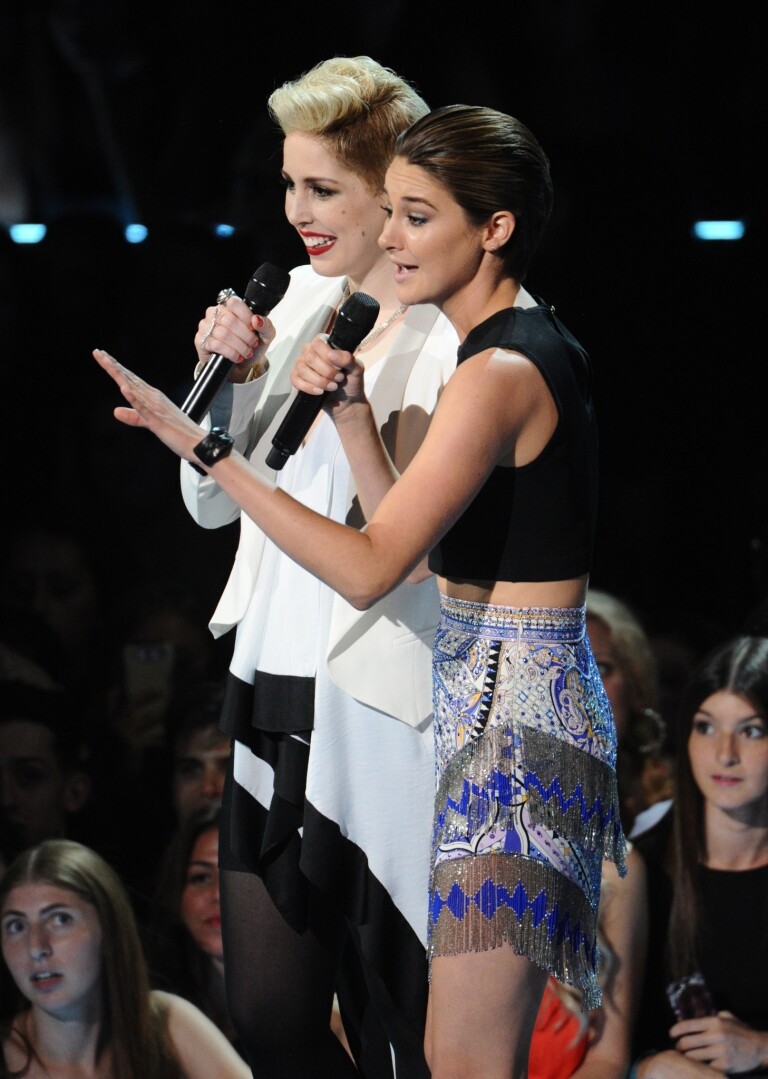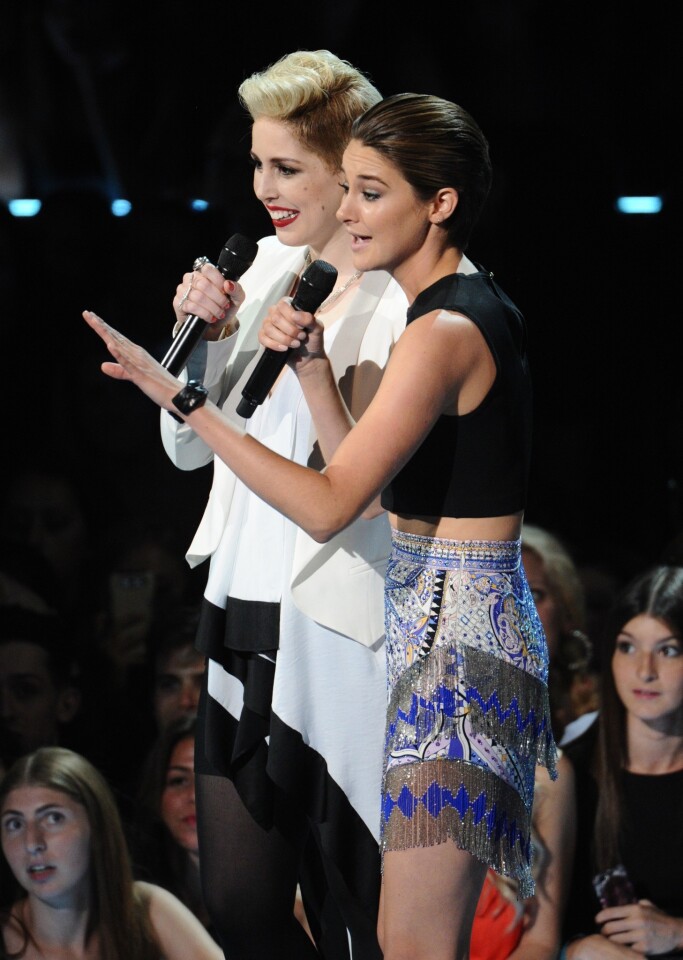 "SNL" cast member Vanessa Bayer appeared alongside "Divergent" star Shailene Woodley to introduce Miley Cyrus dressed as -- Miley Cyrus. Loving tribute or barbed jab? The jury's still out, especially after Cyrus' bizarro performance.
(Charles Sykes / Invision / AP)
Miley Cyrus' performance, in which she twerked with giant teddy bears, stripped to her underwear and attempted to do pornographic things with a giant foam finger, had audience members scratching their heads. (Or in the case of Drake, staring at the floor looking bored). Cyrus' performance was so strange, co-performer Robin Thicke, channeling his inner Beetlejuice in a black and white striped suit, seemed positively elegant by comparison.
(Rick Diamond / Getty Images for MTV)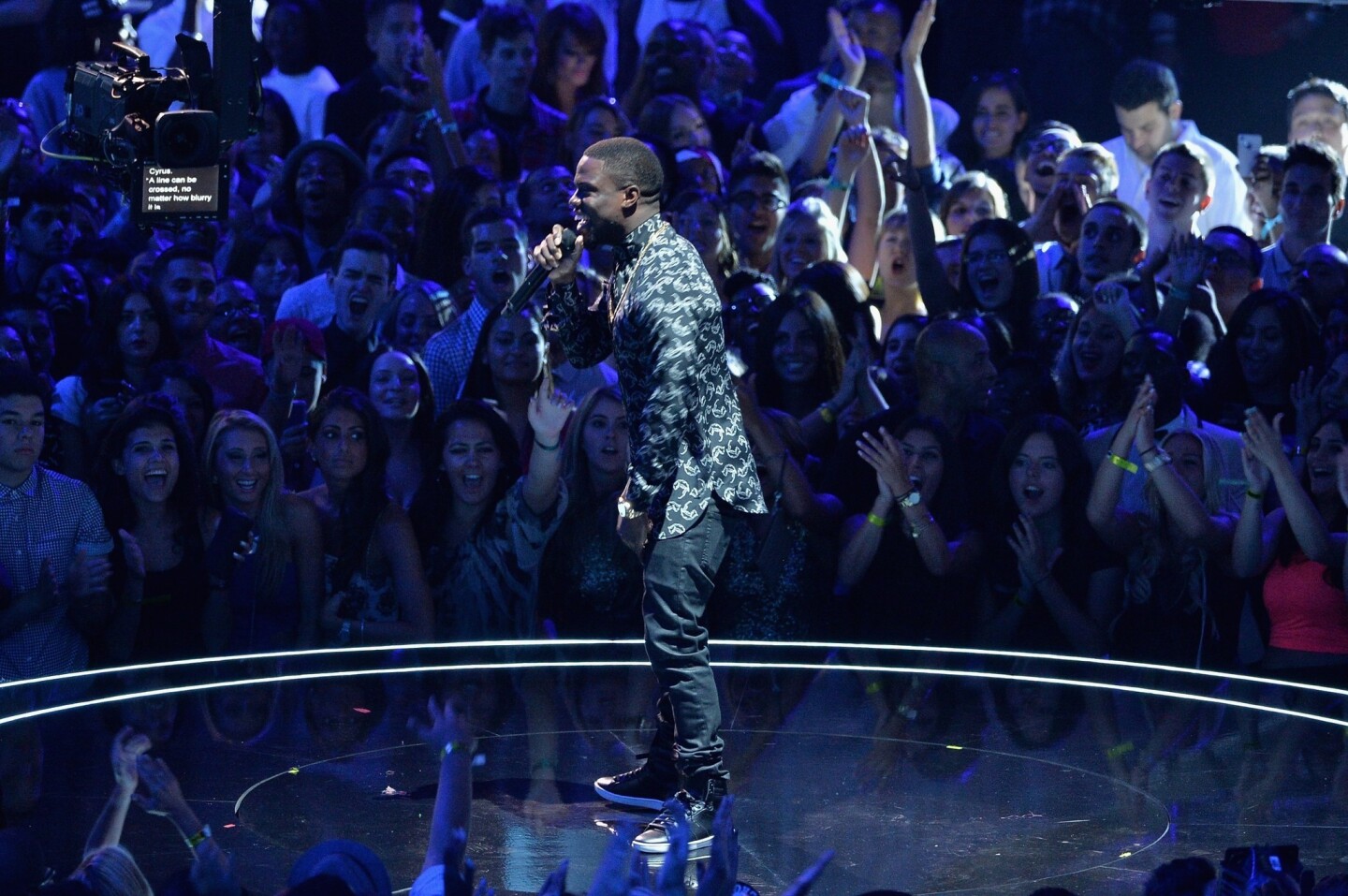 There's no host of this year's VMAs, but comedian Kevin Hart kept coming out to do a few minutes of stand-up inspired by the show thus far. While not all of his jokes hit home, he did express one major concern among viewers: "Miley better get a pregnancy test after all that grinding."
(Rick Diamond / Getty Images for MTV)
Maybe fatherhood is making him tired, but Kanye West's performance of "Blood on the Leaves" was relatively sedate compared to everything that came before. Relying on a low camera angle and a large silhouette, West appeared to loom above the crowds like a giant, without having to show much of his face (despite an extreme close-up in low light at the beginning). Good job, Kanye. Now go catch some Zzzzs.
(Neilson Barnard / Getty Images for MTV)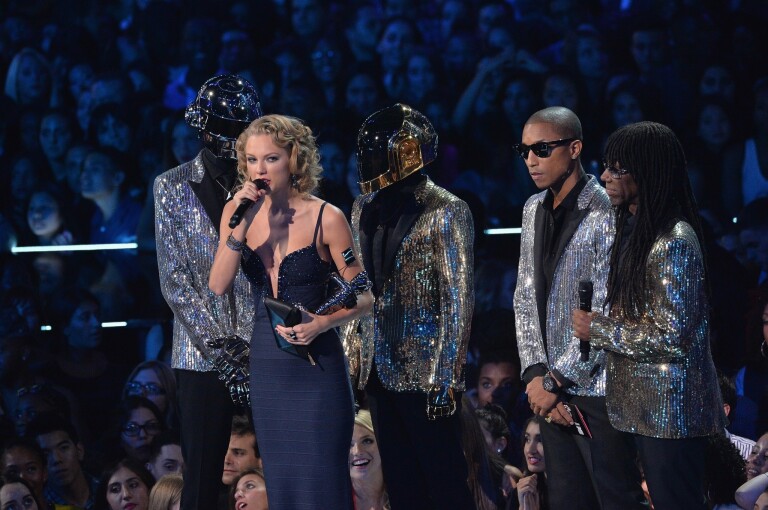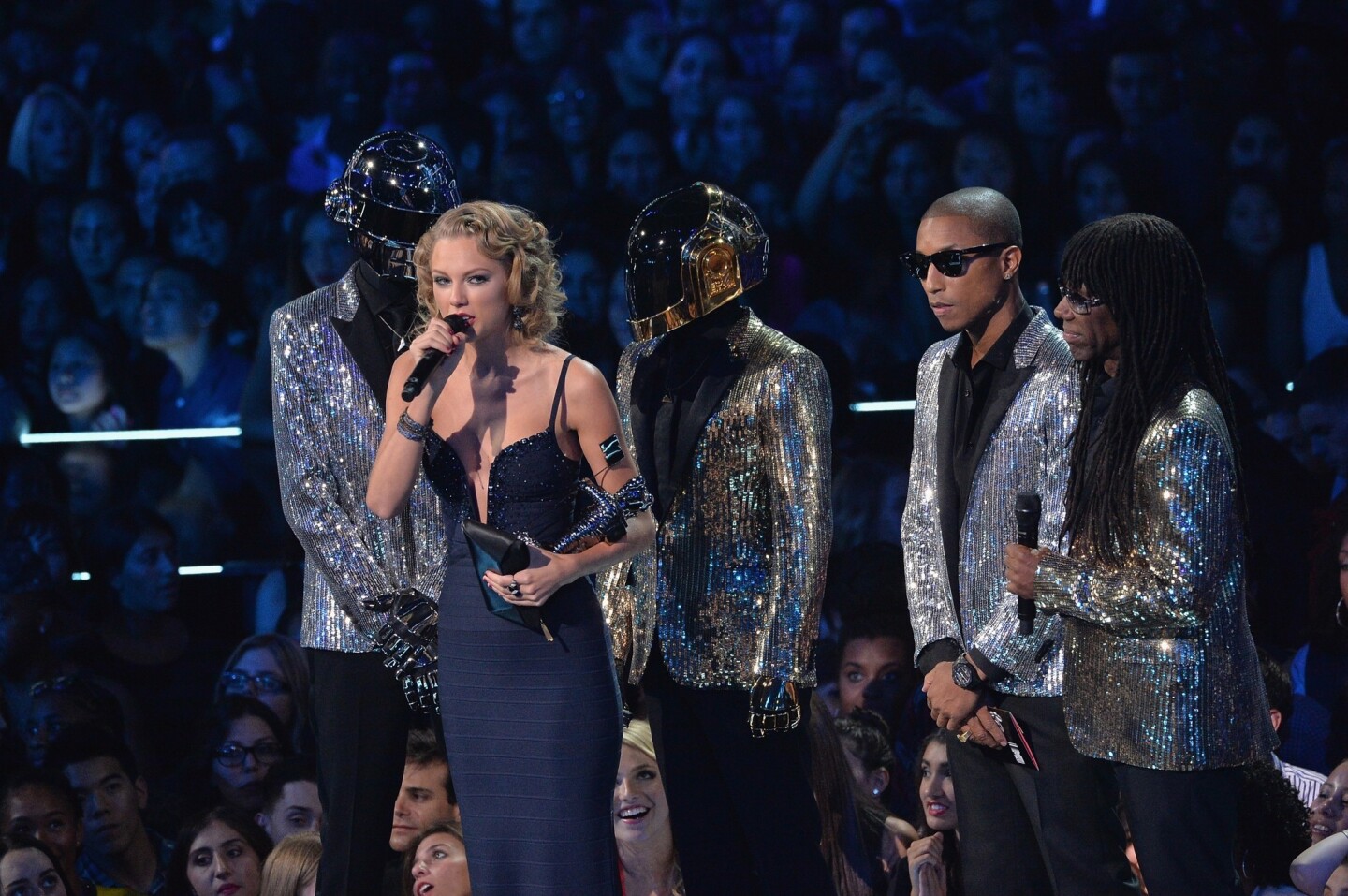 Taylor Swift isn't letting the whole ex-boyfriend thing go. After picking up the Moon Man for best female video for "I Knew You Were Trouble," she made a point of thanking one of her many ex-boyfriends. "I want to thank the guy who inspired this song -- he knows exactly who he is -- because now I got one of these!" That'll show him.
(Rick Diamond / Getty Images for MTV)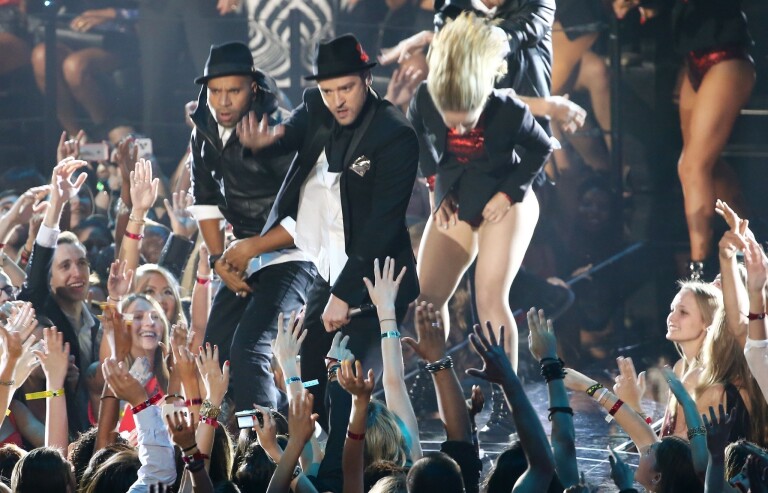 Video Vanguard award winner Justin Timberlake isn't just popular with the fans, he also seems to be popular with his peers, judging by the cut-aways to Lady Gaga and Rihanna, both of whom were mouthing along to the words of Timberlake's greatest hits medley. Cycling through everything from his new single, "Take Back the Night," to "Sexyback" to "Four Minutes" and even delving back into his 'NSync days, Timberlake's performance seemed to almost be an audition for next year's Super Bowl halftime show.
(Neilson Barnard / Getty Images for MTV)
Speaking of 'NSync, Timberlake brought out his former performance mates, J.C. Chasez, Joey Fatone, Lance Bass and Chris Kirkpatrick for a brief mid-performance interlude of the '90s era 'NSync greatest hits. Coming at the end of Timberlake's performance would have been a touching reunion, but midway through his extended performance, it seemed like a career box was being checked. For a brief moment, they were back together, and then Timberlake quickly ushered them off the stage.
(Charles Sykes / Invision / AP)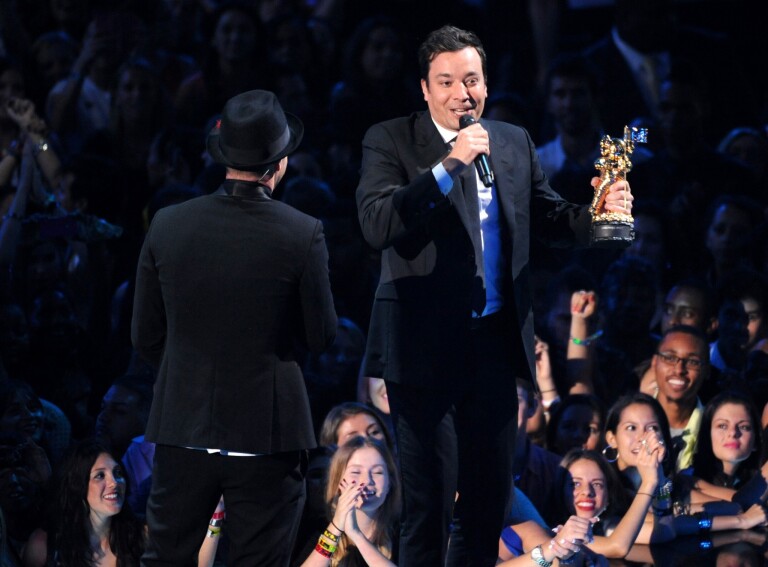 How great was Jimmy Fallon's introduction for Justin Timberlake's Video Vanguard award bestowal? So epic and over the top that Timberlake could only respond, "I'm taking Jimmy on the road with me."
(Scott Gries / Invision / AP)
Is it because she came of age as Disney's Hannah Montana, the country girl with the secret career as a pop star, and we just can't stand it when child stars grow up?
Is it because she is a young white woman who appropriated a piece of black culture to convey her urban bona fides onstage? (Hello every white rock star who ever lived.)
Or maybe because stars in the audience seemed unengaged by her antics?
PHOTOS: Best and Worst of MTV VMAs 2013
It's not exactly clear why 20-year-old Miley Cyrus' grinding medley of "We Can't Stop" and "Blurred Lines" on Sunday night at MTV's Video Music Awards pushed so many cultural buttons.
But by Monday, it's all anyone wanted to talk about.
Little Hannah Montana, all grown up and twerking her heart out, hijacked the VMAs.
Wearing a flesh-colored vinyl bikini and working a giant foam finger as lasciviously as a stripper works a pole, she expressed the crude sexuality that performers often use to engage or outrage their audiences. (Madonna simulating masturbation during "Like a Virgin" in 1990, anyone?)
Even CNN found the performance newsworthy. (Here is all-too-true explainer from the Onion on that.) The fact that Cyrus is a hot topic now is a tribute to her skills as an entertainer.
Consider who else was onstage Sunday: actual music superstars Lady Gaga and Kanye West. But no one's talking much about Gaga's many costume changes, or West's subdued performance.
And if they're talking about Robin Thicke, who performed his sensational summer hit "Blurred Lines" with Cyrus, it's because she used him as a prop, bending over and backing into him.
Cyrus was weird, for sure, sticking her tongue out in a pale imitation of Gene Simmons that just made her look loopy.
But she has no reason to be ashamed or embarrassed, as many have suggested.
When it comes to sexual exploitation, it's performers like Thicke who have something to answer for.
In Thicke's creepy "Blurred Lines" video, he and two other male singers, Pharrell Williams and T.I., wear snappy suits while bare-breasted young women in nothing but thongs dance around them and vamp like strippers. It's disturbing to see the juxtaposition of the naked women with the fully dressed men. Especially since they're used as ornaments.
Sure, Cyrus was over the top Sunday. But look around. The pornification of the culture is a fait accompli. They're even twerking at high schools in San Diego these days.
You might hate Cyrus' songs or disapprove of her using the stage as a glorified strip club.
But at least she was nobody's ornament.
ALSO:
Rim fire 20% contained, but flames threaten 4,500 structures
Detectives seek leads in death of 14-month-old Hawthorne boy
Lancaster man convicted in San Diego County freeway shootings in 2011
Twitter: @robinabcarian
---
The stories shaping California
Get up to speed with our Essential California newsletter, sent six days a week.
You may occasionally receive promotional content from the Los Angeles Times.