Eight arrested in protests as Milo Yiannopoulos speaks at Cal State Fullerton
At least eight people were detained at Cal State Fullerton on Tuesday night during small but tense protests as conservative firebrand Milo Yiannopoulos spoke, blasting what he called the silencing of conservative views on college campuses.
Five people were released but told they could face trespassing charges if they returned to campus in the next seven days, Cal State Fullerton Police Capt. Scot Willey said Wednesday morning. Two people, including a student, were cited for violating the dispersal order and released.

For the record:
2:30 p.m. Oct. 31, 2017An earlier version of this article said the doors to the event open at 6 p.m. Tuesday. They open at 5 p.m.
Another protester, a woman wearing a black helmet and mask, was arrested after shooting pepper spray into the air. She was booked into the Orange County jail on suspicion of parole violations, including possession of a knife and pepper spray, Willey said.
Cal State Fullerton's chapter of the College Republicans hosted the sold-out event at the Titan Student Union. It drew an audience of more than 800 people.
As Yiannopoulos took the stage, the audience cheered and chanted his name. He began by commenting on sexual harassment scandals plaguing Hollywood, and later called on the federal government to withhold funding from universities that he said try to shut down conservative speech.
"When it comes to oppressed minorities and marginalized groups, there's no tribe in America at greater risk — the physical and existential risk — than the campus conservative," he said.
Outside the event, police intervened in the pepper spray incident, forming a line to get the crowd — about 50 people at the time — to move along.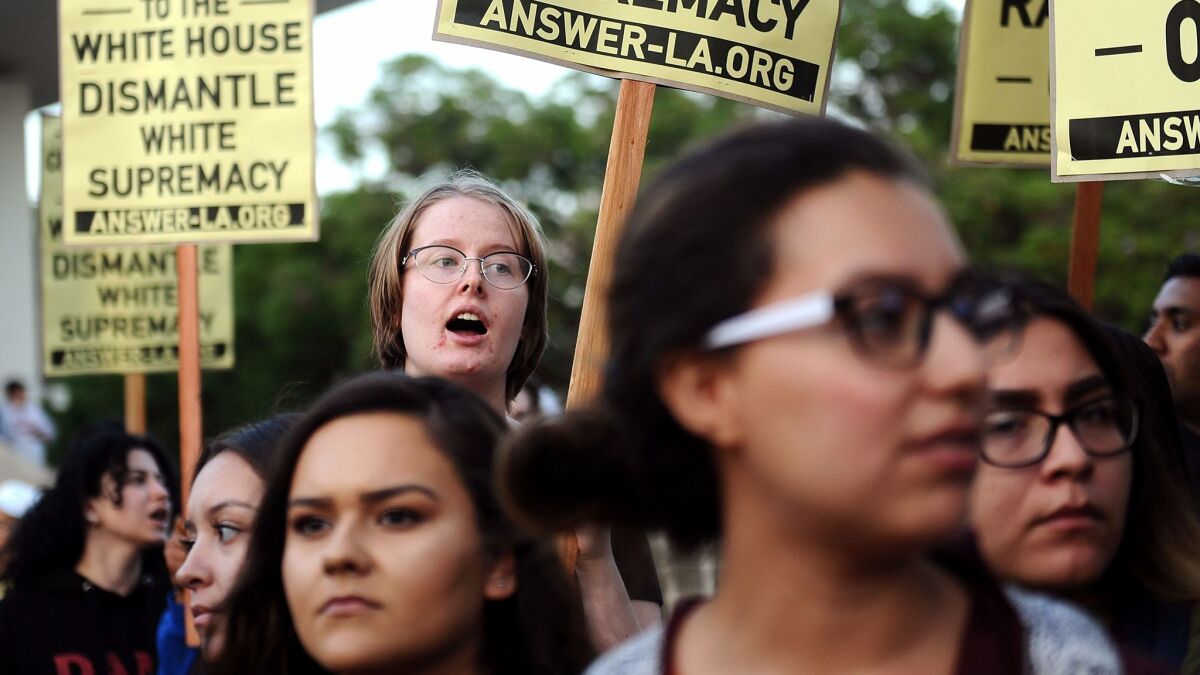 Shouting matches and scuffles broke out later in the evening between left-wing protesters and right-wing counter-protesters as the crowd moved toward the hall where Yiannopoulos spoke.
Just before 7 p.m., a protester threw a water bottle at someone wearing a "Make America Great Again" hat. Before her arrest, the woman with the helmet was heard urging protesters to break into the Yiannopoulos event and beat him up, according to several witnesses.
University police were out in force, along with about 275 officers from several state and local agencies. Helicopters hovered over campus while police officers on horseback monitored the crowd. Police did not have a cost estimate for the extra security.
Around 8 p.m., police began to clear out a rowdy crowd of about 150 people, which had moved near a campus library.
One woman sought treatment from firefighters, but no other injuries were reported.
The 32-year-old Yiannpoulos previously worked as the tech editor of the far-right Breitbart News and has sought out controversy at every turn. An early supporter of President Trump, he lambastes political correctness and last year was banned from Twitter for harassing "Ghostbusters" and "Saturday Night Live" star Leslie Jones. In February, he resigned from Breitbart after video was released showing him making comments that were interpreted as being supportive of pedophilia.
Bianca Turano, who called herself a conservative, went to the protest with her father to call out right-wing agitators making racist or hateful comments. The pair said they support Trump, but not Yiannopoulos or hate speech.
"We're here to confront them about what they're doing," Turano, 23, said of right-wing protesters. "They're really bullies."
Her father, John Turano, agreed.
"We're here to harass the patriots on my team," he said.
Students hosting a nearby "Unity Block Party" on the campus quad were peaceful. That event, which ended about 7:20 p.m., featured speakers from the LGBTQ community and immigrants.
Some students were surprised when they heard Yiannopoulos was coming to campus.
"I was personally shocked and kind of offended because this campus has so many minorities," said Alia Abuelhassan, 21.
Before the event, the university said that while Yiannopoulos is a controversial figure, the administration does not play a role in determining which speakers any student groups can invite to campus.
"The value of free speech notwithstanding, the law is clear. Hate-speech codes that have been enacted by some colleges and universities have been declared unconstitutional when challenged in court, " university spokesman Jeff Cook said when the event was being finalized in August.
Tuesday's event marked Yiannopoulos' first college-speaking appearance in the U.S. since his highly touted "Berkeley Free Speech Week" was scheduled in late September. That event fell apart because of disorganization. Yiannopoulos blamed UC Berkeley officials for trying to stop him from coming to campus. Other protests earlier this year in the city turned ugly, with far-left and far-right forces fighting in the streets.
Yiannopoulos is arranging a number of cross-country speaking engagements that he calls his "Troll Academy Tour."
Stops at San Diego State and Cal State Bakersfield were announced but then scuttled.
In a text in August to a Los Angeles Times reporter, Yiannopoulos said, "Naturally, I'll be visiting a lot of colleges in California. It's the craziest state of all."
Twitter: @boreskes
alene.tchekmedyian@latimes.com
Twitter: @AleneTchek
ALSO
Parent who held teacher hostage at elementary school killed by police after hours-long standoff
Beverly Hills police launch sexual assault investigations involving Harvey Weinstein and James Toback
L.A. Unified says PUC Schools should have unearthed Rodriguez's alleged conflict three years ago
---
UPDATES:
10:35 a.m: This article was updated with new information from police.
7 a.m. Nov. 1: This article was updated with information on future events.
9:45 p.m.: This article was updated with details about the arrests and comments from the university spokesman.
7:25 p.m.: This article was updated with interviews of protesters.
6:30 p.m.: This article was updated with details about the protests as they began.
This article was originally published at 1:50 p.m. Oct. 31.
The stories shaping California
Get up to speed with our Essential California newsletter, sent six days a week.
You may occasionally receive promotional content from the Los Angeles Times.