Monterey Park drops plan for English signs amid community outcry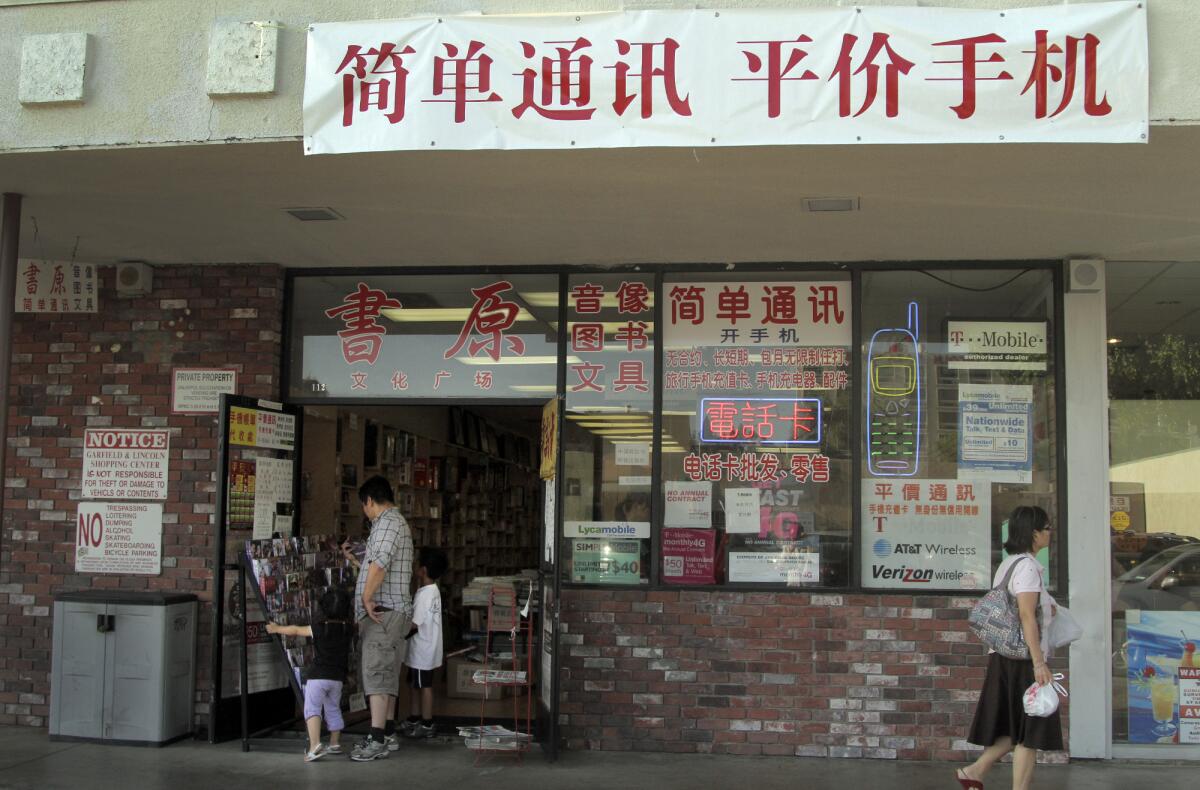 Los Angeles Times
The Monterey Park City Council unanimously voted against adopting an ordinance that would have required some "modern Latin lettering" on storefront signs in addition to Chinese characters.
After a four-hour discussion Wednesday night with more than 40 speakers, including representatives from the ACLU and other civil rights groups, the council took no action on the second reading of the ordinance -- which means it is tabled unless reintroduced at a later date.
Councilman Hans Liang said it made more sense for the city to avoid regulating language on signs.
"Times have changed," Liang said. "People say that having the ordinance is just common sense, but the thing is, in the modern day, in our city, it's already common sense for business owners to have two languages on the sign."
The City Council created the ordinance as a revised version of an old code that required some English lettering or words on storefront signs. The old version was scrapped earlier this year during a routine code revision because the city feared the law was unconstitutional.
When the council gave first approval to the new ordinance in July, the decision touched off an unexpected wave of controversy in the city, which is about 70% Asian.
The ordinance would have affected few businesses in the city because most already have some English on their signs. Similar ordinances are in effect in neighboring predominantly Asian cities like Rosemead, Temple City, San Gabriel and San Marino. City officials said the ordinance would help firefighters and police officers respond more quickly to emergency situations.
But for many residents, the ordinance marked a return to the city's charged racial atmosphere of the 1980s, when the City Council attempted to make English the official language of the city.
Civil rights groups such as Asian Americans Advancing Justice have mounted strong opposition, organizing a student rally and consulting with an outside law firm on the ordinance's constitutionality in preparation for a possible lawsuit.
The council delayed voting on the action multiple times before allowing the ordinance to fizzle on Wednesday night.
As part of the same action, the council directed staff to create literature for business owners in the city that emphasizes the benefits of a multilingual community and encourages the use of multiple languages on signs. The city will also review and consider adopting a resolution authored by the civil rights groups that affirms the city's dedication to nurturing a multicultural community.
ALSO:
Police beating caused Kelly Thomas' death, coroner testifies
Mystery surrounds man's electrocution at Long Beach church
LAPD's Beck: William Bratton will 'meet all the challenges' at NYPD
Twitter: @frankshyong
Sign up for Essential California for news, features and recommendations from the L.A. Times and beyond in your inbox six days a week.
You may occasionally receive promotional content from the Los Angeles Times.