In a stare-down between hikers and a mountain lion, the big cat always wins
It's one thing to get stared down by a stranger, but it's another thing entirely when that stranger is a mountain lion.
That's what hikers Brian McKinney and Sam Vonderheide learned recently when they came face to face with a mountain lion in Sequoia National Park.
The hiking buddies recorded cellphone video of the heart-stopping encounter as it unfolded July 23 on the High Sierra Trail.
"It's definitely a reminder to keep your cool, when everything is jumping inside you," said Vonderheide, a 40-year-old Templeton resident.
The friends had ventured out on an 11-day journey to climb Mt. Whitney. They had stocked up on the necessary camping gear and researched every possible encounter that could put them in danger.
A mountain lion encounter wasn't one of them, said Vonderheide, a calculus and computer science high school teacher.
As the first day of hiking wound down, he and McKinney made their way to their campsite when they spotted the animal on the trail.
McKinney quickly started filming, "not thinking I would see anything."
The friends carefully rounded a blind corner when they unexpectedly spotted the lion as it stood on a rock above them and glared.
"That's when my heart really started racing," said McKinney, a 45-year-old Atascadero resident.
As the video recorded and the friends contemplated their next move, the muscular lion with golden fur continued to stare — never flinching.
That's when they decided to back away slowly.
The cat eventually climbed off the rock and stretched out in the middle of the trail.
McKinney, a software project manager, said his instincts were to "get away as quickly as possible."
But the friends quickly abandoned their instincts and opted for the general rule for wildlife encounters: Make a lot a noise to scare the lion off.
The friends threw small rocks and sticks toward the big cat's direction. They tried to make themselves look larger than they are. They even blew on a bear whistle.
But nothing seemed to do the trick. The lion was not budging.
When the cat finally stood up and appeared to be walking in the opposite direction, McKinney and Vonderheide decided to march forward to their campsite.
At least that was the plan.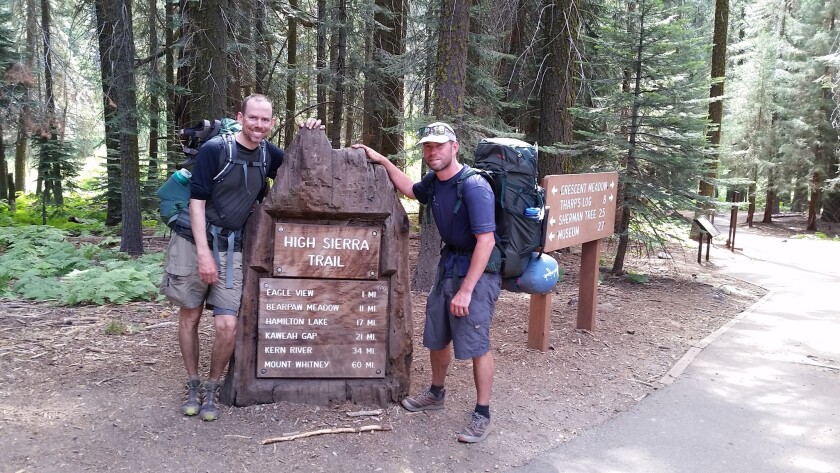 The friends spotted the lion again on the rock above them. This time, the cat appeared to be standing on its hind legs.
They decided to cut their losses and hike back two miles to look for another campsite to sleep for the night.
The next several hours were restless. Every noise in the vast forest was magnified.
"Your imagination runs wild," McKinney said.
After a sleepless night, dawn broke and the friends headed out again, hoping to steer clear of the lion.
They never saw the big cat again, except for its paw prints along the trail.
But the sighting was unusual enough to trigger a reminder from the park service on what visitors should do when they see a mountain lion.
First, visitors should not act like prey, wildlife biologist Daniel Gammons said.
"The big thing these visitors did right was that they didn't panic and run, even after they were surprised by seeing the mountain lion perched above them," he said in a statement.
Visitors should be "mindful of their surroundings" and not "approach animals, regardless of size," the park service said.
"Observe wildlife from a distance, avoid hiking alone and be sure to tell friends or family your plans and when you plan to return," the park service advised.
Mountain lion attacks on humans are rare in California. There have been 14 mountain lion attacks statewide since 1986 and three of them fatal, according to the California Department of Fish and Wildlife.
In Southern California, mountains lions have taken on their own kind of celebrity. Their sightings become a spectacle, and photographs of their young brood garner public admiration.
But the cat's challenge to survive in Los Angeles County's ever-changing environment has gained the most attention. Roads have become major barriers for lions that are trying to move around and look for food in the Santa Monica Mountains.
Wildlife researchers have documented 17 known cases of mountain lions being killed while crossing freeways or roads near the Santa Monica Mountains.
There are only four known cases of lions that successfully crossed the 101 Freeway. The most recent example occurred last week when a male mountain lion crossed the freeway near Thousand Oaks.
The animal is believed to be roaming the Santa Susana Mountains.
Twitter: @VeronicaRochaLA
ALSO
Which puppy will be a good guide dog? Ask mom!
A wet winter makes some California hikes more treacherous than usual
From spectacular vistas to the pits: A decades-long public land battle continues in the California desert
---
The stories shaping California
Get up to speed with our Essential California newsletter, sent six days a week.
You may occasionally receive promotional content from the Los Angeles Times.