Neighbors in disbelief over decade-old Santa Ana kidnapping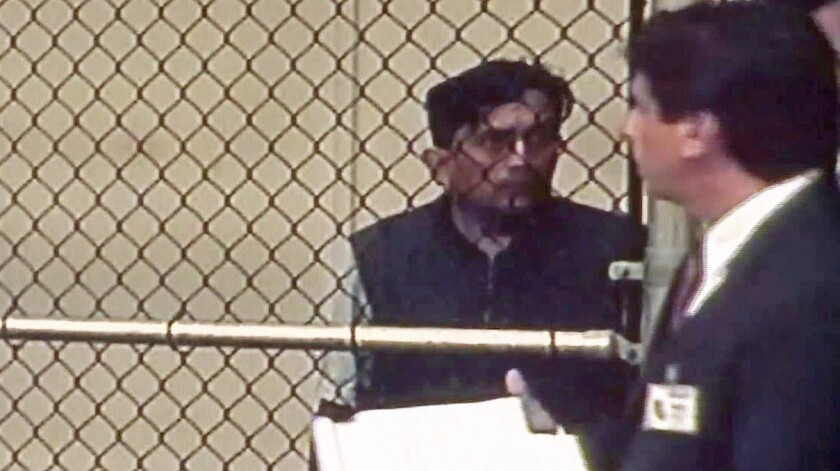 Isidro Garcia appears in court and has been charged with one felony count of forcible rape, three counts of lewd acts with a child and one count of kidnapping to commit a sexual offense, according to the Orange County district attorney's office. His arraignment has been postponed to June 9.
(KTLA)
A woman and two small children are seen at Villa del Sol apartments in Santa Ana, the same complex where a woman claims she was kidnapped 10 years ago.
(Gina Ferazzi / Los Angeles Times)
The Bell Gardens apartment, at top left, where Isidro Garcia and his alleged victim lived.
(Lawrence K. Ho / Los Angeles Times)
Isidro Garcia, 42, of Bell Gardens, has been accused of kidnapping a woman in 2004 and holding her hostage.
(Santa Ana Police Department)
Neighbor Maria Sanchez holds a photo of her neighbor Isidro Garcia that she said was taken at his daughter's third birthday celebration at a Bell Gardens church on Jan. 29, 2012.
(Damian Dovarganes / Associated Press)
The apartment where Isidro Garcia and his alleged victim lived in Bell Gardens.
(Lawrence K. Ho / Los Angeles Times)
Santa Ana police Cpl. Anthony Bertagna describes the alleged 10-year captivity of a now 25-year-old woman in Southern California.
(Chris Carlson / Associated Press)
Neighbors at an apartment complex in Bell Gardens, where a man is alleged to have lived with a woman he kidnapped a decade ago, were in disbelief Wednesday when they heard he had been arrested.
The neighbors at the small, two-story building insisted that Isidro Garcia was a good husband who cared for his family.
The 42-year-old Garcia was arrested earlier this week on suspicion of raping and kidnapping his girlfriend's 15-year-old girl 10 years ago. Police allege that Garcia drugged and kidnapped the girl and beat her when she tried to flee
As the sky darkened, neighbors huddled outside their doors, all of them saying the accusations couldn't be true.
Garcia and the woman, who has not been identified, had been living in Bell Gardens for at least six years.
The woman took her 2-year-old child to the Bell Gardens Police Department on Monday and accused Garcia of domestic violence.
During questioning, she told a harrowing story of how he kidnapped her in August 2004 after she left her mother's Santa Ana apartment, Lt. Scott Fairfield said.
She told police that for years he kept her under control through physical and mental abuse. She said he even forced her to work beside him cleaning office buildings and telling her she would be deported if she left.
Police said Garcia made the woman marry him in 2007 and that the couple had a child two years ago.
But Ricardo Ledesma, 43, who has lived in the apartment building for six years, said the pair appeared to be a model family.
"It's an injustice," Ledesma told The Times in Spanish. "I never saw him hit her or any signs of abuse."
On May 5, Garcia threw her a surprise birthday party for the woman in the back of the building, complete with a clown, music and carne asada. Garcia worked two jobs, at a nearby Chinese restaurant and cleaning buildings.
"He was a hard-working man, he worked two jobs," Ledesma said. "He would do anything for her and their daughter."
Garcia bought the woman's mother a white Toyota van about a month ago after she moved back to Orange County from San Francisco, Ledesma said. He followed Garcia in the van to the woman's home.
Garcia told him that he didn't have a good relationship with his mother-in-law, who he described as a devout Christian, Ledesma said.
The allegedly kidnapped woman drove a silver Nissan Versa that Garcia had bought her about a year and a half ago, said Javier Campos, 28, a neighbor. He would often see Garcia picking up cans and collecting cardboard to recycle for extra cash.
"I just don't understand how he could have her like that all these years," Campos said. "The police station is right around the corner."
---
The stories shaping California
Get up to speed with our Essential California newsletter, sent six days a week.
You may occasionally receive promotional content from the Los Angeles Times.