New LAFD recruit class is nearly all male, overwhelmingly white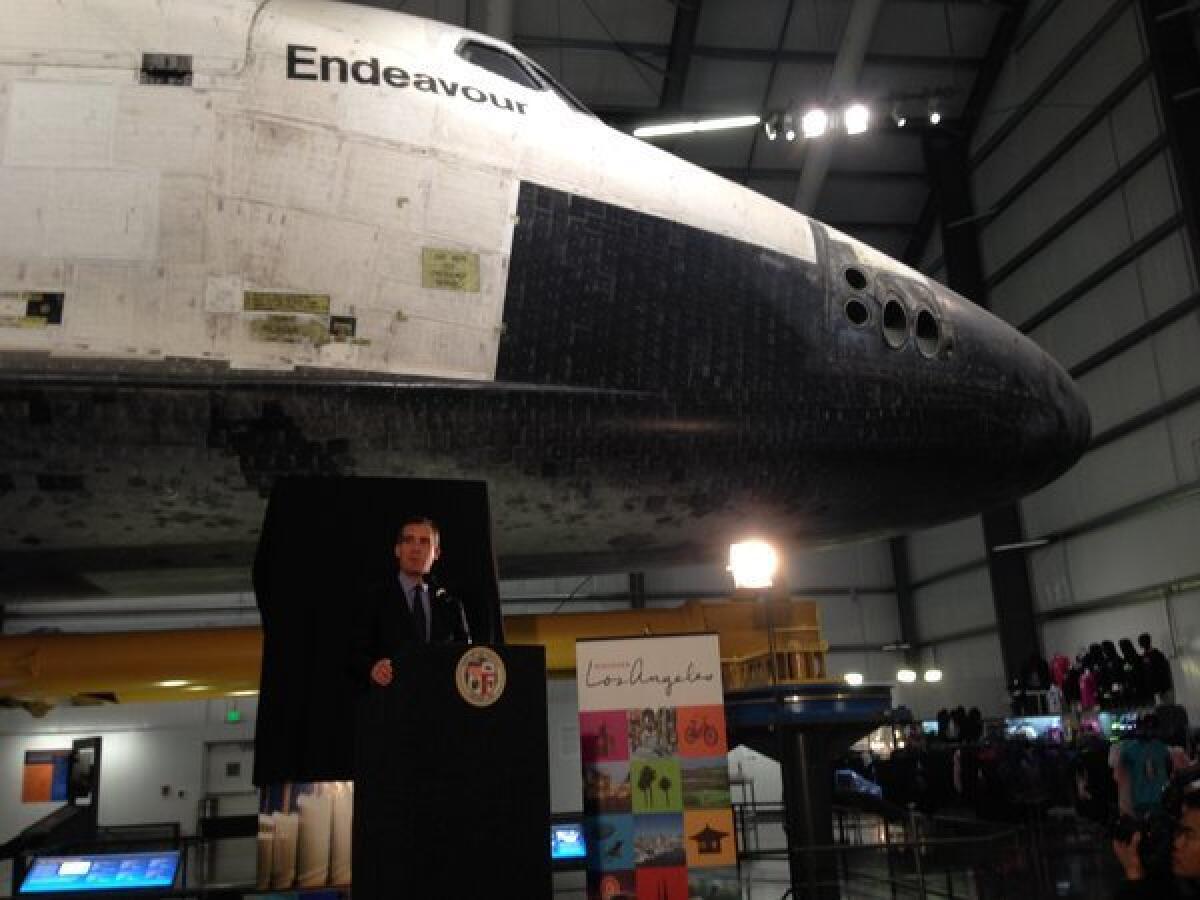 The first new Los Angeles Fire Department recruit class in five years is nearly all male and mostly white despite repeated promises by the agency to diversify its ranks, according to figures released Monday evening by Mayor Eric Garcetti's office.
The class of 70 firefighters, which is scheduled to begin training Monday, has just one woman and is 60% white. Twenty-three percent of the recruits are Latino, 11% are Asian American and 6% are African American, according to the figures.
Earlier Monday, Garcetti said that he had not seen the complete breakdown for the class but was not satisfied with the racial and ethnic balance based on preliminary information he received from the department.
His office obtained complete figures and released them Monday evening after requests from The Times.
"Mayor Garcetti thinks these numbers are unacceptable and wants the Fire Department to reflect the city it serves," spokesman Yusef Robb said Monday evening. Los Angeles is 29% white, 49% Latino, 11% Asian and 10% black, according to the Census Bureau.
Robb said the mayor's office is committed to working with the department to improve recruiting and ensure future classes include more women and minorities.
Robb noted that recruiting for the class starting next week took place before Garcetti took office. Another class of trainees could begin later this year.
Fire Department spokesmen could not be reached Monday evening for comment.
For years, the LAFD has struggled with racial discrimination and sexual harassment, allegations that have cost taxpayers nearly $20 million since 2005, city records show.
In November, a Superior Court jury awarded $1.1 million to a black firefighter who said he had endured three decades of discrimination. The verdict followed payouts totaling $1.5 million in other bias cases for the budget year that ended in June.
The department, which has 3,200 sworn personnel, has diversified its ranks over the last two decades, city officials say, noting that the last four fire chiefs have been African American.
But the agency is still 50% white, 31% Latino, 12% black and 7% Asian.
And despite past scandals involving firefighter attitudes toward female recruits, the ratio of women in the uniformed ranks remains at just under 3% — the same as in 1995.
The new recruit class drew early criticism from the president of the Stentorians, a group representing African American firefighters on the department.
"What's troubling to us is that the city, as well as the Fire Department, say they embrace diversity," Nande Kalenga told the Fire Commission last month. At the same commission meeting, interim Fire Chief James G. Featherstone called LAFD's recruitment efforts "embarrassing."
Featherstone said the agency must be "a lot more aggressive" in appealing to a diverse set of applicants.
ALSO:
Kelly Thomas didn't die of heart failure, cardiologist says
LAFD proposes boosting ranks with budget increase

In turnabout, LAFD will release 911 call records and return to Twitter
Twitter: @LAJourno
Sign up for Essential California for news, features and recommendations from the L.A. Times and beyond in your inbox six days a week.
You may occasionally receive promotional content from the Los Angeles Times.