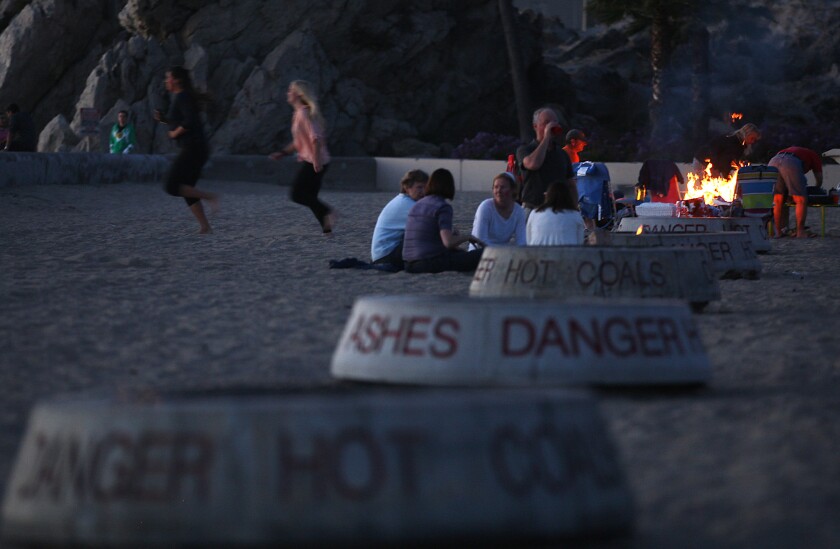 <i>This post has been corrected. See the note below for details.</i>
Aware of mounting smoke-related health concerns, Newport Beach City Council members voted unanimously Tuesday to reduce the number of wood-fueled fire rings on the city's beaches from 60 to 27.
They also cleared the way for possible participation in a pilot program with the South Coast Air Quality Management District to test the use of new rings fueled by natural gas, the Daily Pilot reported.
"Is it perfect for either side? No," said Councilwoman Nancy Gardner, "but I think it does improve the health aspects."
During the meeting, residents rehashed complaints about the stench and smoke caused by burning wood, saying pallets and other miscellaneous items were often burned as well. They complained of needing to close their windows and then sweltering in the heat as they tried to prevent their homes from filling with the bad air.
"The biggest risk to my health," said Frank Peters, an avid bicyclist, "is something I can't do anything about."
Council members agreed that the 27 wood-fueled rings in Big Corona would be reduced to 12, and the 33 near the Balboa Pier would be cut to 15. The rings will also be more heavily patrolled, perhaps by an outside organization, and only clean-burning fuels will be allowed, officials said.
The fire pits that remain will be placed about 50 feet apart, although that may not be enough under new rules approved by the South Coast Air Quality Management District in July.
The move was opposed by those who said the residential concerns are overblown, and noted that the fire rings are a long-standing beach tradition.
Newport Beach City Councilwoman Leslie Daigle, who was absent for Tuesday's vote, told regional air quality regulators at a hearing on the matter earlier this year that, despite initially being in favor of the removing the rings, she had changed her mind.
"The fire-ring examination has revealed to me an overwhelming love and respect for this outdoor tradition," she told the air district board.
The California Coastal Commission sent a letter to the city stating that it preferred there be no net loss to the number of fire rings on the beach, according to City Manager David Kiff.
[For the Record, 9:20 a.m. PST Nov. 27: An earlier version of this post referred to an upcoming vote on new South Coast Air Quality Management District rules. Those rules were approved in July.]
ALSO:
Judge cancels hearing on serial rapist's release to L.A. County
Body parts identified as those of East San Gabriel Valley woman
L.A. needs at least a year to find quake-vulnerable wood buildings
emily.foxhall@latimes.com
Twitter: @emfoxhall
Emily Foxhall is a Times Community News staff writer.
---