Gov. Newsom orders additional DNA testing in case of death row inmate Kevin Cooper
Gov. Gavin Newsom issued an executive order Friday morning requiring additional testing of evidence in the quadruple-murder case of death row inmate Kevin Cooper.
The executive order broadens an order by former Gov. Jerry Brown, who in December requested "limited retesting" of a tan T-shirt, an orange towel, a hatchet handle and a hatchet sheath after Cooper's attorneys said some key items weren't properly tested and should be analyzed using more current DNA technology.
Newsom's order requires the DNA testing and analysis of untested hairs from the victims' hands and the crime scene, a blood vial, a blood drop, fingernail scrapings from the victims and a green button.
"I take no position regarding Mr. Cooper's guilt or innocence at this time," Newsom said in the order. "Especially in cases where the government seeks to impose the ultimate punishment of death, I need to be satisfied that all relevant evidence is carefully and fairly examined."
Newsom said the purpose of testing the additional pieces of evidence was to determine whether DNA from Cooper — or anyone else — is detectable on the items.
Cooper has maintained his innocence throughout the case and has claimed that law enforcement planted evidence and ignored statements by witnesses that pointed to other possible suspects. He has lost more than a dozen appeals.
The now 61-year-old Cooper was convicted and sentenced to death in 1985 for the slayings of three family members and an unrelated boy, 11-year-old Christopher Hughes. They were found hacked and slashed to death in a Chino Hills home.
The boy's father discovered the bloodied bodies when he went to the hilltop home looking for Christopher. Through the window, he discovered the bodies of Doug and Peggy Ryen; their 10-year-old daughter, Jessica; and Christopher. The victims had been stabbed a total of 143 times with an ice pick, an ax and a knife. The Ryens' 8-year-old son, Joshua, was slashed across the throat but survived.
Two days before the killings, Cooper had escaped from a prison in Chino, where he was serving a sentence for burglary. Police found ample evidence — cigarette butts, a button from a prison uniform, a leather hatchet sheath — that Cooper had spent two days in a house near the Ryens' after his escape.
He was arrested about seven weeks after the killings.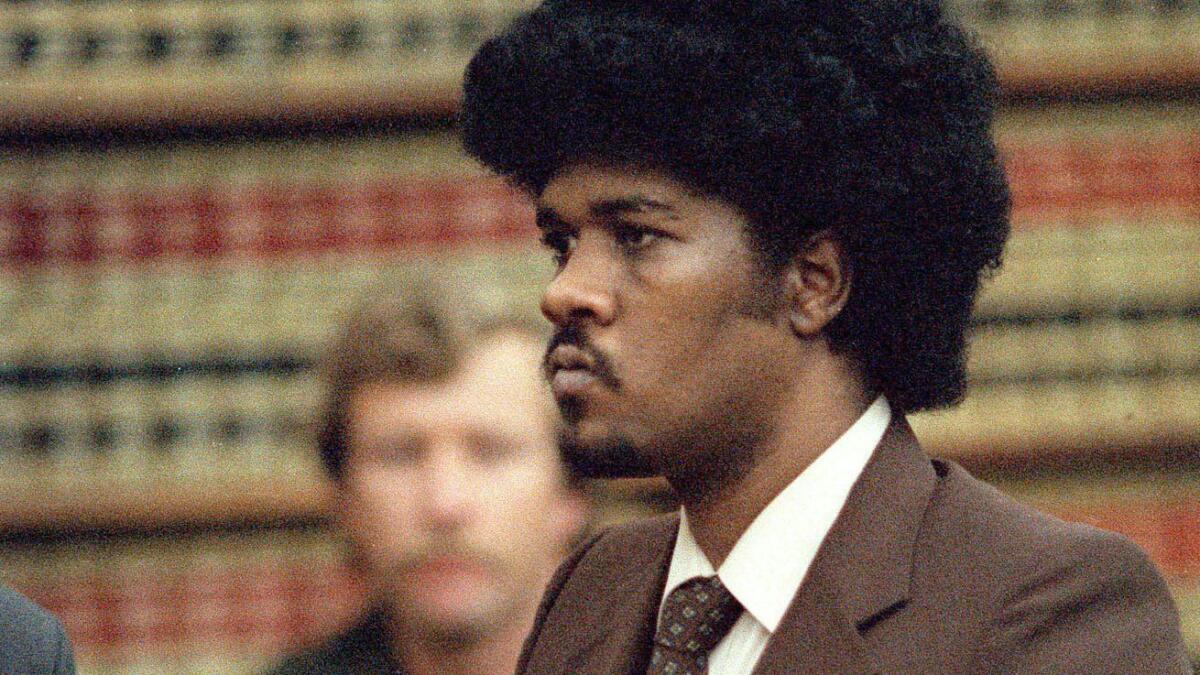 At his trial, jurors heard Joshua Ryen give a videotaped statement that conflicted with what he had said when he was first interviewed by authorities.
After Joshua was airlifted to a hospital, he told a sheriff's deputy and a social worker that his attackers were three white men. An hour later, he said they were Latino. Later that month, the boy told a deputy that Cooper, who is black, was not the killer after he saw the man's face on a wanted poster on television.
Jurors heard him say that he saw just one man or maybe a shadow in his home.
The clues at the Ryens' unlocked home were scant: a bloody shoe print on a sheet in the master bedroom and a single drop of blood on a wall in the hallway.
At his trial and throughout the appeals process, Cooper's attorneys argued that the San Bernardino County Sheriff's Department had destroyed or suppressed evidence suggesting the attackers were three white men, including a convicted contract killer.
Brown's December order came after four California law school deans called on him to open an independent investigation, saying that Cooper's claim of innocence "has never been fully and fairly evaluated."
Sens. Kamala Harris (D-Calif.) and Dianne Feinstein (D-Calif.) called for the DNA testing in May after a New York Times column called the case against Cooper "outrageous."
alejandra.reyesvelarde@latimes.com
Twitter: @r_valejandra
Sign up for Essential California for news, features and recommendations from the L.A. Times and beyond in your inbox six days a week.
You may occasionally receive promotional content from the Los Angeles Times.