Nipsey Hussle told alleged gunman 'You got me' after being shot multiple times and kicked in the head, records show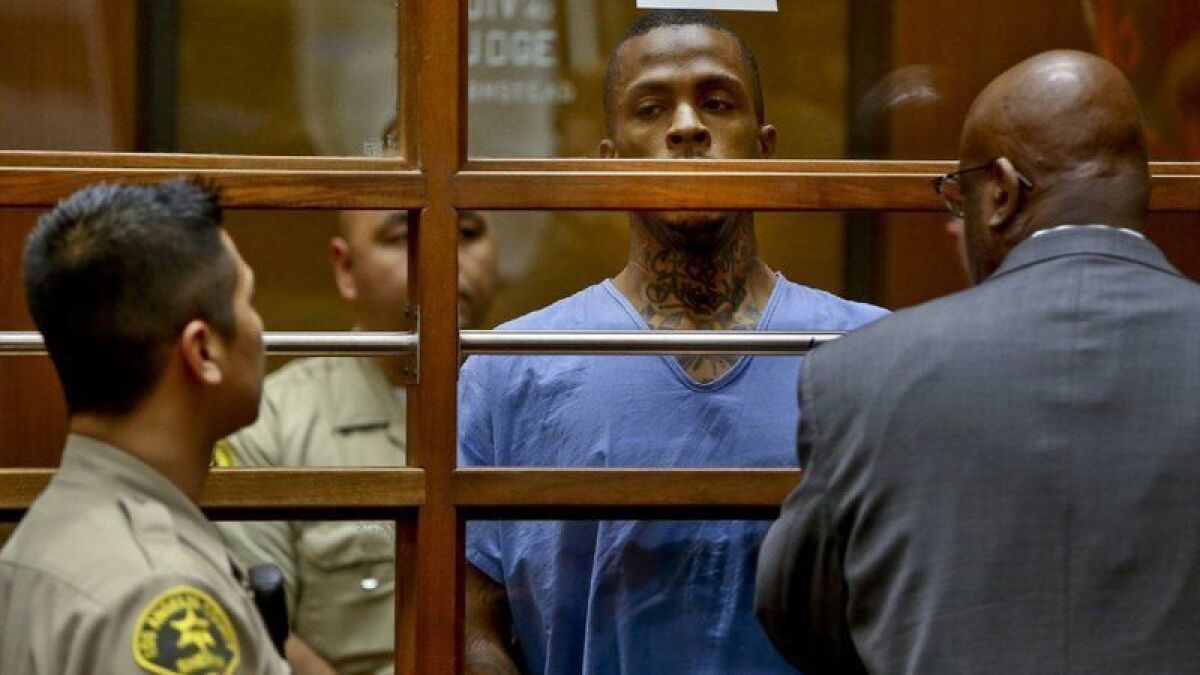 Nipsey Hussle spent part of the afternoon of March 31 signing autographs, taking photos with fans and talking with friends at the Hyde Park strip mall where he owned several businesses.
Less than a half hour into his visit, Eric Holder approached the famed rapper, who was with a larger group, and the two shook hands. They had a four-minute conversation, and at some point, the topic turned to snitching.
"Apparently, the conversation had something to do with [Hussle] telling Mr. Holder that word on the street was that Mr. Holder was snitching," Deputy Dist. Atty. John McKinney told a grand jury in May, saying that was a serious offense in the gang world. "The conversation wasn't particularly intense. It wasn't particularly belligerent."
But the conversation was enough, the prosecutor said, "that it moved Eric Holder to a point of wanting to return to the parking lot and kill Nipsey Hussle."
After they talked, Holder picked up chili cheese fries from a nearby burger shop, got in a woman's car and they drove off. Soon after, the 29-year-old man returned, a gun in each hand, and allegedly opened fire.
Hussle fell to the ground, suffering at least 10 gunshot wounds, authorities said, adding that before fleeing, Holder kicked him in the head.
A witness told a detective that after he was shot, Hussle said, "You got me," the detective testified.
The chronology of Hussle's final moments comes from 515 pages of grand jury testimony ordered released at a hearing Thursday by Los Angeles County Superior Court Judge Robert J. Perry after the Los Angeles Times argued in court for public access.
Read Volume 1 of the Nipsey Hussle murder case grand jury transcripts »
Holder's public defender had sought to keep the grand jury proceedings secret until after his trial, arguing that making the transcript public could jeopardize his right to a fair trial.
For most of Thursday's hearing, Holder stared stoically ahead, occasionally looking at spectators. Three deputies stood close behind the defendant, who wore glasses and a yellow jail shirt with his wrists cuffed, while several other deputies were scattered throughout the courtroom.
The documents, which include the prosecutor's opening statement during the May hearing, as well as the testimony of several witnesses to the killing and investigating officers, provide the most detailed account to date of Hussle's slaying and potential clues to the prosecution's case against Holder. Two others were wounded during the shooting.
The grand jury panel returned a six-count indictment charging Holder with one count of murder, two counts each of attempted murder and assault with a firearm and one count of possession of a firearm by a felon. He is being held in lieu of $6.5-million bail. If convicted, he faces life in state prison. He has pleaded not guilty.
Hussle, 33, born Ermias Asghedom, was a celebrated rapper as well as an investor, activist and entrepreneur, whose death sparked days of memorials and grieving far beyond his South L.A. neighborhood.
Los Angeles police have said the motive for the shooting was a personal dispute. But the documents reveal more details about the words alleged to have been exchanged between Hussle and Holder.
They include the first account from a woman Holder was dating who drove him to and from the strip mall and was offered immunity for her testimony. The woman, who works as a caregiver and driver, was not identified by name because of numerous credible threats to her safety. She said she and Holder met in February.
When she and Holder first pulled up to the burger joint, she testified, she spotted Hussle and got excited. She pulled into a parking lot and Holder walked over to Hussle's group. She wanted a photo with Hussle, so she also approached and said she heard Holder telling Hussle: "Cuz, have you ever snitched?"
She snagged a selfie with the rapper and went back to her car, where she uploaded it to her Facebook profile. Holder, meanwhile, picked up his fries and returned to the car.
As she drove around the block, Holder pulled out a gun and started loading it, she testified. "You're not gonna do a drive-by in my car," she recalled telling him. He put the gun away.
She pulled over so he could eat, and a few minutes later, he told her he'd be right back. Moments later, she said that she heard two gunshots. People ran from the area.
The woman said Holder returned angry and jumped back into her car. She testified that when she asked what happened, he said to drive away or he would slap her. She dropped him off at his cousin's house, she said.
Holder called her later, asking if he could stay with her that night. The next day, she said, he asked for her help securing a motel room. The prosecutor asked if it occurred to her that he was trying to hide out.
"No," she said.
By then, she was seeing social media posts implicating him in the shooting. When she confronted him at the motel later, he started breathing harder, but stayed quiet, she said. He asked her to take him to get cigarettes and food from Jack in the Box.
When she got home later that night, she saw her car — and license plate — on the news. She testified that she and her mother went to the police station early the next morning, telling a desk officer that her car was linked to a murder.
"Don't listen to the news," a police officer said, according to her testimony, turning her away.
She called the police later that morning, and was told to return to the station. According to the transcripts, detectives interviewed her for five hours, during which she told them that, before she heard the gunshots, Holder "wanted to do a drive-by."
She objected to using her car, and Holder told her to pull around back, she told detectives.
The transcripts also include testimony from Herman Douglas, who worked for Hussle, and Kerry Lathan, who was wounded in the shooting.
Douglas said he heard Hussle and Holder greet each other that afternoon.
"Man, you know, they got some paperwork on you," Hussle told Holder, according to Douglas. "Like you need to maybe take care of that."
Douglas explained that to mean that there were rumors Holder had snitched on someone. Hussle was "basically telling the guy you need to be careful," Douglas said.
Douglas had gone inside to eat his lunch when he heard gunshots. When he got to the front door, Hussle was on the ground, Holder running, he said.
"He was still breathing, you know, like biting his tongue a little bit, then he — he was just trying to fight it, trying to gain consciousness, and he was going out. And he just kept — he just kept fighting."
Lathan, who testified in a wheelchair because of his injuries, was also offered immunity to testify.
He said he was released from prison in 2018, after more than two decades behind bars in a murder. Two weeks after his release, Hussle, whom he'd never met, gave him a care package of shoes and clothing. He said he went to the strip mall that day to go shopping, and was there for about two minutes before he was shot.
Just before the shooter opened fire, Lathan testified, he said, "You're through."
A coroner testified that Hussle sustained at least 10 gunshot wounds, including to his scalp, chest, abdomen and foot. Six bullets were removed from his body.
Holder was arrested in Bellflower two days after the shooting. An aspiring rapper who went by the moniker Fly Mac, Holder has sung of body bags, "38 gun blasts" and bloody homicides.
Times staff writer Cindy Chang contributed to this report.
The stories shaping California
Get up to speed with our Essential California newsletter, sent six days a week.
You may occasionally receive promotional content from the Los Angeles Times.