Judge orders release of transcripts in Nipsey Hussle murder case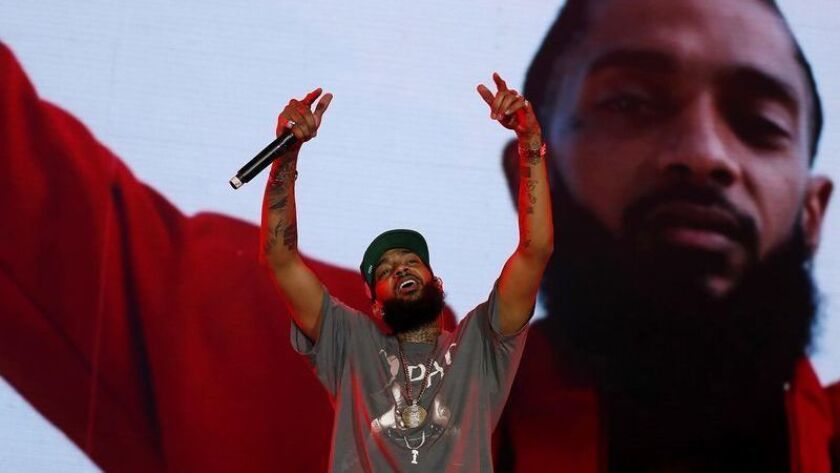 A judge ruled Thursday that transcripts from the grand jury hearing of a man accused of killing rapper Nipsey Hussle should be released, saying that unsealing the documents would not jeopardize his right to a fair trial.
In his ruling, Los Angeles County Superior Court Judge Robert J. Perry cast doubt on arguments that potential jurors would be affected.
"We live in a society that is moving away from the printed page," Perry said, saying that as long as prosecutors "keep a lid on" the video evidence in the case, he didn't think there would be a problem.
A 23-member grand jury panel was presented evidence in the killing of Hussle during a three-day hearing that began May 6. The panel returned a six-count indictment charging Eric Holder, 29, with one count of murder, two counts each of attempted murder and assault with a firearm and one count of possession of a firearm by a felon. He has pleaded not guilty.
The Los Angeles Times sought release of the transcripts, arguing that public access would ensure confidence that the process is fair.
Eric Holder's public defender, Lowynn Young, however, had sought to keep the document secret until after his trial, saying that public release could jeopardize her client's right to a fair and impartial trial. Young asserted that witnesses and experts could decide not to come forward in his defense.
In court papers, The Times' attorneys argued that Holder "does not offer a shred of evidence" to justify delaying the public's right to access for months or even years to come.
"Here, the modest pretrial publicity in this case does not even remotely compare with the publicity in the Martha Stewart trial, the Manson Family trial, the John DeLorean trial, the Watergate trials, or the Abscam trials," Times attorneys argued in the filing. "Yet, in all of those cases, courts rejected the defendants' arguments that pretrial publicity had interfered with their right to a fair trial. This Court should do the same."
The indictment was unsealed May 21. Unless there is an objection, transcripts from a grand jury hearing are made public 10 days after they are provided to the defendant or his attorney.
The transcripts would offer a more detailed glimpse into the prosecution's case against Holder.
Hussle, an influential rapper and activist, was killed outside his Hyde Park clothing shop when a man approached and opened fire at close range. Two other men were wounded.The March 31 attack reverberated far beyond Hussle's South Los Angeles neighborhood.
Police have been tight-lipped about their investigation other than to say that Holder had gotten into a dispute with Hussle earlier on the day he was shot. Los Angeles Police Chief Michel Moore said investigators believed the shooting was the result of a "personal matter between the two of them," but he has not elaborated. Video of the shooting was captured by a nearby security camera.
Holder is being held in lieu of $6.5-million bail. If convicted, he faces life in state prison. He is due back in court later this month.
---
Get breaking news, investigations, analysis and more signature journalism from the Los Angeles Times in your inbox.
You may occasionally receive promotional content from the Los Angeles Times.