No criminal charges in Berkeley balcony collapse that killed six, injured seven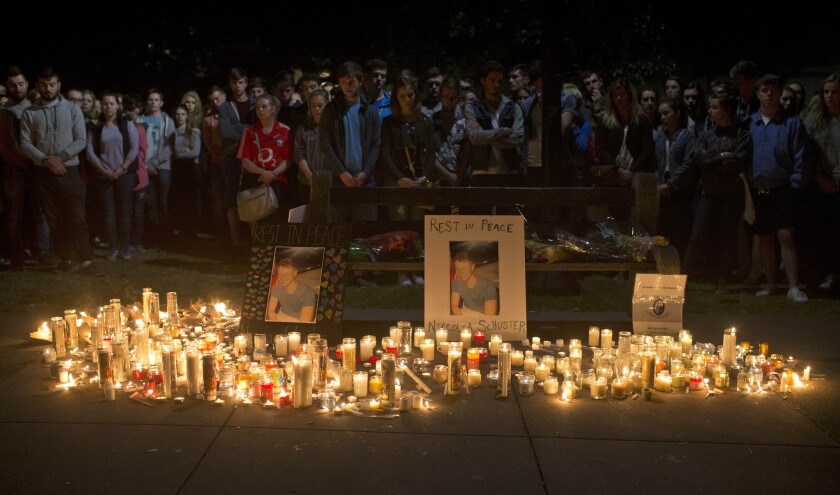 The Alameda County district attorney's office will not charge anyone with a crime in last year's balcony collapse in Berkeley that killed six people and injured seven more, officials announced Tuesday.
Following a nine-month investigation that included interviews with construction experts, architects and engineers, Dist. Atty. Nancy O'Malley said that there was not enough evidence to prove anyone was guilty beyond a reasonable doubt of gross or reckless negligence in the deadly June 16 collapse near UC Berkeley.
Thirteen people were on the fifth-floor balcony at the Library Gardens apartments for a 21st birthday celebration when the balcony buckled and dropped them onto the concrete 40 feet below. Among the six killed were five current or recent college students from Ireland.
An investigation concluded that water had likely seeped into the wood-framed structure when it was built and led to dry rot and, ultimately, the collapse, O'Malley said.
"The responsibility for this failure likely extends to many of the parties involved in the construction or maintenance of the building," she said in a statement.
But the decision to not charge anyone, O'Malley said, "is not a decision that I came to lightly."
Charlie Flanagan, Ireland's minister for foreign affairs, said his department will consider O'Malley's findings.
"While the District Attorney's investigation did not find sufficient proof to take separate criminal proceedings, it has shone a vital light on the circumstances and factors that contributed directly and indirectly to the collapse of the balcony," Flanagan's statement read. "This investigation is an important step in a process, the ultimate objective of which is to ensure that a tragedy such as Berkeley never occurs again."
Though criminal proceedings have been ruled out, O'Malley noted that the state is still considering administrative action against the parties responsible.
"The main questions we're trying to answer are if the various contractors involved followed the architectural plans for the balcony, including the use of the proper building materials, and whether workmanship standards were followed," said David Fogt, chief of enforcement for the Contractors State Licensing Board. "If not, it's a clear violation of the law."
If the board decides to revoke the contractors' licenses, the cases would go to the attorney general's office, which would prosecute them in administrative court.
For breaking California news, follow @JosephSerna.
ALSO
Businessman charged in 'diabolic' slaying of Santa Barbara practitioner and family
Men charged with sexual battery after police find photos of them with unconscious women
Vietnamese comedian touring U.S. charged with sexually assaulting boy
---
The perils of parenting through a pandemic
What's going on with school? What do kids need? Get 8 to 3, a newsletter dedicated to the questions that keep California families up at night.
You may occasionally receive promotional content from the Los Angeles Times.