Downed power lines and falling tree limbs set off Northern California's wine country fire siege, investigators say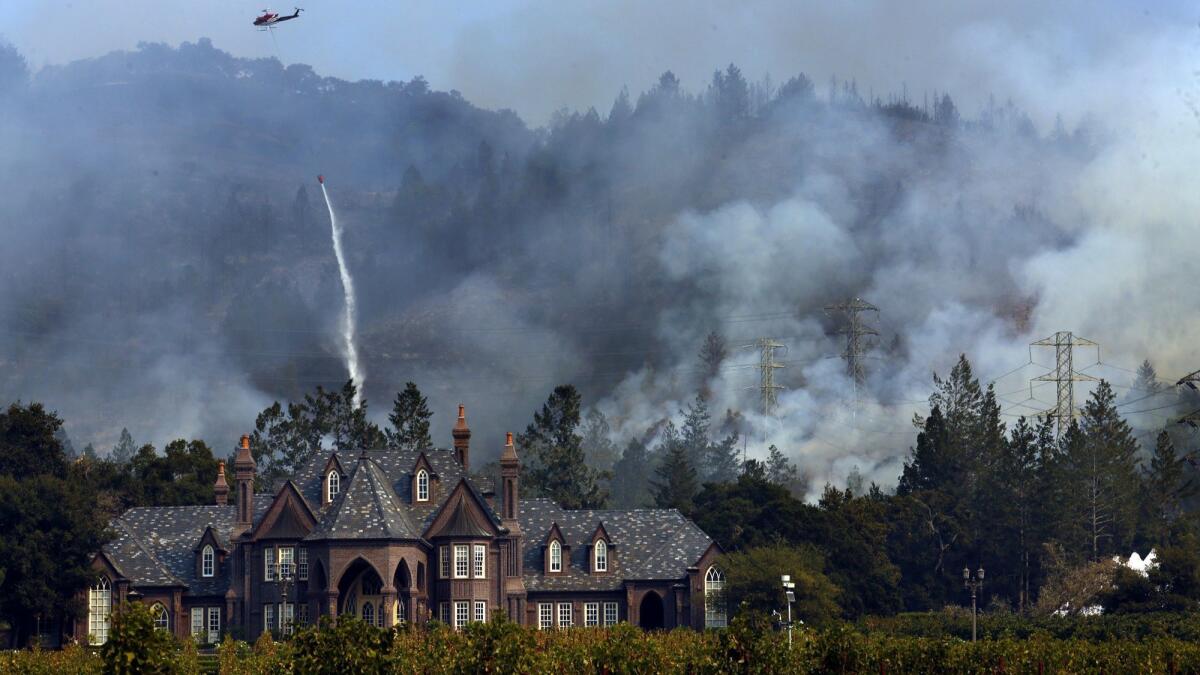 Downed power lines owned by PG&E and falling tree limbs largely were responsible for setting off the deadly siege of fires that ripped through Northern California's wine country in October, Cal Fire investigators said Friday.
The findings covered a dozen blazes in Napa, Sonoma, Lake, Humboldt, Butte and Mendocino counties — three of which accounted for a combined 19 deaths.The report did not address the origin of the Tubbs fire, which took 15 lives and wiped out entire neighborhoods in Santa Rosa. The overall death toll from the wine country firestorm was 44.
Cal Fire investigators have referred alleged violations of state law by PG&E in eight of the 12 fires to the district attorneys in the respective counties for review.
"It's in the D.A.s' hands to take it further," Cal Fire spokesman Scott McLean said.
Lawyers for hundreds of property owners who have sued PG&E said Cal Fire's findings bolstered their contention that the power company's failure to trim trees and maintain equipment properly were to blame for the deadliest series of fires in state history.
"Had PG&E maintained that equipment and trees, as it was required to do under California law, then these deadly and life-changing fires never would have occurred," attorney Bobby Thompson said.
PG&E issued a statement Friday evening defending its pruning and safety record and pointing instead to climate and other environmental changes as the backdrop to the deadly firestorms.
"Based on the information we have so far, we continue to believe our overall programs met our state's high standards," PG&E's statement said. "Years of drought, extreme heat and 129 million dead trees have created a 'new normal' for our state that requires comprehensive new solutions."
The fires broke out Oct. 8 and 9 as hot, dry winds raced through the region; the result was more than 170 separate blazes that forced the evacuation of 100,000 people, burned at least 245,000 acres and destroyed 8,400 homes and buildings, officials said. Widespread failures of emergency warning systems were reported, exacerbating the confusion and panic and prompting a push for new safety protocols.
Included in Cal Fire's findings:
• The Redwood fire in Mendocino County was caused by trees or parts of trees falling onto PG&E power lines; nine people died in the fire.
• The Atlas fire in Napa was caused by a tree falling into a power line. Six people lost their lives.
• The Sulphur fire in Lake County was caused by the failure of a PG&E power pole, which brought lines and equipment down to the ground.
• The Cherokee fire in Butte County was caused by tree limbs contacting PG&E power lines.
• The 37 fire in Sonoma County was electrical and stemmed from PG&E distribution lines.
• The Blue fire in Humboldt County was caused by a PG&E power line conductor separating from a connector and falling to the ground.
• The Norrbom, Adobe, Partrick, Pythian and Nuns fires merged in Sonoma and Napa counties and were the sites of three deaths. The Norrbom fire was caused by a tree falling into PG&E power lines.
• The Adobe fire was caused by a eucalyptus tree falling into a PG&E power line.
• The Partrick fire was caused by an oak tree falling into a power line.
• The Pythian fire was caused by a power line that fell down after PG&E attempted to restart it.
• The Nuns fire was caused when the broken top of tree hit a power line.
• The Pocket fire was caused by an oak tree top breaking off and hitting power lines.
The alleged violations referred to district attorneys concerned the Sulphur, Blue, Norrbom, Partrick, Pythian, Adobe, Pocket and Atlas fires.
Investigation continues into the Tubbs and other California fires that burned in October and December, and Cal Fire will release reports as they are completed, officials said.
Plaintiff's lawyer Michael Danko said victims are recovering slowly, but many will never be the same.
"They were woken up in the middle of the night, driven out through garage doors in their underwear, watching in their rearview mirror as their house burns," Danko said. "For some people this changes their lives forever."
Twitter: @geholland
---
UPDATES:
8:30 p.m.: This article was updated with report details, lawyer comments and a statement from PG&E.
This article was originally published at 5:15 p.m.
Sign up for Essential California for news, features and recommendations from the L.A. Times and beyond in your inbox six days a week.
You may occasionally receive promotional content from the Los Angeles Times.