102-year-old actor who watched Babe Ruth split his pants on a slide goes to first World Series since 1926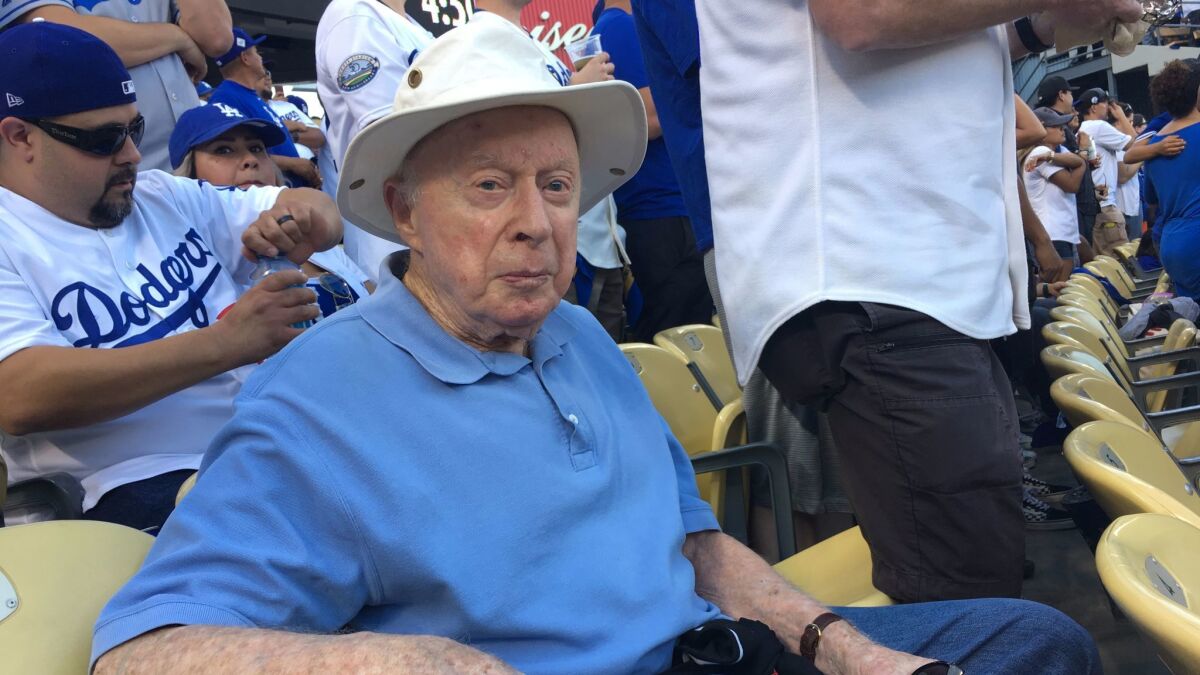 Before stepping into Dodger Stadium this week, Norman Lloyd had attended one World Series.
In 1926.
As a 12-year-old boy at Yankee Stadium, he watched as Babe Ruth slid into second base and split his pants.
Now, a mere 91 years later, the actor — known as the rigid headmaster who fired Robin Williams in "Dead Poets Society" and the villain who fell from the Statue of Liberty in Alfred Hitchcock's "Saboteur" — returned to the Fall Classic to watch a series between the Dodgers and Houston Astros that already has the makings of a Hollywood drama.
As Lloyd settled into his left-field chair, a rollicking crowd danced and hollered around him in the sweltering early-evening heat. The actor was a few days short of his 103rd birthday, and the ticket had been an early gift from friends who'd surprised him the night before as he watched the Dodgers on television.
"It is wonderful to be at a World Series again," Lloyd said. "Baseball has always remained a passion for me, and I followed it religiously."
Ever the dignified performer, Lloyd recounted the baseball of his youth in a deep, rhythmic voice, spinning his stories slowly and dramatically, even as the stands convulsed with wild energy around him.
On Oct. 2, 1926, the Yankees faced the St. Louis Cardinals in Game 1 of the World Series. Lloyd watched from the stands and still remembers the Yankees' lineup.
"The Yankees had — now it's like talking about a great religious figure — Babe Ruth and Lou Gehrig and some other wonderful people, like Tony Lazzeri and Bob Meusel," Lloyd recalled.
When Ruth, the Sultan of Swat, tore the seat of his pants, Lloyd and the rest of the crowd went crazy as Yankees trainer Doc Woods rushed onto the field with a needle and thread to fix his uniform right there on the field.
"An ordinary person would call time out and get a new pair," Lloyd said. "Not the Babe. He stood up, on the base, hands on his hips, surveyed the crowd and stood there while they sewed him up."
Lloyd, a Brooklyn-bred boy with a penchant for salty language, naturally adored the Dodgers.
"I go way back. I'm talking about Brooklyn, I'm talking about Ebbets Field."
And, naturally, he couldn't stand the now-San Francisco Giants.
"We kids who grew up in Brooklyn as Dodgers fans, we hated the New York Giants," Lloyd said. "I don't mean to tell you we disliked them. We haaaated them."
The Giants' early 20th century Hall of Fame manager, John McGraw, had a nickname that he hated: Mugsy. Lloyd and his pre-teen boys feasted on that hatred and waited for him to leave the ballpark. As he made his way to his Buick, Lloyd said, the boys were there.
"We waited until he came out, and we'd say, 'Aw, you Mugsy bastard!' and run for the subway," Lloyd said. "We had done our rite of passage. We were real Dodger fans."
Lloyd glanced around at the crowd around him and grinned mischievously.
"I have to watch my language here," he said. "Because I'm from Brooklyn, you see, and we were very naughty with our language. It was considered ordinary conversation."
He would watch the game, he said, and try to behave himself. As far as baseball goes, he has strong opinions on how the game should be played and relishes saying so.
"I don't guarantee my politeness," he said. "I will contain myself, but if you hear four-letter words being spewed at the player who makes an unnecessary error, it's me."
Lloyd attended Wednesday's game at Dodger Stadium with his longtime friend Tim O'Connor, who said the actor told him mid-game that he was intrigued by one major difference between this World Series and the one 91 years ago: the noise.
In Lloyd's youth, the crowd was always silent as they watched the slow-moving game, until something extraordinary happened.
Wednesday's wild, extra-innings game — which the Astros won 7-6 in the 11th — was certainly theater. As a quickly extinguished brush fire and an apartment fire burned near the stadium, the teams battled, game-tying home run to game-tying home run.
Fans screamed in joy, only to be screaming in horror minutes later. In the stands, a young boy in a Dodgers shirt melted down, screaming and crying, burying his face in his mother's shirt as the Astros took the lead.
Lloyd and O'Connor left just a tad early, when it looked as if the Dodgers would win it. He is 102, after all.
But, watching the extra innings on TV, Lloyd was not happy. He declared himself the team's good-luck charm and kicked himself for leaving.
He'll be watching as the Dodgers head to Houston on Friday. And he's got a strong opinion about it.
"The Dodgers," he said, "should never lose."
Twitter: @haileybranson
ALSO
Dodgers Dugout: Rich Hill and the myth of 'third time through the lineup'
Home runs are flying in the World Series. Does the weather get an assist?
The stories shaping California
Get up to speed with our Essential California newsletter, sent six days a week.
You may occasionally receive promotional content from the Los Angeles Times.