Nuns assail Archbishop Gomez in sale of convent to Katy Perry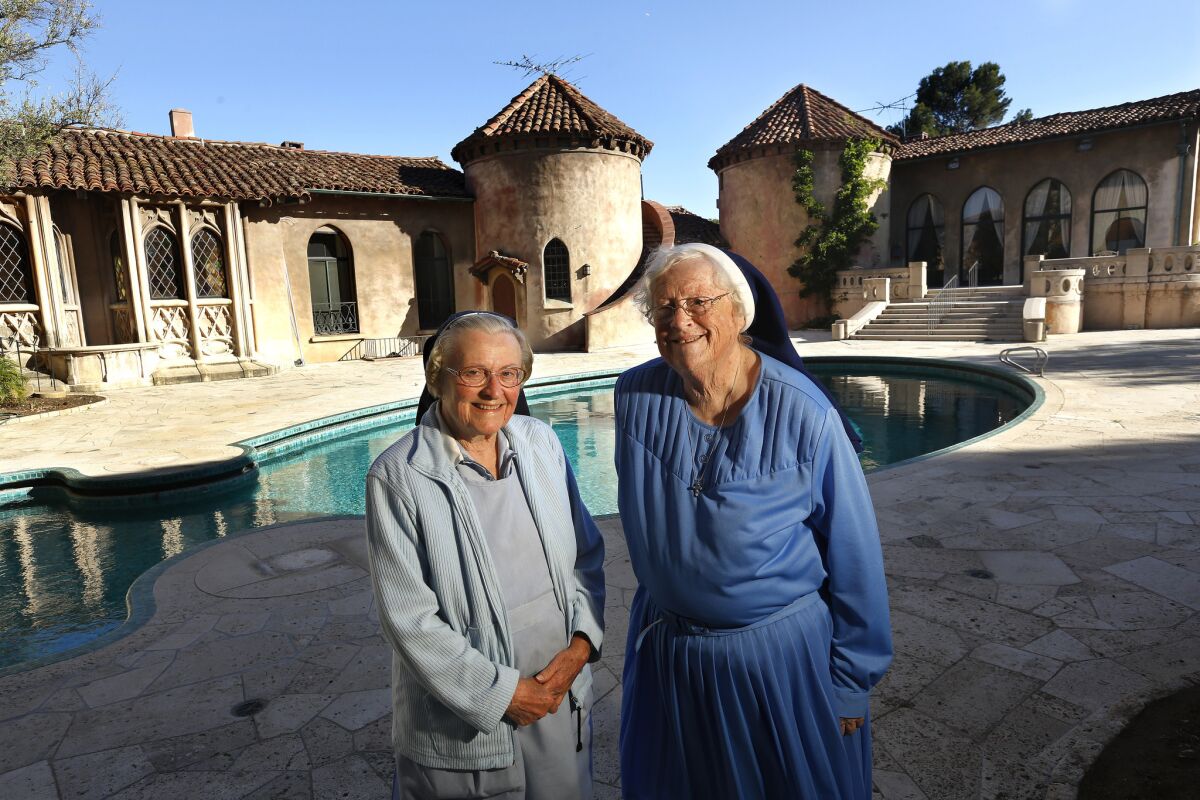 Nuns locked in a dispute with the Los Angeles Archdiocese over the proposed sale of their convent to singer Katy Perry filed legal papers Friday accusing the archbishop of acting "as if he were above the rules and immune from the obligations of civil law."
The dispute centers on who has legal authority to sell the villa-style hilltop property in Los Feliz, which spans several acres with expansive views of downtown Los Angeles and the San Gabriel Mountains.
The Sisters of the Immaculate Heart of Mary contend that they have the legal authority to sell the property and that their sale agreement with restaurateur Dana Hollister for $15.5 million is legal.
The Los Angeles Archdiocese, however, sued to stop the sale, arguing that the church has legal authority over the property and that the nuns' sale was unauthorized. The archdiocese's agreement to sell the convent to Perry – for $14.5 million in cash – is legally sound, the archdiocese argued.
In documents filed in court Friday, attorneys representing the sisters contended that the archdiocese never sought to established legal control over the order's nonprofit institute until June, when it installed officers to oversee the institute. That move, however, was illegal and a "hostile takeover" by the bishop of the order of nuns, the attorneys wrote.
The newly appointed officers have no standing under state law to claim legal authority over the institute and its assets, the attorneys argued.
The sisters say they were first informed in September 2014 that the archbishop planned on selling the property to a woman called Katherine Hudson. The nuns later learned that Hudson was better known as the pop sensation Katy Perry.
After learning more about the singer and her "public image," the sisters objected to selling Perry the property "for what should be obvious reasons coming from Catholic nuns," the attorneys wrote.
They decided to sell to Hollister, a transaction they said would yield more money and help provide for the care of the sisters in their retirement.
After protests from the sisters, Archbishop Jose Gomez relented and told them to proceed with their own plans to sell the property but to present a proposal for him to approve, according to the documents.
The sisters, their attorneys said, followed Gomez's instructions, but he refused to meet with them to approve the sale to Hollister and instead moved ahead with his agreement to sell to Perry.
For more court news, follow @sjceasar.
ALSO
Flames sweep over freeway; motorists run for their lives
Voter in L.A. school board race wins $25,000 for casting a ballot
Los Angeles gets rain in July, thanks to Tropical Cyclone Dolores
The stories shaping California
Get up to speed with our Essential California newsletter, sent six days a week.
You may occasionally receive promotional content from the Los Angeles Times.